Australia hosts two IAAF Gold Labelled Marathons. The Gold Coast Marathon and the Sydney Marathon. Both these events are superbly managed and are continually growing and boosting Australian tourism through the sport we all love, running.
IAAF Road Race Label Events are races that the International Association of Athletics Federations (IAAF) designates as one of the "leading road races around the world."
The Labels are assessed and awarded each year. Race organisers have to apply to the IAAF for recognition, and show that their race can meet a number of criteria. The criteria vary for the different levels; Gold Labels have the strictest requirements, followed by Silver, then Bronze. All three categories require what the IAAF describes as an international elite field, that requires at least five nations (four for Bronze) to be represented by runners with times faster than the IAAF's guidelines. Additionally, the race course must be closed to vehicular traffic, and measured to the Association of International Marathons and Distance Races (AIMS) standard, with full electronic timing used to generate the results. The race must be organised in a way that minimizes ecological damage to the surrounding areas. A specified number of doping tests must be carried out, and prize money for the participants should be equal, irrespective of gender or nationality, though additional rewards can be given to runners from the host nation. -Wikipedia
Looking through the Australian all-comers rankings for the last 15 years, it is apparent that one course stands out as Australia's fastest, that being the IAAF Gold Labelled, Gold Coast Marathon. At the beginning of 2014, the Gold Coast Marathon became the first marathon in Australia to be awarded an International Association of Athletics Federations (IAAF) Gold Label Road Race, putting it in esteemed international company. All top 15 all-comers times set in Australia have been clocked in on the Southport course.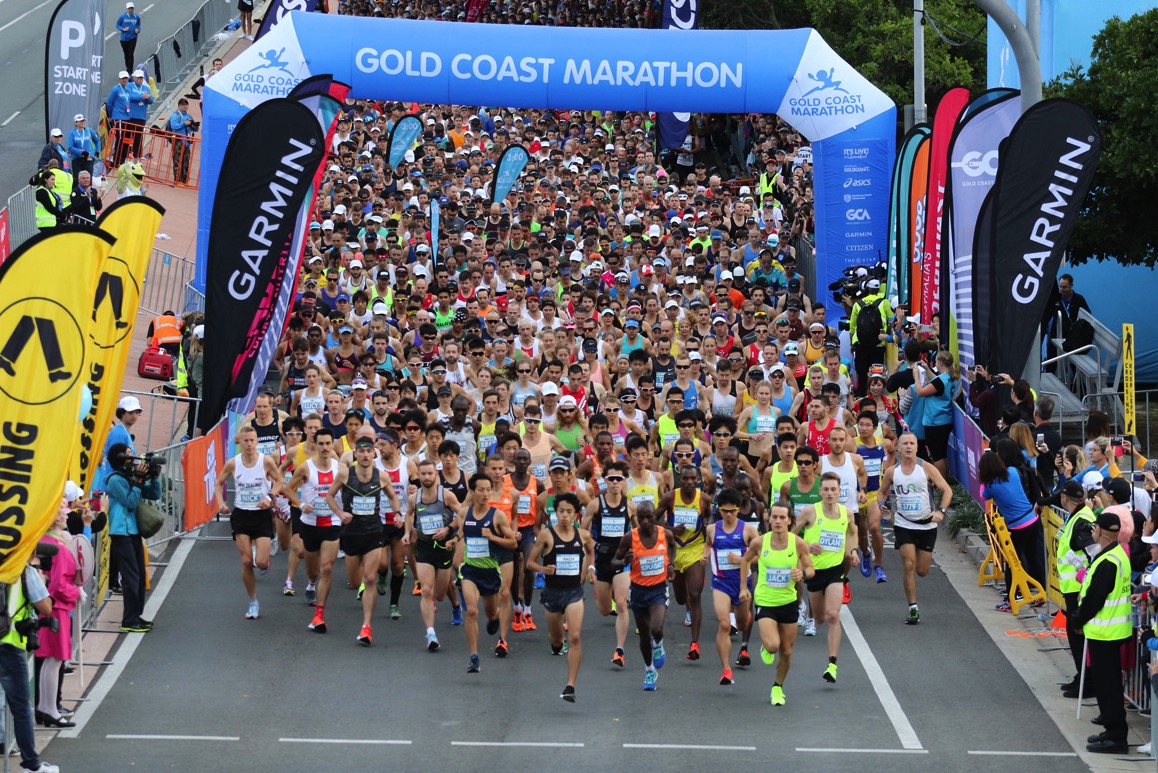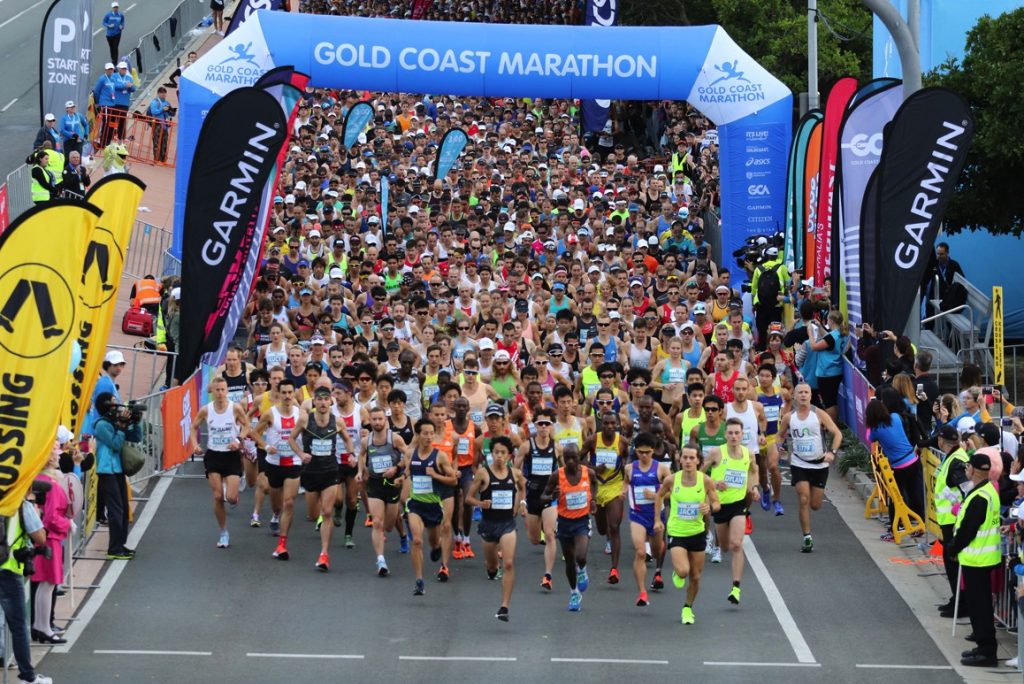 Fastest times run in Australia over the last 15 years – All-comers
Kenneth Mburu Mungara (KEN) 2:08:42 Southport QLD 05 Jul 2015
Silah Kipkemboi Limo (KEN) 2:08:54 Southport QLD 05 Jul 2015
Evans Kipkosgei Ruto (KEN) 2:08:55 Southport QLD 05 Jul 2015
Takuya Noguchi (JPN) 2:08:59 Southport QLD 02 Jul 2017
Kenneth Mungara 2:09:00 Southport QLD 03 Jul 2016
Yuki Kawauchi (JPN) 2:09:01 Southport QLD 03 Jul 2016
Kenneth Mungara 2:09:04 Southport QLD 02 Jul 2017
Silah Kipkemboi Limo 2:09:14 Southport QLD 06 Jul 2014
Yuki Kawauchi 2:09:18 Southport QLD 02 Jul 2017
Tewelde Hidru (ERI)  2:09:33 Southport QLD 05 Jul 2015
Kenneth Mungara 2:09:49 Southport QLD 01 Jul 2018
Kenta Murayama (JPN)  2:09:50 Southport QLD 01 Jul 2018
Jo Fukuda (JPN)  2:09:52 Southport QLD 01 Jul 2018
Nicholas Manza Kamakya (KEN) 1 2:10:01 Southport QLD 03 Jul 2011
Yuki Kawauchi 2:10:01  Southport QLD 07 Jul 2013
The 40th edition of the Gold Coast Marathon generated a record-breaking $28.5 million and more than 100,000 visitor nights for the Queensland economy. New data shows the event also attracted more than 27,000 participants including more than 6,500 in the sold-out signature marathon event.
"This is another great legacy of the Commonwealth Games – more than 1.5 billion people around the world tuned into this event and that's been reflected in the strong growth we've seen at this year's Marathon,"
-Tourism Industry Development Minister Kate Jones
Australia's other Gold Labelled race is the Sydney Marathon, which was awared this honor in 2015 and is definately one of the most scenic marathons on the planet. However despite being a Gold Label event, the Sydney marathon has never seen a sub 2:10. The course has had a number of changes over the years and now has a good focus on speed, mixed in with running over the Sydney Harbour Bridge and finishing at the Sydney Opera house. This event should be on every distance runner's bucket list. This year's top finishing time was run by Kenya's Elijah Kemboi with 02:13:37. In 2014 Ethiopa's Gebo Gameda ran in a 2:11:18 which is the fastest time to date. Sure this is a world class time, but until someone dips under the 2:10 mark it possibly the only IAAF Gold Labelled race, that has never seen a runner break the mark.
"More than 37,219 people have set a new record of participation this year, reinforcing the event's status as a world class running festival and one of the world's greatest marathons"
"Each year the event attracts thousands of runners from overseas and interstate, injecting more than $12 million into the local economy, while more than 2.5 billion people globally watch the spectacular vision of the marathon course winding around some of Sydney's most picturesque features including the harbour sparkling on a sunny Spring day."
-Blackmores Sydney Running Festival Event Director Wayne Larden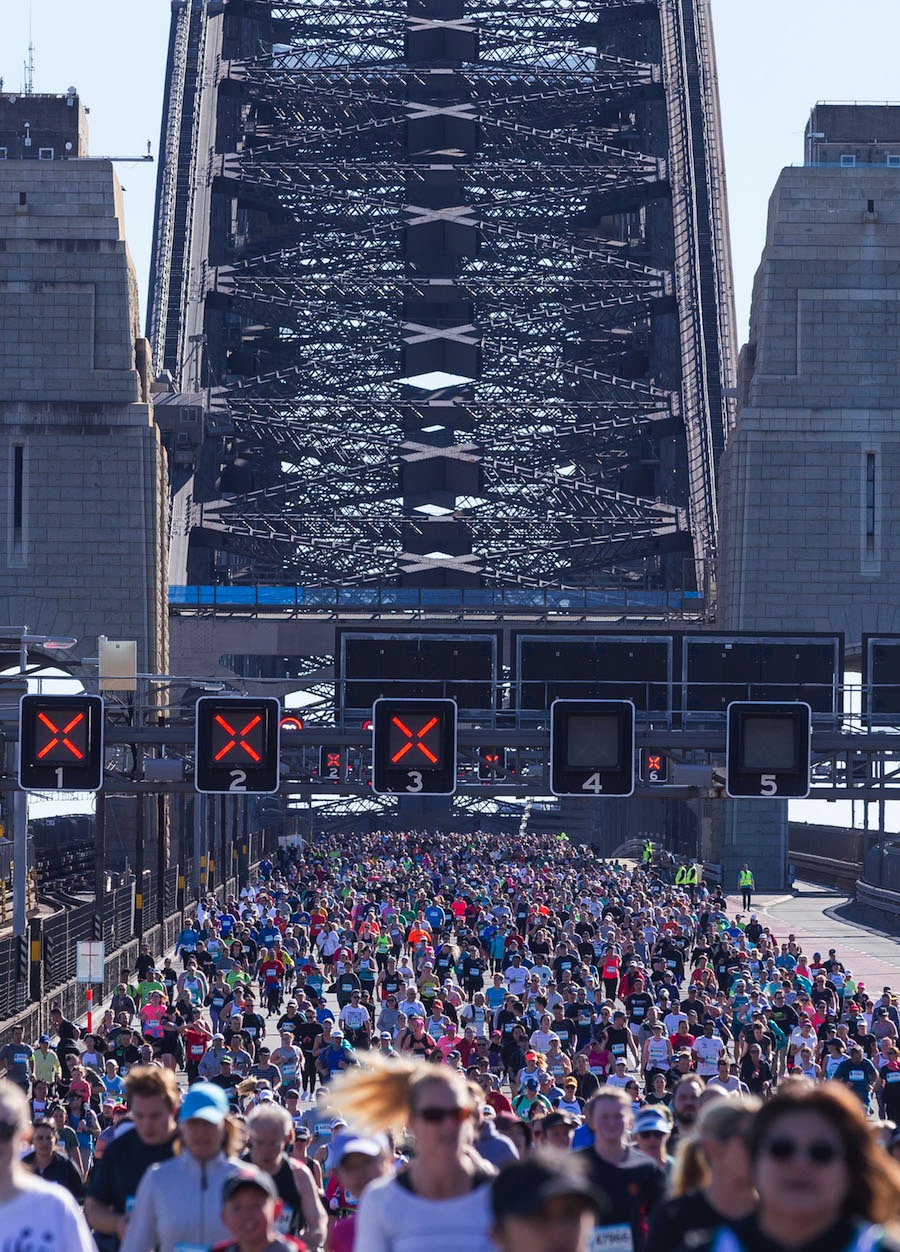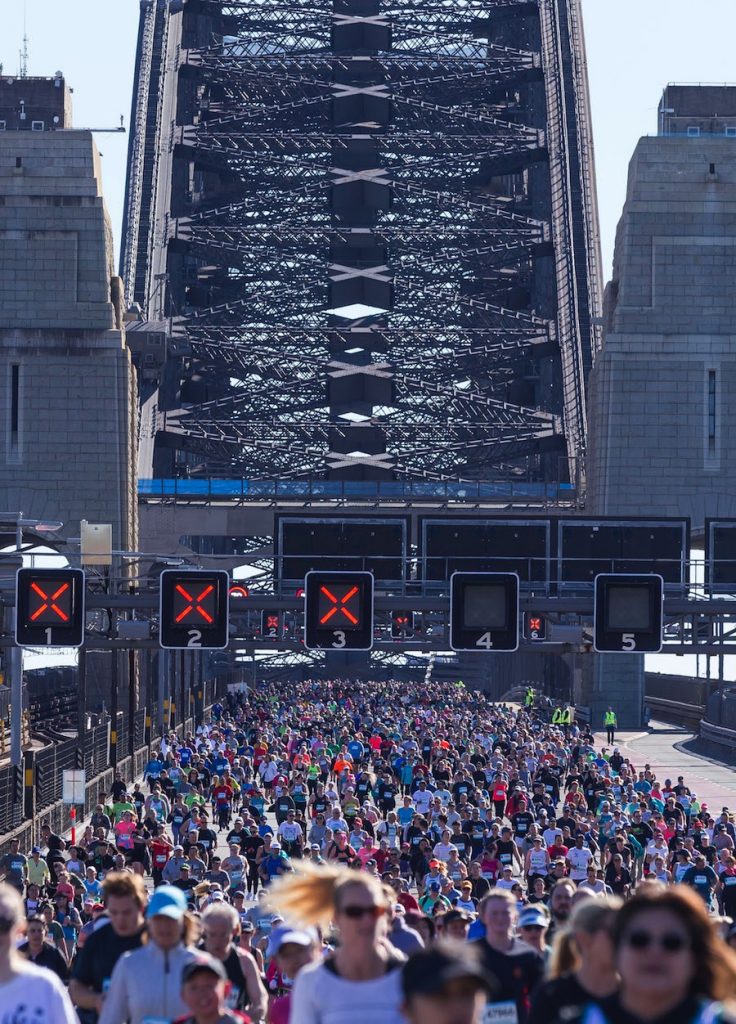 Top 15 times ever run at the Sydney Marathon
2014 Gebo Gameda 2:11:18 Ethiopia
2016 Tomohiro Tanigawa 2:12:11 Japan
2012 Yuki Kawauchi 2:11:52 Japan
2015 Hisanori KITAJIMA 2:12:44 Japan
2013 Willy Kibor Koitile 2:13:48 Kenya
2007 Julius Maritim 2:14:38 Kenya
2017 Shota Hattori 2:15:16 Japan
2009 Julius Kiprotich Seurei 2:17:07 Kenya
2011 Joel Kiplimo Kemboi 2:17:31 Kenya
2002 Stephen Bwiret 2:17:30 Kenya
2008 Julius Maritim 2:19:01 Kenya
2006 Julius Maritim 2:19:51 Kenya
2004 Oswald Revelian 2:21:13 Tanzania
2005 Julius Maritim 2:21:47 Kenya
2010 Issac Serem 2:25:17 Kenya
2001 Damon Harris 2:25:49 New Zealand
2003 Oswald Revelian 2:26:01 Tanzania
Despite the quick times of the Gold Coast marathon, as whole, the Sydney Marathon had a faster average finishing time this year. At the 2018 Sydney Marathon we saw a total of 4,372 entrants, with 3,807 finishers accumulating in an average finishing time of 04:17:48. On the Gold Coast we saw 6,712 entrants, with 5,912 finishers and an average finishing time of 04:29:58. A few reasons explains why Sydney had a faster average finishing time overall. One possible reason is that most runners know that the Gold Coast marathon is the fastest course (very flat) in Australia and hence, decide to run their yearly marathon there, resulting in an overall lower calibre of marathoners entering and finishing the race. Whether the previous reasoning is true or not, there are simply more runners at the GC marathon, and as numbers rise course averages tend to go up in time. Also, the Sydney Marathon has now become a lot flatter and will no doubt soon produce a sub 2:10 time if conditions favour it. If they can do this in the coming years and can top Mungara's GC time of 2:08:42, they can lay claim to being Australia's fastest marathon, but until then the Gold Coast takes the win for speed.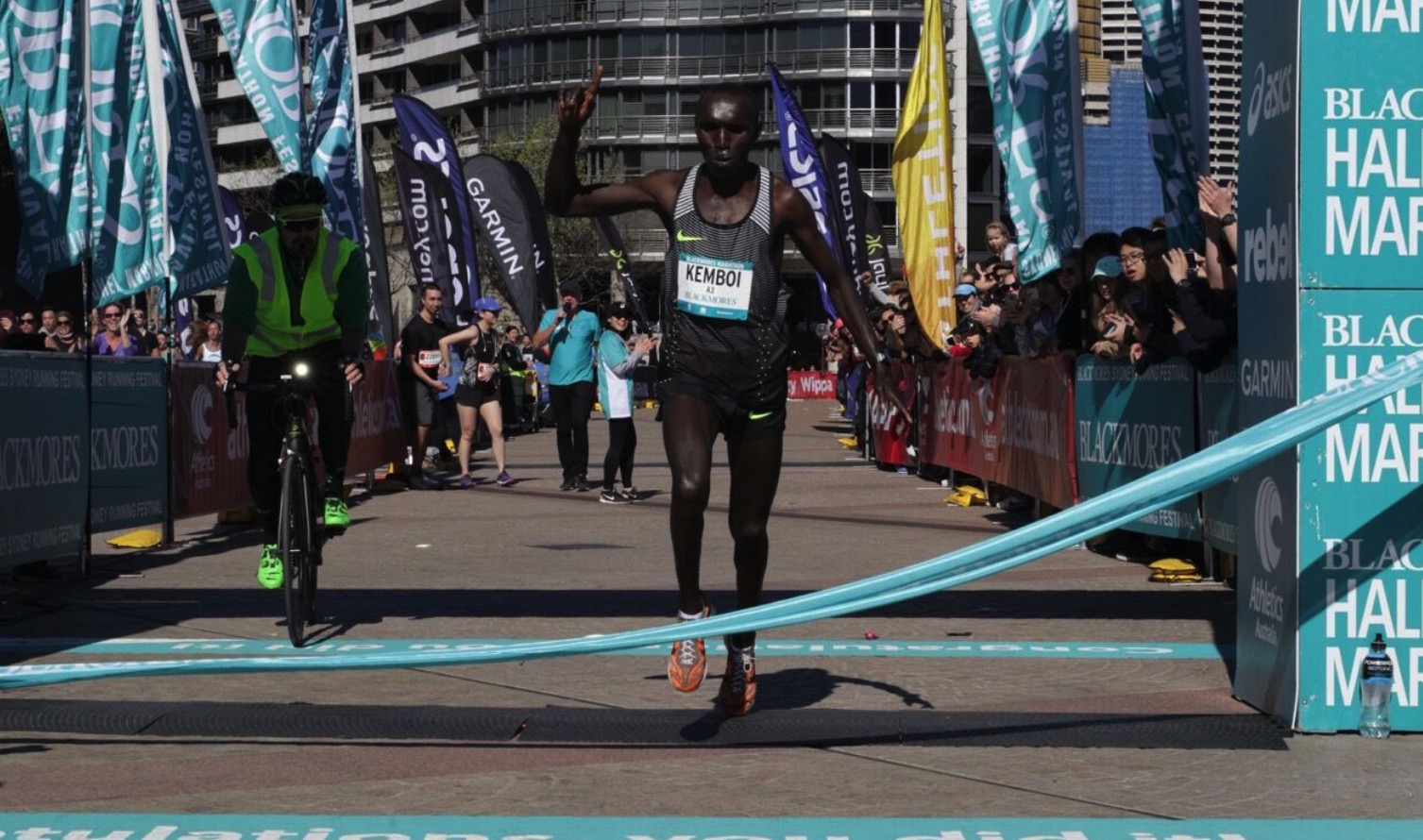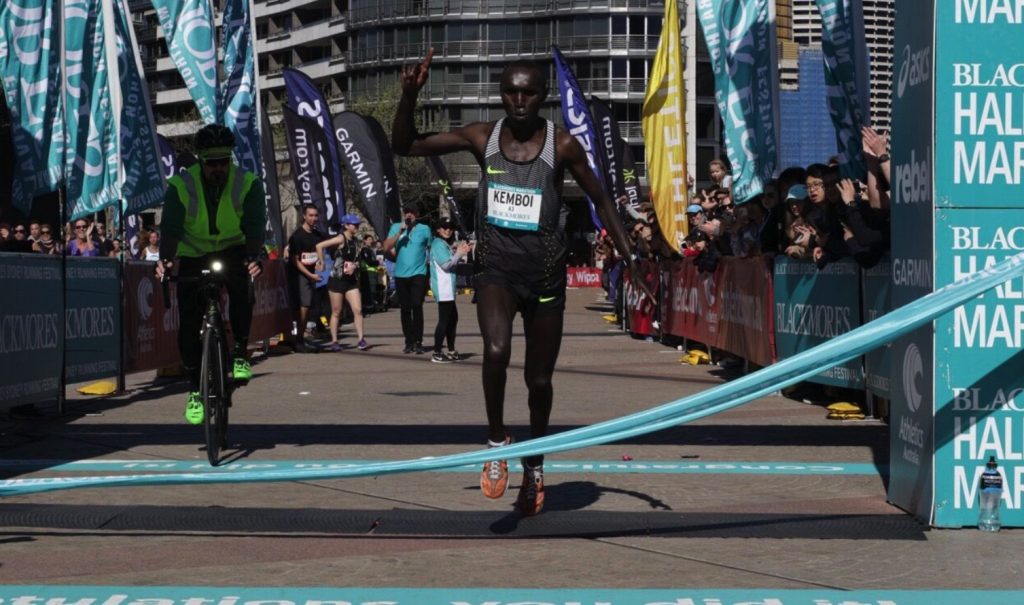 "It's a hard but beautiful course. It was also hard today due to the wind and it was cold." – This year's men's winner Elijah Kemboi of Kenya