This season has been the most exciting and enjoyable, both on and off the track. It has also been a time where I have endured the most change in what has been a very "cruisy" life to date. I have learned many lessons in compromise and discipline and although still finding my feet, I'm embracing all the opportunities change can bring.
The first change I faced at the beginning of last season was finishing school, and the first challenge, was sitting the HSC. I had attended Central Coast Grammar School for the past 10years and was very heavily invested in the school community, serving as Head Girl in my final year. It wasn't until my experience at World Youth that I felt ready and excited to move on. However, it was still a very emotional time to say goodbye to life behind the school gates. With the HSC looming and feeling under pressure due to the time and commitment necessary for World Youth, I spent the next couple of months with my head down playing catch up. My training schedule evolved around my study timetable, and I gave up my part time job. Having been with my coach Kevin Wills since I was 10years old, we already had a pretty good understanding of prioritising my HSC and knew how to work around it. Our motto was to train "smart not hard" ensuring a good balance between study and training with the aim above all, to keep me healthy.
After the HSC it was back into some serious training, although I did take three weeks off over Christmas/New Year to go to NYC with some friends for "schoolies", and to re visit my exchange family. This was a great compromise as the drinking culture of the "traditional schoolies" was not an option for me. Having a big break mid-season was not ideal, but I think it's important not to miss any of life's "rights of passage" so there are no regrets at the end of your career. I managed to keep reasonably fit, running through Central Park when it wasn't snowing! This meant that on my return I had to train pretty hard as I had a bit of catching up to do in terms of my fitness, but as I cross train, I was able to achieve this with minimal risk of injury.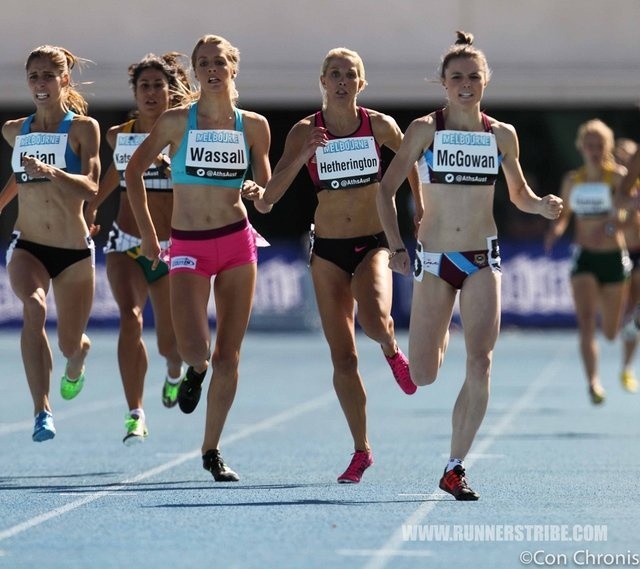 My coach and I decided that this season I would compete in the Australian Athletics Tour (AAT) for the first time as we felt that by competing against the older girls I would gain invaluable race experience and it was probably my best chance at running some faster times. The challenge here was fitting it into the junior schedule as well. During this same period, I was accepted into Sydney University to study Exercise Physiology, with which I was absolutely thrilled. It was decided that the only way I would be able to combine study and training would be to move to Sydney to minimise travelling time, as I live 1 ½ hours north of Sydney. I accepted a scholarship to Wesley College at Sydney University, and in February, moved from my home of 18years at Wamberal Beach, to Sydney. With this move came many new changes and challenges. Adjusting to college life was one thing, but training away from my home coach and home ground was an entirely new challenge. I am so fortunate to now have an entire team, training with John Atterton during the week in Sydney and back home with Kevin on weekends. I am also very fortunate to have the support of NSWIS and work hard with Geoff White in the gym two days a week and have Nicky Frey as a great mentor, making sure we all work together. This has not been easy to coordinate and we are all still learning along the way, but we all believe we can make it work. Adjusting to the social lifestyle of college as well as ensuring adequate nutrition and sleep is also a work in progress, but I have come to realise it can work really well if you're focussed and disciplined enough.
The AAT was the absolute highlight of my season. My first race as pacemaker at the Hunter Track Classic was only days after returning from NYC but it is always such a fun atmosphere I was excited to be involved in it any way. My first proper 800m race for the season was the Adelaide Track Classic, where I placed 2nd and ran a PB at the time of 2:02.9. My coach Kevin and I were really excited by this result as it indicated to us that I was on track to have a potentially very good season. Our optimism proved justified at the Sydney Track Classic (STC), which was my best race of the season. That weekend was very busy as I was also racing in the Australian Junior Championships in which I needed to win the U20 800m to ensure automatic selection for World Juniors, this meant I had to run three 800m in the space of 24hours! But my coach and I decided that racing against such a competitive field, including World Champion Eunice Sum, was too good an opportunity to miss. At the Sydney Track classic I ran my PB of 2:01.78, a Commonwealth Games B qualifier, and placed second to Eunice Sum. This absolutely exceeded my expectations as I did not expect to be so competitive in such a talented field. This was a very exciting time which was made even more special by running on my home track, meaning much of my extended family were there to watch and celebrate with me. I also managed to back up the next day to win the Australian Junior Championships. Knowing I had booked my seat on the plane to Eugene was a great way to end the weekend. I was thrilled and surprised to replicate my result of the STC of running 2nd to Eunice Sum in Melbourne at the IAAF World Challenge the following week, and spent my winnings in record time, ensuring I arrived back in Sydney broke again! Over the AAT I was pretty awe struck being surrounded by Australia's best middle distance runners and world champion Eunice Sum! I had met Angie Smit and Kelly Hetherington at Nations the previous year, and they have been so supportive of me ever since. I expected to feel pretty intimidated in the AAT for the first time, but the middle distance girls are all very friendly and relaxed. I absolutely embraced the challenge of running alongside these girls and am so grateful for the experience. The AAT has an amazing atmosphere, I loved the crowds, the music, and all the hype that went with it. I can't wait to race the AAT again next season. After that I found the Open Nationals a little flat.
The Australian Championships I found to be the hardest race of all, and was thrilled to come away with third behind Selma Kajan and Brittany McGowan who both raced very well. It wasn't my best race this season, but was certainly the one from which I learnt the most, and that is more valuable than anything at this stage in my career.
Although facing more changes and challenges this season than ever before, I have found it to be my most rewarding. By embracing change and not being afraid of it, it can allow you to move forward in all aspects of life. There is still much to learn about how all these changes and compromises will fit together, but by taking things one step at a time and with my immediate goal of performing to the best of my ability at World Juniors, I'm confident I can achieve it. My focus now is completely on being a part of the Australian Junior team bound for Eugene. This will be an amazing town to visit, being the home of track and field and the home of my sponsor Nike. The atmosphere will be amazing and I'm really proud to have another opportunity to represent my country