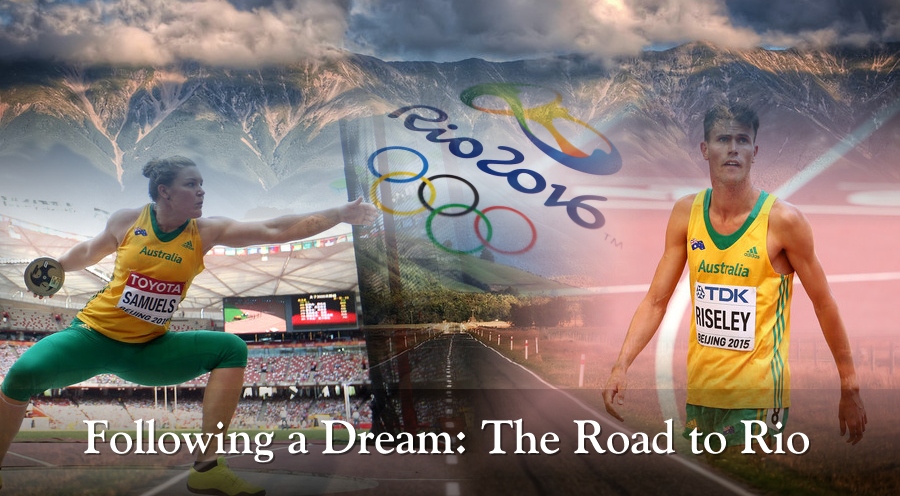 This week we take a look at some of our female athletes who are all at a critical stage in their individual careers. All four athletes that we focus on below are at different stages in their careers, but essentially are all looking for one thing – success on the international stage. They have all tasted success at a domestic level, and have all represented Australia on the international stage. This year they all look to take the next step and find success through impressing on the biggest stage of all – the Olympic Games in Rio.

Next Generation – Nelson, McGowan, Duncan and Rubie
When we look back over the past decade names like Sally Pearson, Dani Samuels, Alana Boyd, Eloise Wellings and Kim Mickle are the names we associate with success on the international stage. They have all either won medals or made finals at major World Championships or Olympic Games, and ultimately have lead the Australian charge at these major world meetings.
In 2016 we again look these stars of Australian athletics to lead the way, but at the same time we are on the look out to see who will also place their name in the elite group of world class athletes.
We take a look at four such athletes, all vying for a spot at the upper echelon of such a tough sport – that is track and field. These athletes are Ella Nelson, Anneliese Rubie, Melissa Duncan and Brittaney McGowan.
We start by looking at current National 200m champion, Ella Nelson.
Name: Ella Nelson
Age: 21
Sponsor: Puma
Events: 100m/200m
PB's: 11.66s / 22.84s
World Ranking: 87th in 2015 (23.04s)
2015 World Championships: 5th in Heat (38th overall)
Australian Championships: 2xNational Champion (200m)
The Story So Far in 2016:
After a stint in the United States, training with athletes such as Shai-Anne Davis (a 11.33s 100m runner from Canada) and Jodi Williams (European 200m champion with a PB of 22.46s) and under the watchful eye of master coach Stuart McMillan, Nelson has come back to Australia in excellent form.
In her first 200m of the season Nelson sped down the track to a decisive 22.84s PB, a time that was the fastest seen by an Australian since Lauren Hewitt ran 22.79s back in 2003. It was also the =10th fastest time on the all-time rankings.
The performance easily bettered the qualifying standard for the Rio Olympics, which will only assist her in planning out her schedule in the lead up to Rio. The performance also edges her closer to the worlds top-20 – which requires something around the 22.50s mark. This time would also see her well in the mix to make the semi final stage in Rio, and maybe even sneak her into a final. (note: the slowest time to make the final at the 2012 London Olympics was 22.56s).
Leading up to 2016: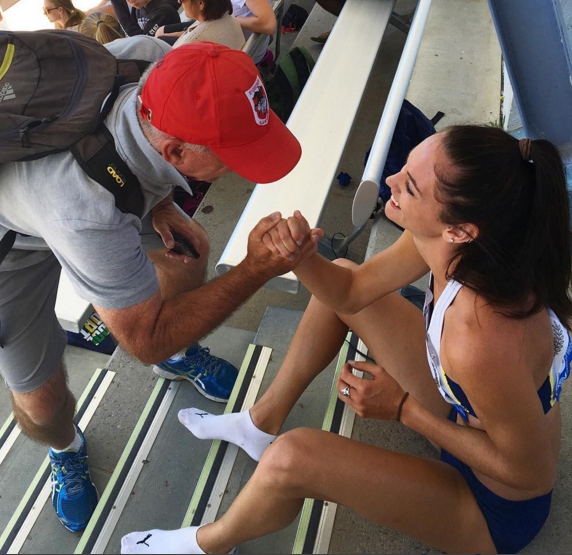 As a junior Nelson was always seen as the a sprinter on the rise – destined for big things. In 2010, just shy of her 16th birthday, she burst onto the scene in a big way with a 23.68s. In the same year she went onto compete at the World Junior Championships, placing a very creditable 6th in her semi-final (still only 16 years old). Then came the difficult period in any athletes career – the plateau in results.
Then in 2014 everything turned around, starting with early season PB's of 11.76s (100m) and 23.37s (200m). By the end of the year Nelson had again pulled on the green and gold, this time making the semi final stage at the Commonwealth Games. At the end of 2014 she had a new PB in the 200m of 23.26s and everything was back on track.
In 2015 a win at the National Championships in the 200m (23.04s) was followed up with a solid heat run at the World Championships in Beijing – where she ran 23.33s to place 5th. You get the sense though that she wasn't entirely happy with the performance, and she is making sure that she runs just that little bit faster in Rio – which has included a very important training period over in the United States. Expectations are quickly rising for this sprinting star.
Next meeting: Canberra Track Classic – 21st February
We now take a look at World Championship 400m semi finalist, Anneliese Rubie.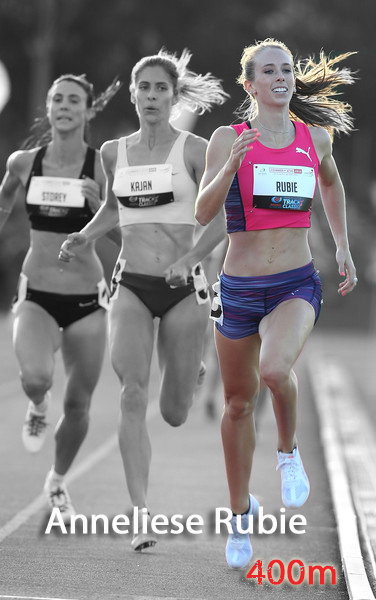 Name: Anneliese Rubie
Age: 23
Sponsor: Puma
Events: 200m/400m
PB's: 23.54s / 51.69s
World Ranking: 58th in 2015 (51.69s)
2015 World Championships: 7th in semi final (22nd overall). Also ran 52.3 split in the heats of the 4x400m, where Australia finished 6th in 3.28.61.
Australian Championships: 1xNational Champion (400m)
The Story So Far in 2016:
It has been a similar lead up for Rubie as she had in 2015, starting the season off with a few 800m races and then moving back down to her 'pet' event – the 400m. The glaring difference however in 2016 is the fact that her times in both events, so early on the season, are clearly a lot faster than what was recorded 12 months ago.
In 2015 Rubie opened with two 800m races – a 2.07.05 (Jan 11) and then a 2.05.48 (Jan 31). Then her first 400m race saw her open up with a 54.20s – set when placing 3rd at the Perth Track Classic. In 2016 she has opened with a 2.02.52 (Jan 10) and then a 2.02.53 (Jan 30). Then her first 400m race was a 52.84s performance at the ACT Championships. The improvements in times are incredible.
To place the results into perspective there were some people suggesting that the two lap event could be a real opportunity for Rubie to also grab an Olympic qualifier, especially after her opening run of 2.02.52. Maybe we were all just getting a little carried away, but the 2.01.50 qualifying time did seem quite realistic based on her 'hot' early season form.
Even though her 2.02.53 at the Hunter Track Classic was literally exactly the same time as her opener in Sydney, the year had started off with a bang. All eyes were quickly focused on her race at the ACT Championships – up against Morgan Mitchell who had just posted an impressive 52.04s PB in Newcastle. A second place finish in 52.84s may have been slightly disappointing to some, but as any athlete knows they don't hand out medals in February. Her new gained strength over the two laps will only led to bigger and better things over the one lap.
Leading up to 2016: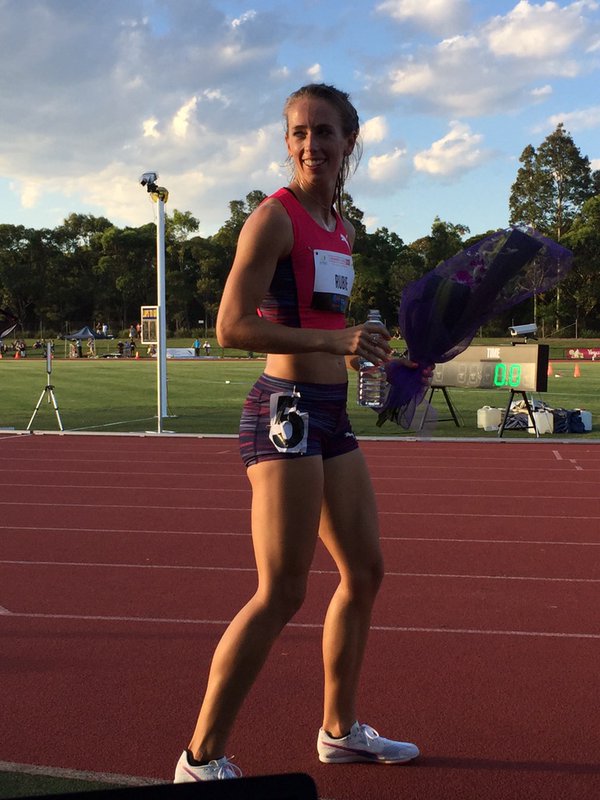 It all really started for Rubie when she made the semi finals at the World Junior Championships in 2010. She smashed her PB at the Australian Junior prior to the World Juniors – running 53.88s, and ran just outside that time at the Championships (54.29s in her heat and 54.39s in her semi final).
Rubie's next big breakthrough run came at the 2013 Perth Track Classic – when she broke through the 53 second barrier for the first time (52.89s). Rubie then went onto win the Melbourne Track Classic in 52.61s, moving onto the Nationals to place second in 52.80s.
In 2014 she lowered her PB to 52.35s (when second to Mitchell at the Nationals), whilst also making the semi final stage at the Glasgow Commonwealth Games. All up she broke 53 seconds on six occasions in 2014, and was also part of the Australian 4x400m team that finished 4th at the Commonwealth Games.
In 2015 she won the National 400m title in a time of 52.77s, but it wasn't quick enough for her to qualify for the World Championships. Then in the space of three weeks everything changed. A 52.29s PB on the Gold Coast in late July was quickly followed up with a 52.20s WQ in Japan on August 15 – just prior to the deadline to qualify for Beijing. Then came the real surprise – a heat run in Beijing of 51.69s that not only obliterated her previous PB of 52.20s, but also saw her advance through to the semi final stage. There she ran her second fastest time of her career (52.04s) – to end a fantastic two months of competition.
Next meeting: Adelaide Track Classic – 21st February
Coming up next – we focus in on 800m runner Brittany McGowan and new Australian indoor 1500m record holder, Melissa Duncan.