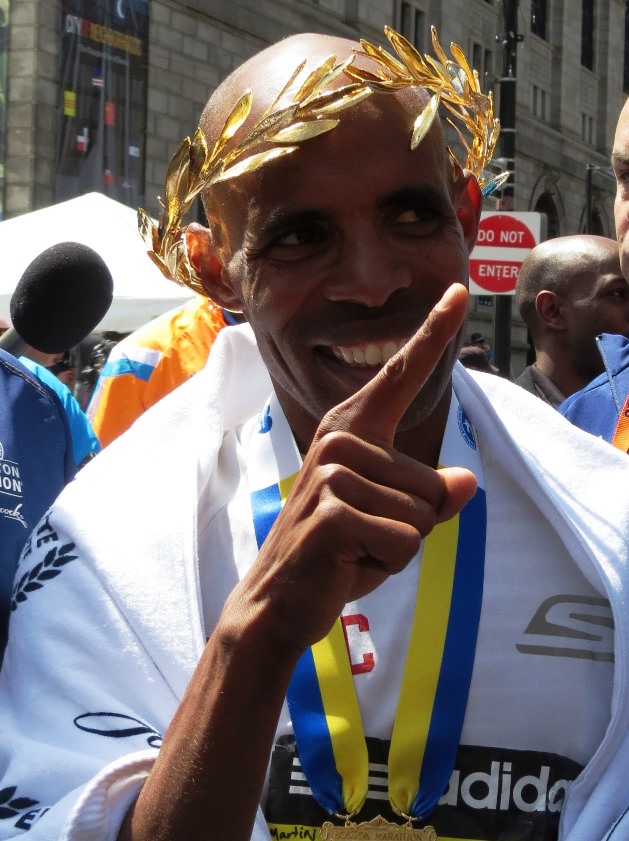 By David Monti, @d9monti
(c) 2016 Race Results Weekly, all rights reserved
(14-Feb) — With a month to go before the USA Olympic Marathon Trials in Los Angeles, defending champions Meb Keflezighi and Shalane Flanagan are leaving nothing to chance in their training, despite being the fastest qualifiers for the February 13 race.  Speaking to reporters today via conference call, the two three-time Olympians said that they have their heads down and are paying attention to every little detail in their training.
Keflezighi, 40, said that despite not being injured, he was applying ice to his legs during the teleconference to keep away any possible inflammation.
"The key is to my long career is the small things make a big difference," said Keflezighi from his training base at 2400 meters in Mammoth Lakes, Calif.  Confronted by generous amounts of snow there he's been driving 90 miles round-trip to do his main training in Bishop which, because of its lower altitude, has no snow and warmer temperatures  "The running part is the easy part," he continued.  "It's what you do the next 22 hours."
At an age where most runners are in decline, Keflezighi's career has blossomed.  He earned an Olympic Marathon silver medal in 2004 in Athens, but after fracturing his pelvis in the 2008 Olympic Marathon Trials in New York  –a race made worse by the death of his training partner Ryan Shay from heart failure– Keflezighi struggled to get healthy before finally bouncing back to win the 2009 TCS New York City Marathon.  By doing so, he became the first American man in 27 years to win that race since Alberto Salazar.
Since then he's signed with a new primary sponsor (Skechers) so he's been able to race sparingly, pick his spots, and extend his career.  He won the 2012 Trials in Houston in a then personal best 2:09:08, then was a shocking fourth at the 2012 London Olympics, coming from back in the field in the second half and nearly getting another Olympic medal.  Organizers didn't even introduce him on the starting line, despite the fact that he was the only previous Olympic Marathon medalist in the field.
He went on to win the 2014 Boston Marathon in an improbable solo run, setting a career best time of 2:08:37 just days before his 39th birthday.  That time makes him the fastest qualifier for the Los Angeles Trials.
"Marathon is all about patience, discipline and commitment, and most importantly, don't give up," Keflezighi said today, giving a well-rehearsed line.
Flanagan, 34, will be looking for her fourth Olympic team berth, and her second in the marathon.  She comfortably won the 2012 Trials in Houston (in only her second marathon), then finished ninth in the London Olympics, just ahead of former training partner Kara Goucher.  She admittedly struggled in that race, which provided valuable lessons for her as an athlete, lessons which have helped her stay focused on her training now.
"Every chance I just wanted to drop out," she admitted today of her London Olympic race.  "Marathons are great lessons and great teachers," she continued.  "I was really proud of my persevering through the race."
While still racing from time-to-time on the track, Flanagan has made the marathon her central event.  She was fourth at Boston in 2013, seventh in 2014 in a blistering 2:22:02, then took a shot at Deena Kastor's American record at the BMW Berlin Marathon in September, 2014.  She ran the tenth-fastest time in the world that year (2:21:14), but fell short of Kastor's mark of 2:19:36.  Flanagan's last marathon was a ninth place finish at Boston last year, a race she considers her benchmark for marathons.
"When I look at courses, nothing is tougher than Boston," Flanagan observed.  "It's toughened me up and calloused me."
Flanagan, who now trains with Amy Cragg –the fourth place finisher from the 2012 Trials and the USA 10,000m champion from the same year– said she's very focused on the details of her training and that having Cragg to run with is a big benefit.
"She is a great training partner," Flanagan said.  "She's willing to share the workload equally."  She added: "I'm very very grateful to have her around."
Training with the Nike-sponsored Bowerman Track Club in Portland, Ore., Flanagan says she is energized by a team environment.  She enjoys not only working out with a regular team, but also acting as a mentor for younger athletes like IAAF World Championships bronze medalist Emily Infeld.  Cragg, who just recently joined the team, fits in perfectly."
"I find personally that I thrive on a team environment to share this process with," she said.  "I was very fortunate that Amy wanted to join me on this journey."  She continued: "I just find that I really enjoy the friendship, the mentorship and I thrive on the accountability.  Overall I'll have a lot of great memories from this build up."
Both Keflezighi and Flanagan refused to call themselves "favorites" for next month's Trails, and both were guarded with their comments about their competitors.  Keflezighi, who said that after all of the training is done that the marathon itself is 90% mental and 10% physical, summed up his rivals this way:
"This will be my 23rd marathon and I hope I land on the podium," he said. He added: "When the gun goes off you you never discount anybody."
PHOTO: Meb Keflezighi after winning the 2014 Boston Marathon (photo by Jane Monti for Race Results Weekly)