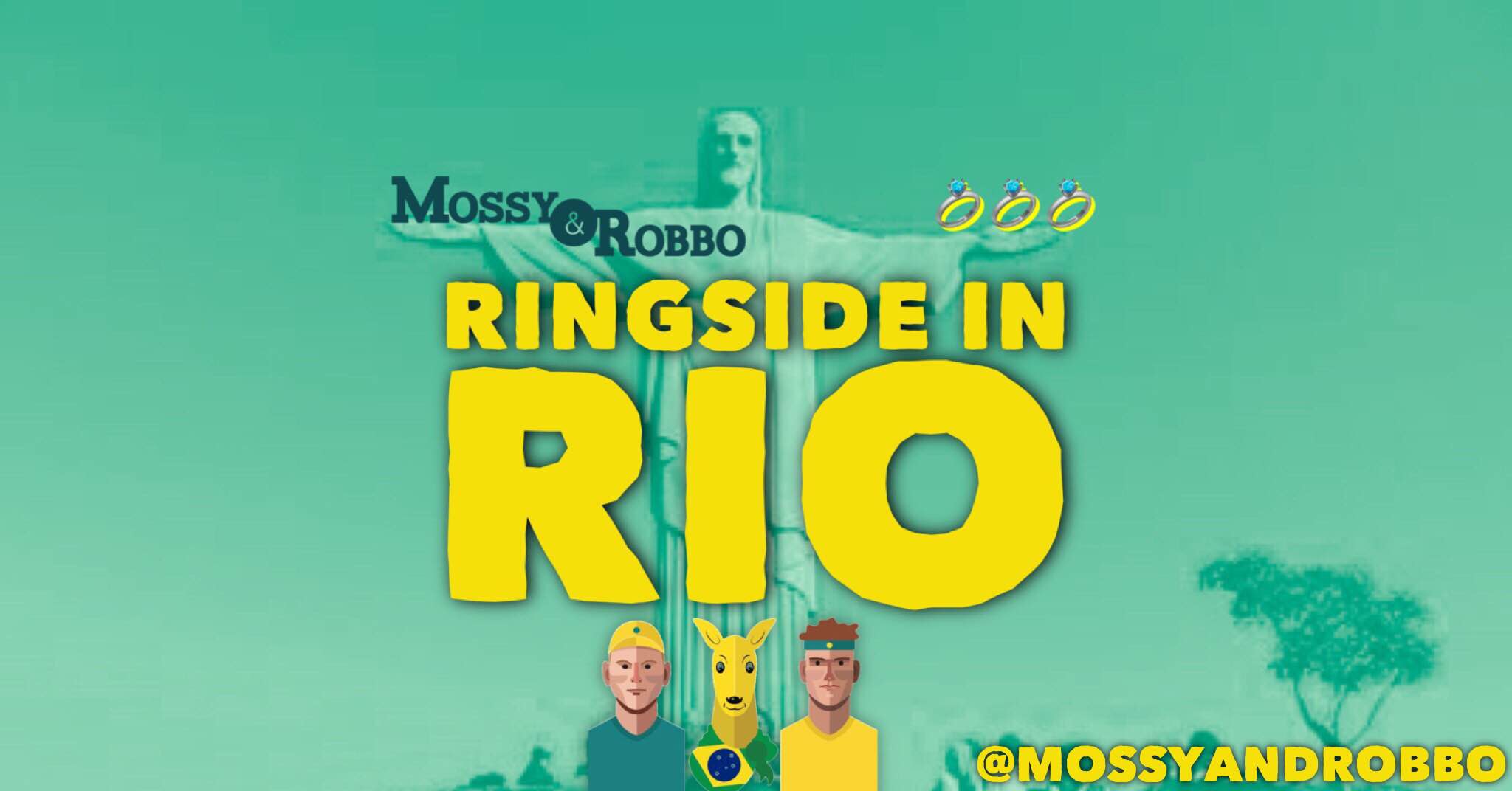 Most recent post up top. Keep refreshing as this page is updated constantly as the Aussies perform and people tweet, post etc…
VALIANT EFFORT! 💪
Kurtis Marschall fails on his third attempt in the Pole Vault, finishes 15th on countback and won't progress to the final

— Athletics Australia (@AthsAust) August 14, 2016
Congratulations Elaine Thompson 100m Olympic champion! #Rio2016 https://t.co/i0Sl8mZNsi

— RunnersTribe.com (@runnerstribe) August 14, 2016
KURTIS CLEARS!

Marschall successful over 5.60m on his third attempt!

— Athletics Australia (@AthsAust) August 14, 2016
It's @rudishadavid time at #Rio2016 #800m #Athletics

— RunnersTribe.com (@runnerstribe) August 14, 2016
Controversial finish to men's LJ final! #USA Henderson wins #gold, #RSA Manyonga #silver & #GBR Rutherford #bronze https://t.co/SD72cQ66IJ

— 7Olympics (@7olympics) August 14, 2016
#USA Jeff Henderson takes the lead with his final jump of 8.38m! Two jumpers to come. What a final! #Rio2016 https://t.co/hfdCWOTLum

— 7Olympics (@7olympics) August 14, 2016
No improvement for Henry Frayne. Gave it everything with limited prep. He finishes with 8.06m in 7th place#OneTeam pic.twitter.com/A0WaXa8kex

— Athletics Australia (@AthsAust) August 14, 2016
#NZL 10,000m Record has been destroyed by Zane Robertson (@runninelvis) in Rio with 27:33.67, 12th place overall #Rio2016 @letsrundotcom

— RunnersTribe.com (@runnerstribe) August 14, 2016
Big effort by Aussies @RunDMC_Neill 16th with 27:51.71, @bennysaint 28th with 28:46.32 in a historic 10,000m Final #Rio2016 @melbtrackclub

— RunnersTribe.com (@runnerstribe) August 14, 2016
@Mo_Farah is double 10,000m #Olympics Champion #Rio2016 #Athletics https://t.co/i0Sl8mZNsi pic.twitter.com/4rL2C7aNIW

— RunnersTribe.com (@runnerstribe) August 14, 2016
Despite an early fall, #GBR @Mo_Farah is in the lead pack in the 10,000m final! 5 laps remaining. Live on 7 and app. https://t.co/p4iBskrGRX

— 7Olympics (@7olympics) August 14, 2016
#FrayneTrain 🚂 jumps 8.03m (w: -0.3) not an improvement, still in 7th place.
2 jumps remain pic.twitter.com/YEa1jdldFb

— Athletics Australia (@AthsAust) August 14, 2016
The hammer is down in 10,000m #Rio2016 Aussies @RunDMC_Neill & @bennysaint going hard but tough to stay with @Mo_Farah & crew. Go time!

— RunnersTribe.com (@runnerstribe) August 14, 2016
#FrayneTrain fouls his third attempt… but good news is he gets an extra 3 jumps to improve!#OneTeam pic.twitter.com/mapiW0HRqp

— Athletics Australia (@AthsAust) August 14, 2016
@G_Rupp accidently trips @Mo_Farah in 10,000m final #Rio2016 Good friends look out for each other. #OLYMPICSPIRIT pic.twitter.com/gBkiAPm199

— RunnersTribe.com (@runnerstribe) August 14, 2016
@RunDMC_Neill & @bennysaint are underway in the 10,000m. Staying in touch early #Rio2016 https://t.co/i0Sl8mZNsi pic.twitter.com/pdiEfdc7PB

— RunnersTribe.com (@runnerstribe) August 14, 2016
.@kurtismarschall goes over 5.45m pic.twitter.com/Beka5ByhXP

— Chris Erickson (@ChrisErickson00) August 14, 2016
@FabriceLapierre fouls out of the long jump final #Rio2016 So tough #Olympics #LongJump He gave everything @melbtrackclub @AthsAust

— RunnersTribe.com (@runnerstribe) August 14, 2016
Great jump! #AUS @henryfrayne jumps 8.06 with his second jump and moves into 6th place! #Athletics on 7 and app https://t.co/9usOXmEFBO

— 7Olympics (@7olympics) August 14, 2016
Henry Frayne rips out an 8.06m with his second attempt in the men's long jump final. #Rio2016

— Luke Pentony (@LukePentony) August 14, 2016
#AUS @FabriceLapierre leaps 7.87m with his 2nd jump in the men's LJ final. #Athletics live on 7 and #7Olympics app https://t.co/iBvmMfwvsQ

— 7Olympics (@7olympics) August 14, 2016
Fab Lapierre's 2nd jump out to 7.87m (w: -0.9), sits in 7th place#OneTeam pic.twitter.com/h9z6hclQLC

— Athletics Australia (@AthsAust) August 14, 2016
UP NEXT: Distance star @RunDMC_Neill runs the 10,000m at #Rio2016#OneTeam pic.twitter.com/Hc4kh2KXCu

— Athletics Australia (@AthsAust) August 14, 2016
@henryfrayne 7.83 for his first jump. One on the board. Now time to go big #Rio2016 https://t.co/i0Sl8mZNsi

— RunnersTribe.com (@runnerstribe) August 14, 2016
@kurtismarschall clears first attempt at 5.30m #Rio2016 #polevault

— RunnersTribe.com (@runnerstribe) August 14, 2016
@FabriceLapierre is pumped up #Rio2016 His 2nd jump is going to be big #Athletics #longjump #Olympics

— RunnersTribe.com (@runnerstribe) August 14, 2016
Fabrice Lapierre opens with a foul in the men's long jump final. #Rio2016 #Athletics

— Luke Pentony (@LukePentony) August 13, 2016
One last look at the pit. Go Fabrice! @AthsAust @FabriceLapierre pic.twitter.com/dXUsnH3u2G

— Athletics Aus Pres (@Pres_AthsAust) August 14, 2016
Delayed start to the pole vault due to electrical issues.
Luckily they've sent in the 'big guns' with @Doctor_Roe currently fixing it!

— Athletics Australia (@AthsAust) August 13, 2016
NSW ATHLETE WATCH: Let's get right behind @FabriceLapierre as he jumps for gold!! All the action… https://t.co/4x02ryct0Q

— Athletics NSW (@NSWAthletics) August 13, 2016
Here we go! The Aussie long jump men @FabriceLapierre & @henryfrayne are set to begin. #Rio2016 #LongJump #Olympics https://t.co/i0Sl8mZNsi

— RunnersTribe.com (@runnerstribe) August 13, 2016
#GRN @Kirani_James wins semi-final 1 in 44.02, #USA @lashawnmerritt 2nd. Live on 7 and #7Olympics app https://t.co/KXK085I0u8

— 7Olympics (@7olympics) August 13, 2016
ATHLETICS: 19-year-old @kurtismarschall will come into the pole vault competition at the opening height of 5.30m. He has a PB of 5.70m.

— AUS Olympic Team (@AUSOlympicTeam) August 13, 2016
Pole Vault Progression rules: AutoQualifying 5.75 or 12 best performers advance to Final.
We'll provide live results pic.twitter.com/mTDq2jpeRi

— Athletics Australia (@AthsAust) August 13, 2016
#AUS @FabriceLapierre ready for takeoff! He & @henryfrayne compete in the LJ final from 9:50am on 7 & #7Olympics app https://t.co/QuOUNMSdeE

— 7Olympics (@7olympics) August 13, 2016
HERE WE GO!@henryfrayne and @FabriceLapierre make the Long Jump final starting 9:50 aest ✈️#LapiAIR #FraynePlane pic.twitter.com/XR2T3wbiHd

— Athletics Australia (@AthsAust) August 13, 2016
Latest episode of #RingsideInRio up now on https://t.co/mwvWYDPe8f 💜☮ pic.twitter.com/e94dgAcAIJ

— 〽️ossy and Robbo (@MossyandRobbo) August 13, 2016
Good luck to @RunDMC_Neill & @bennysaint in men's 10,000m final #Rio2016 @MossyandRobbo @AthsAust @melbtrackclub pic.twitter.com/0lPnPjYvoB

— RunnersTribe.com (@runnerstribe) August 13, 2016
Looking forward to seeing #Kurtocabana & @ThePoleOfficial team up in the Estadio Olimpico at 9:20am AEST 🇦🇺💪🏼💚💛@kurtismarschall #Athletics

— ▶️ Dave Robbo (@mrdaverobbo) August 13, 2016
RIO TODAY: The #Rio2016 #athletics schedule w Aussies in action, for your viewing pleasure.#OneTeam #7Olympics pic.twitter.com/bB1D1Oqk9G

— Athletics Australia (@AthsAust) August 13, 2016
Catch up on Aussie Rio Updates Via Social Media: Day 2 MORNING by clicking on the link bellow.
Evening session in Rio (Sunday morning in Australia)
Article thanks to Athletics Australia
Kurtis Marschall (SA) enters the men's pole vault as the first Australian male teenager in the Olympic event. At just 18-years-of-age, Marschall has climbed to the seventh best height on the country's all-time list and comes to Rio hot on the heels of a silver medal at the world under 20 championships in Poland last month. With a great history of countrymen in the pole vault, Marschall will have enormous support behind him as he carries on Australia's fine tradition in this event.
Henry Frayne (Qld) and Fabrice Lapierre (NSW) have leapt into the men's long jump final with impressive jumps of 8.01 (+0.2) and 7.96m (+0.1) respectively in the qualifying round earlier today. Lapierre wants to transfer his 2015 world championship silver into Olympic gold. He missed out in London with injury, but is finally returning to the biggest stage, confident he can win gold. Frayne, also featuring in his second Olympic Games, is a sneaky medal chance if he can back up from the qualifying round. With four Olympic silver medals to Australia in the men's long jump; surely it's time to find gold?
David McNeill (Vic) and Ben St Lawrence (NSW) will lace-up the spikes for the men's 10,000m final. St Lawrence holds the Australian 10,000m record with McNeill's ranked 7th on the Australian all-time list. McNeill makes his Olympic debut in Rio while St Lawrence is into his second Games following a top 20 finish in London. Great mates,McNeill and St Lawrence will give it their all looking to break into the top ten for the first time since Bill Scott in Moscow in 1980.