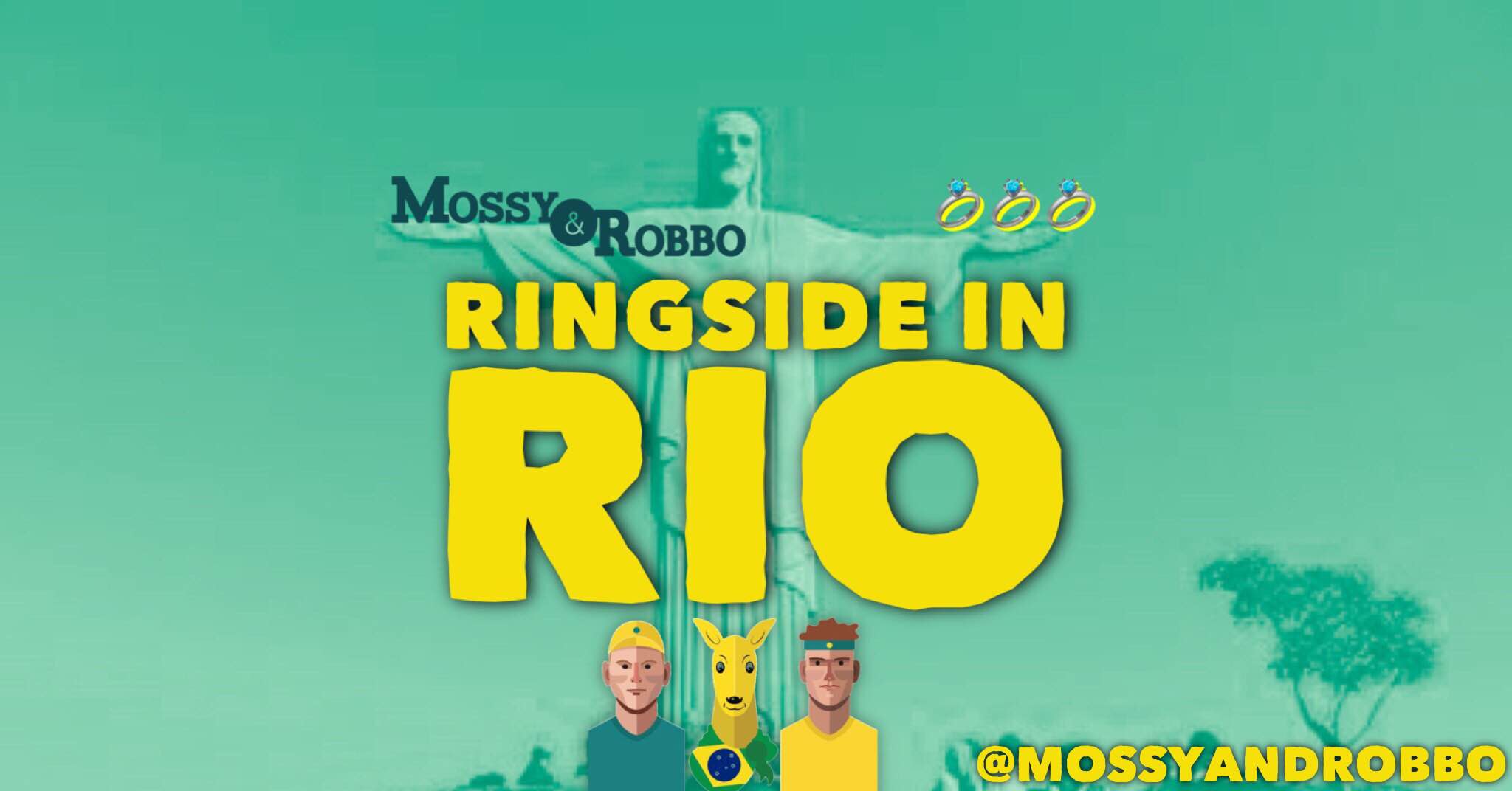 Most recent post up top. Keep refreshing as this page is updated constantly as the Aussies perform and people tweet, post etc…
What a night of #athletics in #Rio2016 Despite the rain the power of the #Olympics is clear @AthsAust @MossyandRobbo 👏👏👏👏👏👏👏👏👏

— RunnersTribe.com (@runnerstribe) August 16, 2016
Yet ANOTHER incredible day/night of track & field. I wish this Olympic thing would never end… So much excitement day in & day out#Rio2016

— Chris Lotsbom (@ChrisLotsbom) August 16, 2016
That was an absolutely epic pole vault comp! WOW! #Rio2016

— Henry Frayne (@henryfrayne) August 16, 2016
SAVE!!!!!! DA #GOLD FOR DA SILVA

Incredible 🇧🇷💚💛💚💛💚💛💚💛💚💛💚💛💚💛💚💛💚💛💚💛💚💛💚💛💚💛💚💛💚💛💚💛💚💛💚💛💚💛💚💛💚💛💚💛💚💛💚💛💚💛💚@spikesmag @timebrasil @Rio2016_en

— ▶️ Dave Robbo (@mrdaverobbo) August 16, 2016
Huge upset! What a battle!

Thiago Braz #BRA clears Olympic record of 6.03m to beat defending champion Renaud Lavillenie. #FRA#Rio2016

— RunnersTribe.com (@runnerstribe) August 16, 2016
Dive left! https://t.co/zQNFrExkUI

— ▶️ Dave Robbo (@mrdaverobbo) August 16, 2016
DaSilva falls short at 6.03m, #rio2016

— RunnersTribe.com (@runnerstribe) August 16, 2016
Possibly…

— ▶️ Dave Robbo (@mrdaverobbo) August 16, 2016
#FRA Renaud Lavillenie clears a massive 5.98m to beat his own OR in the Pole Vault final!#Athletics #Rio2016 https://t.co/YQSb9BNWvl

— 7Olympics (@7olympics) August 16, 2016
— Complex Sports (@Complex_Sports) August 16, 2016
Lavillenie clears and breaks his own #Olympics record! #rio2016https://t.co/eNJ27PLSry

— RunnersTribe.com (@runnerstribe) August 16, 2016
Bar now moves to 5.98m for Lavillenie and DaSilva! #rio2016

— RunnersTribe.com (@runnerstribe) August 16, 2016
Now guaranteed no worse than #SILVER for Da Silva! #polevault #Athletics #@brastralia

— 〽️ossy and Robbo (@MossyandRobbo) August 16, 2016
We did… https://t.co/t1lqZKMIMg

— RunnersTribe.com (@runnerstribe) August 16, 2016
Da Silva, Kendricks still in. Both missed 5.93m on first. Lisek missed at 5.93m.Da Silva clears 5.93m on second attempt! #rio2016

— RunBlogRun (@RunBlogRun) August 16, 2016
And scores the try under the posts! 🏉😜 #kicktocome #greatrun https://t.co/PhYuWa0ZiN

— 〽️ossy and Robbo (@MossyandRobbo) August 16, 2016
WHAT A RACE! #BAH Shaunae Miller dives across the line to win #gold in the women's 400m! #USA Allyson Felix #silver https://t.co/D2ka126KW7

— 7Olympics (@7olympics) August 16, 2016
Wow! That was awesome! Miller wins Gold! @Hey_ItsShaunae #rio2016 https://t.co/eNJ27PLSry pic.twitter.com/5wWiENnEyy

— RunnersTribe.com (@runnerstribe) August 16, 2016
women's 400m final. On your marks. #Rio2016https://t.co/eNJ27PLSry

— RunnersTribe.com (@runnerstribe) August 16, 2016
Back-to-back! David Rudisha becomes the 1st man to repeat as Olympic 800m champ since 1964. pic.twitter.com/e0gYw7k2oy

— SportsCenter (@SportsCenter) August 16, 2016
Congrats to David Rudisha! Back-to-back 800m #gold medals!

Of course, starting his 2016 season in Australia! pic.twitter.com/LQNgm5PrlH

— Athletics Australia (@AthsAust) August 16, 2016
1:42.15 is the third fastest 800m time in the Olympic; only Rudisha and Amos in 2012 ran faster

— K Ken Nakamura (@KKenNakamura) August 16, 2016
@Clayton_Murph 🇺🇸🇺🇸🇺🇸 pic.twitter.com/t1smAnbqyu

— DOM • SCOTT-EFURD (@domscottrunSA) August 16, 2016
RUDISHA! 🏅🇧🇷🇰🇪🏃🏾#Athletics #GOLD #Olympics @rudishadavid pic.twitter.com/WcHJCqrpb9

— ▶️ Dave Robbo (@mrdaverobbo) August 16, 2016
Catch me if you can! @rudishadavid wins the Olympic men's 800m https://t.co/eNJ27PLSry pic.twitter.com/Ku99Deo847

— RunnersTribe.com (@runnerstribe) August 16, 2016
He thrilled us in London. What will #KEN David Rudisha do in Rio? Men's 800m final up next on 7 and #7Olympics app https://t.co/hfC1zftE31

— 7Olympics (@7olympics) August 16, 2016
NEVER IN DOUBT! 😉 Onya @Loz_Wells 💚💛👍🏼👍🏼 https://t.co/EstTHnDnuL

— 〽️ossy and Robbo (@MossyandRobbo) August 16, 2016
Lauren Wells is into the semis in #Rio2016 Well done!! 👏👏👏https://t.co/eNJ27PLSry pic.twitter.com/VoQcw16A3f

— RunnersTribe.com (@runnerstribe) August 16, 2016
Fingers crossed for @Loz_Wells in #Rio2016 Looks like she is through to the next round @MossyandRobbo pic.twitter.com/mHD40hTOe0

— RunnersTribe.com (@runnerstribe) August 16, 2016
@Loz_Wells 4th place and on time is looking ok to advance. Fingers crossed for Lozhttps://t.co/eNJ27PLSry pic.twitter.com/gVlTo30gyD

— RunnersTribe.com (@runnerstribe) August 16, 2016
Go @Loz_Wells !!!! #AUS

— Steven Solomon (@stevesolo10) August 16, 2016
Go time for @Loz_Wells about to race now! pic.twitter.com/eemGcmZ6gy

— RunnersTribe.com (@runnerstribe) August 16, 2016
UP NEXT: 9-time national champ in the 400m hurdles round 1, heat 5#GoLozza #OneTeam pic.twitter.com/cCWYcdXNid

— Athletics Australia (@AthsAust) August 16, 2016
From the John Akii-Bua lane! @oliverwurm @MattyBDEPT https://t.co/hOkFJbQaql

— ▶️ Dave Robbo (@mrdaverobbo) August 16, 2016
"My 3rd throw I left nothing out there, conditions were a bit tough…It was a good throw!" – Samuels qualifies pic.twitter.com/LtklB4y667

— Athletics Australia (@AthsAust) August 16, 2016
Let's go Lozza! 🚧👊🏼💚💛 https://t.co/w2MNEsz55n

— 〽️ossy and Robbo (@MossyandRobbo) August 16, 2016
HUGE! QUALIFIED!
Dani Samuels throws her way to the final auto-Q with 64.46m #discus #OneTeam #7Olympics pic.twitter.com/3838XaDwrn

— Athletics Australia (@AthsAust) August 16, 2016
Big throw by @danisamuels – auto qualifier! @AthsAust

— Athletics Aus Pres (@Pres_AthsAust) August 16, 2016
@Loz_Wells up in heat 5 #rio2016 @MossyandRobbo pic.twitter.com/N62uUpzKoL

— RunnersTribe.com (@runnerstribe) August 16, 2016
See you soon Brother! 😊🤘 https://t.co/m3MYL2xbgZ

— Cedric Dubler (@CedricDubler) August 16, 2016
1st time ever a gold medal goes to the same 100m runner in 3 Olympics. @usainbolt https://t.co/eNJ27Q3tQ8 #Rio2016 pic.twitter.com/9TElSl2Acj

— RunnersTribe.com (@runnerstribe) August 16, 2016
#Athletics: #AUS @danisamuels throws 59.42m, placing her in 3rd position! #Rio2016 LIVE on 7 & the app https://t.co/fmIq7FRBD9

— 7Olympics (@7olympics) August 16, 2016
Great preview from @letsrundotcom on the men's Olympics 800m final https://t.co/TpCbBey5fJ

— RunnersTribe.com (@runnerstribe) August 16, 2016
Close call! Fair to say this sound technician will be thanking her lucky stars! #Rio2016 https://t.co/lgNoltiuL7

— 7Olympics (@7olympics) August 16, 2016
@danisamuels throws 59.42 on her 2nd attempthttps://t.co/eNJ27Q3tQ8 pic.twitter.com/HGVbsYTA84

— RunnersTribe.com (@runnerstribe) August 16, 2016
Classic! https://t.co/JcZhFY5QZ1

— RunnersTribe.com (@runnerstribe) August 16, 2016
Thanks for the great article Rock! https://t.co/TIjDoP5DIx

— Lee Troop (@runtroopy) August 16, 2016
Devastation for #FRA Wilhem Belocian. His #Rio2016 campaign is over before it even began. https://t.co/JGsM20FQjA

— 7Olympics (@7olympics) August 16, 2016
Much to the home crowd's delight, #BRA João Vítor de Oliveira slides his way into the semis of the 110m hurdles! https://t.co/B0GwN59IM6

— 7Olympics (@7olympics) August 16, 2016
Awesome! 👏👏👏 Outstanding effort! https://t.co/QldifZNecc

— RunnersTribe.com (@runnerstribe) August 16, 2016
The track surface is unbelievably slippery for imitations makes it hard to dial in rhythm @stevehooker @tamsynlewis

— Benn Harradine (@bennharradine) August 16, 2016
The weather has cleared and competition will resume shortly! #Athletics live on 7 and #7Olympics app. #Rio2016 https://t.co/CvDqjIlzPX

— 7Olympics (@7olympics) August 16, 2016
UP NEXT: 9-time national champ in the 400m hurdles round 1, heat 5#GoLozza #OneTeam pic.twitter.com/hkqdfExgOk

— Athletics Australia (@AthsAust) August 16, 2016
Looking good to get back out there. Here we go. Stay away rain, please #Rio2016 pic.twitter.com/47rczQmPs6

— RunnersTribe.com (@runnerstribe) August 16, 2016
CURRENT RADAR IN #Rio2016 not looking too good… #Athletics in a rain delay. #Olympics ☔️💧 pic.twitter.com/6Rl1laDkL6

— Chris Lotsbom (@ChrisLotsbom) August 16, 2016
The women's discus and men's pole vault competitions have been put on hold due to heavy rain. #7Olympics https://t.co/jsZImc7Div

— Channel 7 (@Channel7) August 15, 2016
Here here! @danisamuels shouldn't have been made to throw in those conditions https://t.co/K1RSKWOia7

— Athletics Aus Pres (@Pres_AthsAust) August 15, 2016
The last 10 throws in the #discus have fouled and officials have decided to suspend competition. Unfortunately, after our Dani. 🙁☔️🌧

— Athletics Australia (@AthsAust) August 15, 2016
Nothing but net. Tough conditions for @danisamuels 1st throw in #Rio2016 https://t.co/eNJ27Q3tQ8 pic.twitter.com/8b5zcxucv5

— RunnersTribe.com (@runnerstribe) August 15, 2016
Raining heavily at the track right now! #rio2016https://t.co/eNJ27PLSry

— RunnersTribe.com (@runnerstribe) August 15, 2016
COMING UP! Dani Samuels competes in the qual. round of the women's discus | #Athletics LIVE on 7 #Rio2016 https://t.co/o7jlfABCN7

— 7Olympics (@7olympics) August 15, 2016
Ask your questions now! Sally Pearson here to answer in our live Q&A! #GC2018 pic.twitter.com/askxCJGhNi

— Gold Coast 2018 (@GC2018) August 15, 2016
#Athletics | Dani Samuels chucks in Group A of the Women's Discus qualifying starting at 9:30 AEST. Needs 62m for Q. pic.twitter.com/Kw4sxVQGM3

— 〽️ossy and Robbo (@MossyandRobbo) August 15, 2016
What a gift it'll to be to watch the great man @rudishadavid defend is #Olympics title today 11:25am(AEST) #Rio2016 pic.twitter.com/QB3O8s1YIc

— RunnersTribe.com (@runnerstribe) August 15, 2016
Bolt is ready… "One down, two more to go." Video from @usainbolt Snapchat. #Athletics #Rio2016 pic.twitter.com/yqo7K6JvNz

— 7Olympics (@7olympics) August 15, 2016
Who's joining Rob and Rosie for a run this Father's Day?! 2km kids and dads dash, 5 and 10km events plus the… https://t.co/kNZIH824D0

— The Indig Mthn Found (@IndigMaraProjct) August 15, 2016
IT'S TIME @Loz_Wells begins her #Rio2016 400m Hurdles campaign Heat 5 Lane 1 – 10.02pm (11.02am AEST Tues) #OneTeam pic.twitter.com/B7lTXDfqNx

— Melissa Breen (@Melissa_Breen) August 15, 2016
@danisamuels making her 3rd #Olympics games appearance. Begins 9:30am (AEST) @MossyandRobbo https://t.co/eNJ27PLSry pic.twitter.com/EPEJfn2CiG

— RunnersTribe.com (@runnerstribe) August 15, 2016
It's #polevault final night & @stevehooker excelled with tonight's #Athletics #AthsSnacks. Sugar encrusted cashews. pic.twitter.com/RMUwrBSiWn

— David Culbert (@Culbert_Report) August 15, 2016
This is how I'm running errands from now on. #Rio2016 pic.twitter.com/gYPtG9T1ao

— Ellen DeGeneres (@TheEllenShow) August 15, 2016
Madeline Hills is back in action tonight with heats of the 5000m from 10.30pm. Ryan Gregson also races tonight… https://t.co/Q1redT0RHM

— Kembla Joggers (@KemblaJoggers) August 15, 2016
RIO TODAY
Your morning viewing schedule sports fans. Lock it in! Go #AUS#OneTeam #7Olympics pic.twitter.com/JB1ZG67Kjk

— Athletics Australia (@AthsAust) August 15, 2016
Can't wait for 5km w @Elzywellings @GenGen_LaCaze @madheinerhills all coming off #Rio2016 PB's! #inform @AthsAust

— Benita Willis (@BenitaWillis) August 15, 2016
Ok. Thanks for the heads up. I'll be watching. But I might have to talk a bit while it's on if that's ok! https://t.co/pkC6a7P7cb

— David Culbert (@Culbert_Report) August 15, 2016
📸📸📸 Some awesome @GettySport pics of the Aussies in action at the #athletics from the morning session in Riohttps://t.co/mrPn1SjuiM

— Athletics Australia (@AthsAust) August 15, 2016
@AUSOlympicTeam #OneTeam Aussie spirit & pride vibes every morning & evening bus trips for athletics @abcgrandstand pic.twitter.com/5p3ygrQfMx

— Patrick Johnson (@PJohnson993) August 15, 2016
Nothing better than a #TarbyStat to kickstart your day. Sure beats coffee to give your morning a boost! 👍🏼😊 https://t.co/VKPZXHmDwu

— Athletics Australia (@AthsAust) August 15, 2016
Evening session in Rio (Tuesday morning in Australia) Begins 9:30am (AEST)
Dani Samuels (NSW) is making her third Olympic Games appearance in the women's discus throw qualifying and is a genuine chance to finish on the podium in Rio, with two Olympic finals on her resume already. Add to that, gold from world youth, world junior, Commonwealth Games, world university and world championships – that is some resume.
At 28, Samuels is now at the peak of her powers and is ready for the next step in Rio.
Lauren Wells (ACT), one of Australia's team leaders in Rio, opens her second Olympic campaign in the women's 400m hurdles after making the semis in London four years ago. If this nine-time national champion is at her best, she can set her sights on a spot in the final, but first, a tough first round waits.
Check out the Aussie Updates from the Rio Morning Session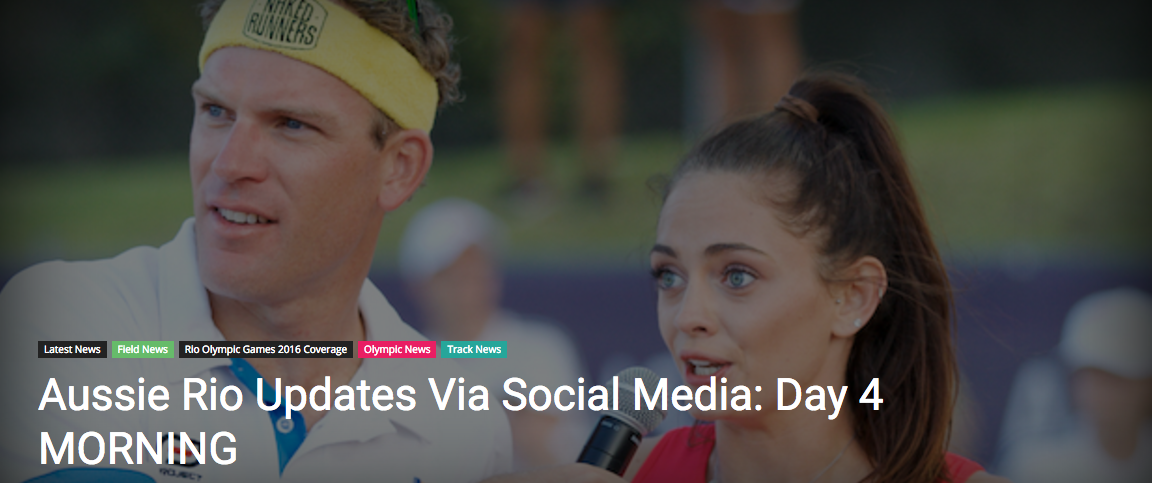 Anita Wlodarczyk breaks hammer record at #Rio2016 Olympic Games: Articlehttps://t.co/9B4QP5Krpf pic.twitter.com/4UDanCOZWp

— RunnersTribe.com (@runnerstribe) August 15, 2016