JACK RAYNER: TURNING DROSS INTO GOLD
By Len Johnson
"All the big Australian stars. Deek, Mona – definitely, I'd like to make a big impact like them in the marathon one day." –  Jack Rayner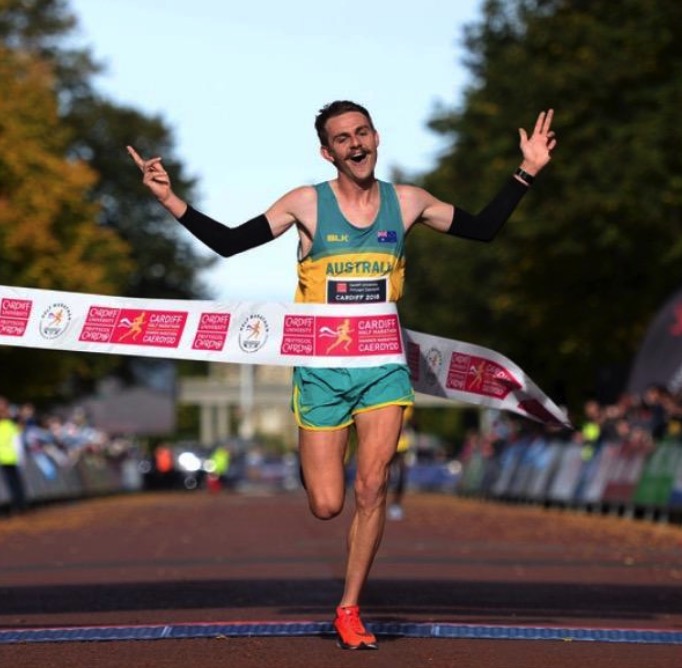 For a year which is ending on a massive high, 2018 certainly did not start auspiciously for Jack Rayner.
In October, Rayner won a gold medal in the inaugural Commonwealth Half Marathon Championships. Yet, six months earlier, he had to endure watching a home Commonwealth Games in which he desperately wanted to wear the green and gold.
Those dreams collapsed ignominiously some six weeks before the Games when Rayner bombed out in the two events he contested at the Australian Championships, which were held at the Games' competition venue, Carrara stadium, and served as the selection trials.
Rayner's visit to Carrara turned out to be a trial of a different sort. The 5000m, when he dropped off the punishing pace set by Patrick Tiernan before the half-way point, was bad enough. Rayner still was best of the rest behind Morgan McDonald, Dave McNeill, Stewart McSweyn and Tiernan – but it was a distant fifth, half-a-lap behind the thrilling battle for the three Games' spots.
Seeking redemption in the steeple might have seemed a good idea at the time. It didn't work out that way, Rayner again finishing down the track, this time in ninth place.
Rayner was mystified. "I had been training well at Falls Creek. I'd got into good shape. Then I had a shocker in the 5000m."
The trials' disappointment sparked a head-to-head consultation between athlete and coach. Instead of going to Europe, Nic Bideau said, it might be better if Rayner spent the winter in Australia and focus on winning a few races.
It was not what Rayner wanted to hear, but he took the frank appraisal on the chin. Then, he acted on it. Rayner hasn't lost a race since …………………..
FOR THE ENTIRE STORY, CHECK OUT  AUSTRALIAN ATHLETE BOOKAZINE. SHIPPING, WELL IN TIME FOR XMAS.   PRE-ORDER NOW AND RECEIVE A FREE PAIR OF STEIGEN/RUNNER'S TRIBE SOCKS……THE PERFECT XMAS PRESENT FOR ANY SERIOUS ATHLETICS FAN