"If I am still standing at the end of the race, hit me with a board and knock me down, because that means I didn't run hard enough." -Steve Jones
Training of Famous Runners, Steve Jones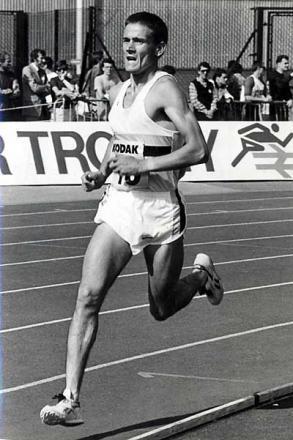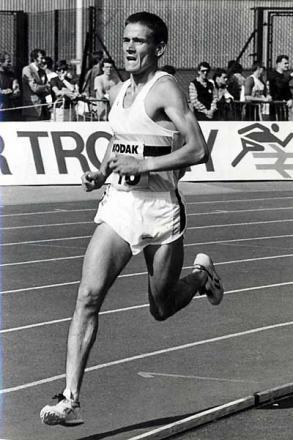 A lot of the below information about the training of Steve Jones was taken from the book 'Running with the legends', by Michael Sandrock, unless otherwise stated. We highly recommend this classic book to anyone who is yet to read it.  Information was also sourced many years ago from runnerslife.co.uk (note this website has since been closed).
The Hard Worker
Steve Jones grew up in 'Ebbw Vale', a tough south Wales working class town. The son of a steelworker, Jones had a tough upbringing and left school at 13 to learn a trade.
Jones was a hard worker.
He recalled to Athletics Weekly:
"Even though I may have been a bit of a layabout and smoked and drank or whatever, I always worked for my money. It's because of that sort of upbringing that I appreciate just what working means".
Jones joined the Air Force as a 15 year old and it was here that he ran his first cross country race. In Jones's words   – "It all went from there".
Profile
DOB: August 4, 1955
Previous world record holder for the marathon (2:08.05)
Winner of numerous major city marathons including Chicago, London and New York.
Nine-time Welsh Cross Country Champion

Career Highlights
'84 Chicago Marathon – 1st – 2.08.05
'85 London Marathon – 1st – 2.08.16
'85 Chicago Marathon – 1st – 2.07.13
'88 New York Marathon – 1st – 2.08.20
'92 Toronto Marathon – 1st – 2.10.06
Personal Bests
800m: 1:53
1500m: 3:42.3
Mile: 4:00.6
3000m: 7:49.80
2 Miles: 8:26.71
5000m: 13:18.6
10,000m: 27:39.14
3000mSC: 8:32.00
5 Miles Road: 22:43
Half Marathon: 1:00:59
Marathon: 2:07:13
"Take off your watch"
Jones's is well known for not wearing a watch during training. As a coach these days, this is a rule he insists his athletes follow.
Jones grew up racing countless British cross country races, a fact he insists is vital to the development of any runner.
The bread and butter philosophy of Jones's training were long repeats run by time, away from the track, hence allowing him to run free and open without any mental limitations that a track or watch may bring – running in its pure, instinctive form.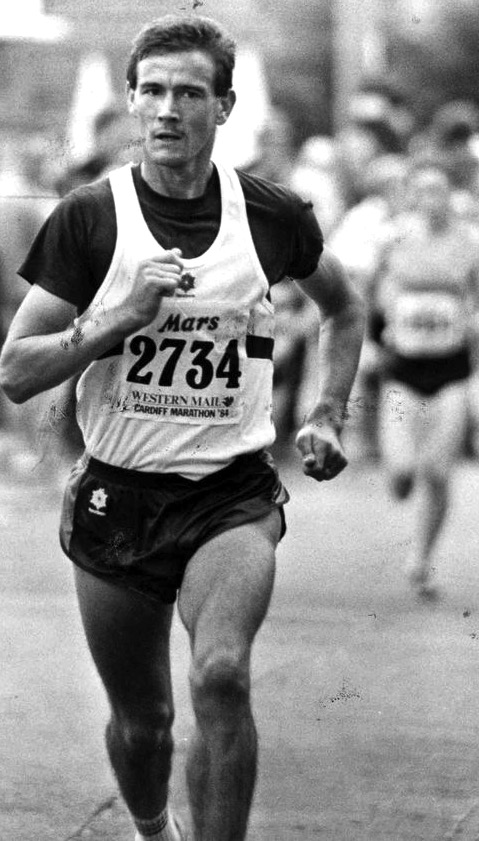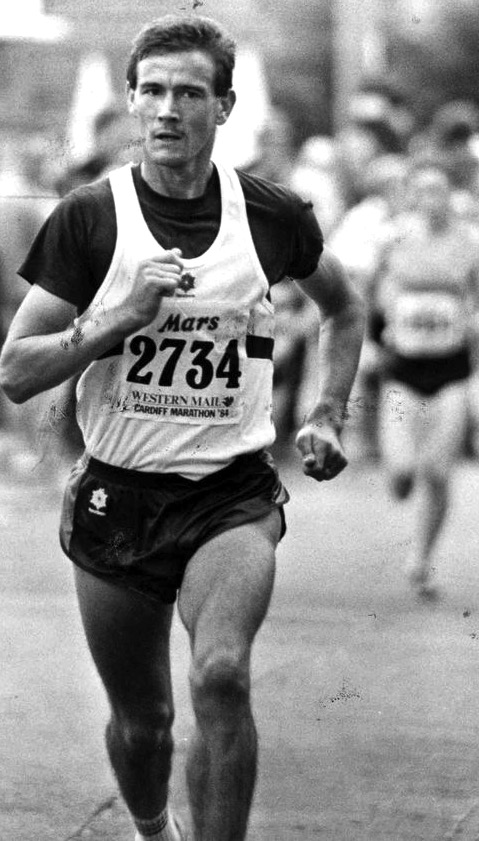 "An animal" – The Training of Steve Jones
"An animal" is how 1993 World Champion marathoner Mark Plaatjes referred to Jones.
Jones had a long career, spanning for approximately 25 years. During his peak he averaged 80-90 miles per week, not huge mileage for a runner of his calibre.
Jones's schedule was very simple and never changed too significantly. The corner stone of his training was high intense, quality sessions. In the words of New Zealand's Dereck Froude – "Steve is intense"
Jones weekly routine consisted of one long run, three very intense sessions, and three easy days to recover.
A typical week of training leading into a major race is outlined below:
"It's the effort that matters on the hard days" – Steve Jones
Tuesday:

M.: 5km at race pace, such as 12 by 90 seconds on dirt trails, as hard as possible.
M.: 6 miles easy

[emaillocker]
Wednesday: 40 minutes easy
Thursday:

M.: 5 by 5 minutes at marathon pace during a 90 minute run.
M.: 40 minutes easy
Saturday:

M.: Track session. E.G.: 200m or 400m or 1,000m repeats or 10 by 2 minutes at 10k race pace.
M.: 6 miles
Sunday: 90 minutes at a decent pace
"Oh yeah, that's just Jonesy"
The intense nature of Jones is demonstrated well in the book 'Running with the legends', by Michael Sandrock. The 1993 World Marathon champion Mark Plaatjes recalls a training session he did with Rob de Castella and Steve Jones:
"I remember the first time I did a workout with Steve and Deeks. We did a hill workout. After the first one there was Steve, hunched over at the top of the hill, vomiting. I looked over at Rob and said, "is he all right?",   "Oh yeah, that's just Jonesy," Deek said. And after each hill, Steve was there vomiting. He just runs so hard"
Steve Jones Training Diary Leading into Chicago 1984 World Record
Ed: Note the below info was sourced from runnerslife.co.uk many years ago. Sadly, runnerslife is no longer functioning.
In his five weeks leading up to his 2hrs 08mins 05secs World Best run in Chicago in October 1984, Steve Jones clocked up weekly mileages of 100, 84, 71, 71 and 100. Here is a reprint from his training diary relating to the details of his final three weeks.
Monday 1st October 1984:

AM: 8 miles in the rain, Park City, Utah.
PM:  8miles, a bit swifter than this morning. Pulse at 11.30am: 51. Finding that I am plodding but I can't go any faster.
Tuesday 2nd

AM:  7miles including 4 x 5mins (90secs recovery)
PM:  8miles steady, not too bad and relaxed.
Wednesday 3rd

AM:  8miles steady. Still tired not getting much sleep. Stomach still sore (stitch). So, so tired; feel really wiped out all the time (pulse rate 51). Only session today.

Thursday 4th

PM:  8miles with 8 x 3mins (90 secs recovery). Hard session. Only session today.
Friday 5th

AM:   14miles steady. Felt quite good. Did it in 90mins.

Saturday 6th

AM:   10miles including 16 x 1min (1min recovery) but can't tell if I am moving fast because it is so hard.
PM:  8miles nice and steady feeling better now. I hope it's going to stay with me. Don't feel so worn out but still can't sleep very well.

Sunday 7th

AM:   16miles on my own. Went okay for 7000feet altitude so I can't complain
Monday 8th

AM:    10miles with 8 x 3mins (with 90secs recovery). Good session but it's still hard to tell if I'm running fast.
Tuesday 9th

AM:   14miles, legs felt tired and weary. Did a little swimming after then had a Jacuzzi.
PM:    4miles before tea, not too bad.
Wednesday 10th

AM:   8miles gentle, still feel weary, hope it doesn't last. I can't understand it.
PM:   6miles steady and don't really feel too bad now.
Thursday 11th

AM:   10miles with 12 x 2min ( 1minute recovery). Good hard session, still not satisfied.
PM:   Just did 6miles, nice and gentle. Feel like I am working hard but not running very fast.
Friday 12th

AM:  10miles steady. Not too bad. Wet, windy and snowy.

Saturday 13th

15km road race in El Paso. 2nd to Carlos Lopes. 43mins 29secs. Went okay.
Sunday 14th

A good 18miles in 2hours 20mins, quite hard, not fast but most of it at 8000-9000 feet. Legs were feeling tired from yesterday's race. Pulse at 4pm: 42

Monday 15th

AM:    10miles gentle pace, not too bad but cold and snowy.
PM:    8miles steady, very very cold, in snowstorm. Pulse at 11pm: 60.
Tuesday 16th

AM:   10miles including 10 x 2minutes with 1minute recovery, not eyeballs out, just good strides, cold and snowy.
PM:    5miles steady, felt bloody knackered. Pulse at 7pm: 62

Wednesday 17th

45minutes steady, not too bad but a bit stiff. Flew to Chicago.

Thursday 18th

Another 40minutes steady, very wet and windy. Not too bad but still a little stiff.

Friday 19th 40minutes again, legs sore, chest heavy, confidence seeping away (must have a race soon).
Saturday 20th

Did about 4miles or so, legs not sore today. Come on tomorrow. Getting nervous.
Sunday 21st

Chicago Marathon. World Best – 2hours 08 mins 05secs.
Tuesday 23rd
Wednesday 24th
Steve Jones Winning the 1984 Chicago Marathon Setting a World Record (2:08:05)
Article by Sam Burke – Runner's Tribe
END
[/emaillocker]