The moments preceding dawn are laden with mystery. There is a glowing darkness during this time, a sense that even the shadows seem friendlier. An atmospheric calm sweeps the land with the tiniest breath of wind. The world is at its most peaceful. As the sun rises, it sprinkles light over the water, transforming the blue's tranquillity to a rippling restless array of dancing colour. With the new light, the birds begin their sincere choir of song, their voices raising in a crescendo louder and mightier than the second before. Throughout this innate evolution of a new day, a runner has pounded the lakeside trail. Her arms swing across her chest, the breath from her lungs catching in a misty cloud in front of her. For Virginia Moloney this is her time of day, where she excels in hard work. During her childhood, the predawn was a time for milking cows on her family's dairy farm in Garvoc. Today, it is her time to run the hard miles of a Commonwealth Games marathon campaign. Her journey from Garvoc to becoming one of Australia's top distance runners is a compelling one filled with the twists and turns of a true marathon runner. This is her story.
Born and raised on a dairy farm in Victoria's western district, Virginia's childhood was abundant with physical activity. She was also the middle child of 11. This household – filled to bursting point – promoted the idea of friendly competiveness and instilled in her a love for the outdoors. The farm also witnessed the early foundations of an endurance base that has now become one of the best Australia has ever seen.  "We were always blessed with a core endurance. It comes from running around and entertaining yourself on the farm. You just have so much space to do it, so you do," she said.
Despite a resilient upbringing, Virginia was never competitive on the running scene in her formative years, much preferring to grace the Netball courts for Terang-Mortlake. When she did 'make it' in Athletics "it was in things like High Jump or whatever I could get through to the next stage in," she said. However, she did remember racing in the Victorian Cross Country Championships at the iconic Bundoora Park on one occasion. "I didn't know what the state cross country at Bundoora was. I was like 'why am I missing netball on a Saturday to go race cross-country?' I think I came somewhere in the top 50, but I remember going home and just thinking that was a really weird thing to do," she said.
Virginia soon left the country behind for the big smoke and university, with ambitions of teaching. At this stage in life most of Australia's top marathoners would have begun their running careers, but for Virginia the running bug still dangled out of reach. The circumstances that led to her first steps in the sport were harrowing and unexpected. In 2010, whilst driving in Melbourne, Virginia was in a car accident that broke her patella. After an 18-month recovery, her sister Genevieve encouraged her to start running as a way to get to fit. Together they started slow – running three times a week – before long Virginia had fallen in love. "I just loved running. I really loved getting out and about. I even started winning some local fun runs as well," she said.
Upon graduating university in 2013, Virginia began relief teaching. As fortune would have it this decision would change her life forever. Relief teaching at a private school in the city, Virginia found herself in the midst of a stretching class taken by running coach Liam Delaney. "It was pretty crazy really. I was at the school as a once off and she was at the school as a once off. I could see she did a bit of running, so I told her about our Vigor Run Club and invited her down. Sure enough she showed up one night," said Liam.
It only took one session for Virginia's talent to emerge. It was clear that she had something special to give. "We soon realised, uh-oh we have a pretty talented runner here," said Liam. Virginia commenced the session with the newest members of the group, starting with the shortest repetitions on offer. However, it was soon obvious that she was in another league. "After one rep Liam looked at me and said 'you know what – I think you can do the long one'," she said.
From the day she decided to take running more seriously, she began to improve with leaps and bounds. Her racing reached a point where she was amassing podium finishes at nearly every race she entered, rising to the top in Victoria and setting the tone to challenge the country's best. This rapid improvement made Liam initially hesitant with tackling the marathon. "I remember Liam saying that we might be too young to tackle the marathon. I didn't have much speed as I had missed out on that as a junior. After a while though, we started getting to know each other more and I think he realised that my strength was in the longer distances," said Virginia.
In 2015, the pair decided to embark on an attempt at the Melbourne Marathon. With just over a year of racing experience, Virginia found herself in the heart of Melbourne's CBD contending for the win in a big city marathon. After moving into second place at the halfway point, she hit the hills prominent in the back half of the course. "I think I got a bit too excited. I really suffered in the second half with the gels not sitting well. I just didn't have the strength and in Melbourne, with the hills, you need it toward the end," she said. Nonetheless, she fought home to place 4th in an Olympic qualifying time of 2:41:26. "I had to sort of pinch myself with how far we'd come in so little time."
The flame now well and truly lit, she was hungry for more marathons in 2016. The next stop was Tokyo, Japan. Heading over to her first World Marathon Major and first international race Virginia said she was "fitter than ever and feeling great." This feeling continued throughout most of the race. Approaching the 35km mark, sitting in the top ten, she could feel that she was on track for a time that would decimate her previous best. However, as many marathoners will understand, there is no place quite like the final kilometres of the world's toughest footrace. "It started off with this burning feeling and then just a loss of control. I had blurred vision and just felt really cold and hungry," she said in reflection. "The hard thing was that loss of perception. You feel like you are trying so hard but running so slowly. In my mind I was giving it everything." The last 6km took her 36-minutes, barely making it to the line in 2:44:23 – 22nd position. The result was a devastating blow, but in true spirit, there was no thought of lying down. "In order to respect the marathon you can't go and expect to have a great one every time. You are constantly learning about the marathon. You are learning about yourself. You are learning about the distance," she said. This never-say-die attitude led her to the next challenge in a matter of hours. "I remember sitting on a train the next day and I was shattered. I remember saying I just want to go home and win Melbourne Marathon," she said. The bar had been set.
Approaching her second Melbourne Marathon her performances were impeccable. Notching up a cluster of wins on the Athletics Victoria cross-country circuit set her up perfectly for a 2nd place in the prestigious Sydney City2Surf. The next week she went one better with an incredible run in the Australian Cross Country Championships in Canberra where she ran away with individual and team national titles. Leading into her tilt at the Melbourne Marathon, this career best run of form placed her in a position of confidence.
In tough and windy conditions, Virginia's marathon potential finally shone through. In a demonstration of strong front running, she worked her way through the buffeting winds to cross the line as winner on the hallowed turf of the MCG. "I knew I was strong enough but I still never believed I was going to win until I was on the road into the 'G," she said. "I still think about running on the 'G and it gives me goosebumps. I just remember crossing that finishing line and feeling so proud." The time – 2:34:27 – was a huge personal best and in the conditions, a testament to new possibilities.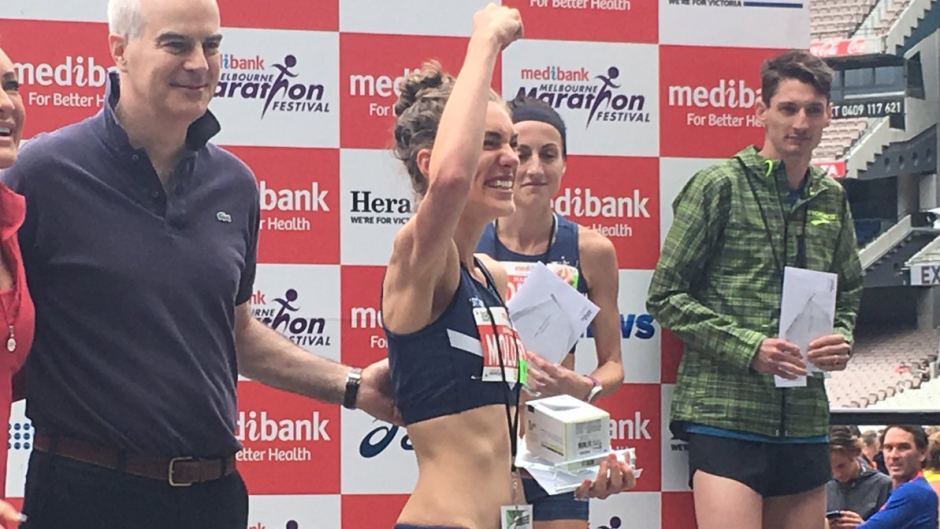 The beginning of 2017 witnessed Virginia's main concentration shift from the roads to the country. After relying on her national title from the year before, she qualified for her first Australian team set for the World Cross Country Championships in Kampala, Uganda. However, a hampered build-up plagued by injury and a stomach bug, turned the race into a slog to the finish line. "It was such a tough race," she said. "You know something's not right when you start a race and you know straight away it's not going to be a good day." She crossed the line 80th, five minutes behind a dominant Kenyan sweep of the first six positions. The experience made her stronger and more determined to redeem herself in the green and gold.
Her chance for redemption presented itself in July at the Gold Coast Marathon. "I woke up very relaxed. Everything felt smooth. I could just feel that I was going to have a good run," she said. In the early stages of the race, she nestled into rhythm with a group including her coach Liam. The pace was faster than any of her previous marathons, but she still felt strong. Splitting halfway in 74:16, all she had to do was hold on. Slowly, she began to pick up the stragglers of the lead pack, working her way to the forefront of the race. The final kilometres were a desperate charge to the finish line. "Getting to 200m to go and seeing the clock on 2:28, I was ecstatic," she said. She managed to hold the overwhelming tide of emotion at bay to cross the line in 5th place with a monumental personal best of 2:29:14 – the 9th fastest woman in Australian history. 'Crossing that line was indescribable in a way. Every emotion. You take one big breath and it starts to flow." Then the waiting begun.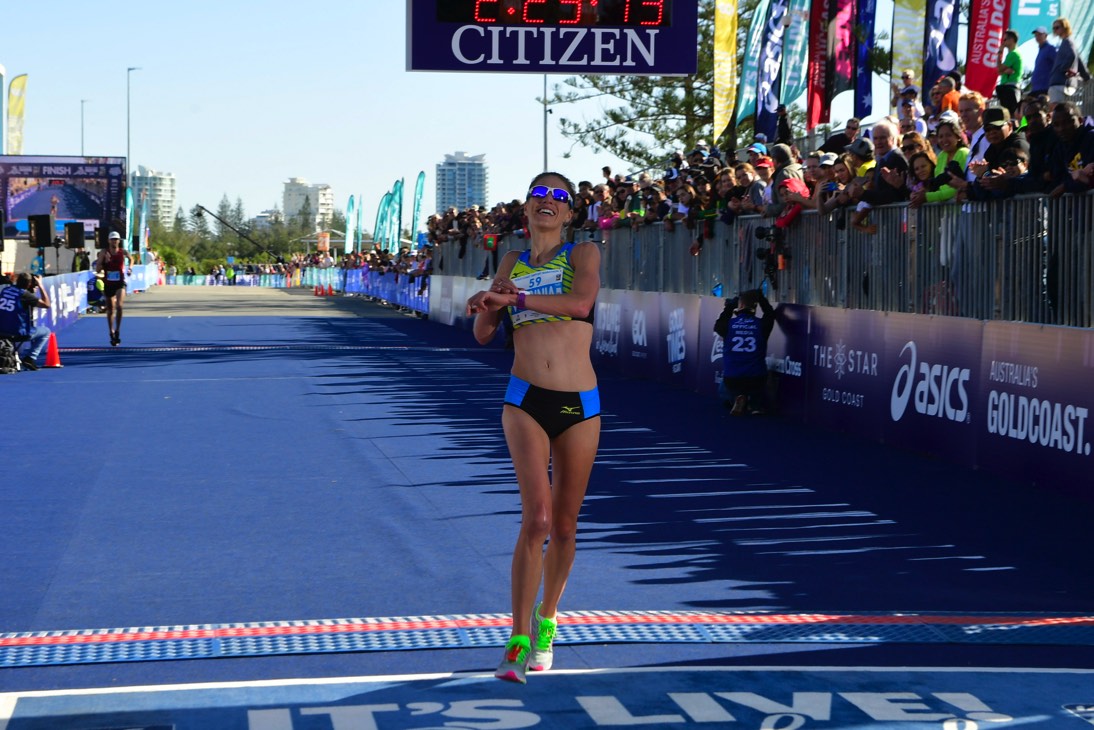 She now found herself deep in Commonwealth Games contention. The prospect of a home games and another run on the Gold Coast was palpably exciting. The uncertainty of the wait for selection was virtually unbearable. "Waiting is tough. You just have to believe you are going, but in the back of your mind there is still that doubt," she said. Nevertheless, the call came. "I saw the number come up on my phone and I had been hoping for a call that day. I was in the car and I just went completely to tears."
Now with the Gold Coast firmly set on the horizon the focus is on performing in the green and gold and making Australia proud. To get to this point, Virginia has had the incredible support of many people including the unfatiguing support of her fiancée Trent. He rises with Virginia before the sun and joins her on the bike, keeping her company during the long miles. "I know I could not have achieved what I have today without the support of Trent."
While the sun continues to rise, she continues running. It is a trail alongside Albert Park Lake for the time being, but it will soon be the flat and fast roads of the Gold Coast. Today she runs, later she races. When she toes the line, she will be running in front of nation. All the way from Garvoc they will come. The town will cheer whilst she places one foot in front of another. She has worked hard to be here. It has been one incredible journey from milking cows on the family farm to running in the Commonwealth Games – there are many stories to come.
Virginia Moloney
Age: 27 Resides: Melbourne Coach: Liam Delaney
Three key sessions…
30km mid-week long run with 10km threshold in the middle.

6x1km hill repeats.

14x400m repeats on 2mins.
Three pieces of advice…
Respect the distance.

Surround yourself with people who will lift you up, not tear you down and doubt yourself – be this in training or in life.

Enjoy the journey.