When David Rudisha came to Australia to kick-start his Olympic title defence in 2016, the expectation was that it would be a procession of royalty. After all, he was the king of the track, an Olympic legend and the fastest half-miler the world has ever seen. No one predicted that down under there might be a challenge to his throne – not to being the best ever – but to the prideful notion that a king never loses. No one envisioned a moment where the Melbourne crowd would draw breath as one and wonder whether the great man might be unseated. The challenger in this story is Luke Mathews, 20 years old and at the time only a recent graduate from the junior ranks. A sprightly runner filled with spirit. That night on the blue track, spirit materialised into courage and stubborn grit. Whilst Rudisha opened up his customary gap on the field, he failed to extricate himself from the clutches of one. For all that were there they will remember the young Mathews bravely hanging on down the back straight, arms swinging like punches, a frantic effort to floor a champion. Then, with the audacity and cheek of his youthfulness, he stepped wide and bid for glory. Alas, the final blow never quite bore the necessary brunt to vanquish the invincible. He drew level for a fleeting moment, crowd roaring in bewilderment, but Rudisha hung on. The Kenyan colossus had preserved his pride, but behind him, a star had been born. That night, Australian Athletics witnessed a performance that stoked a dormant flame in the distance running fraternity. They went home wondering: Could he be the one? Two years later that question remains unanswered.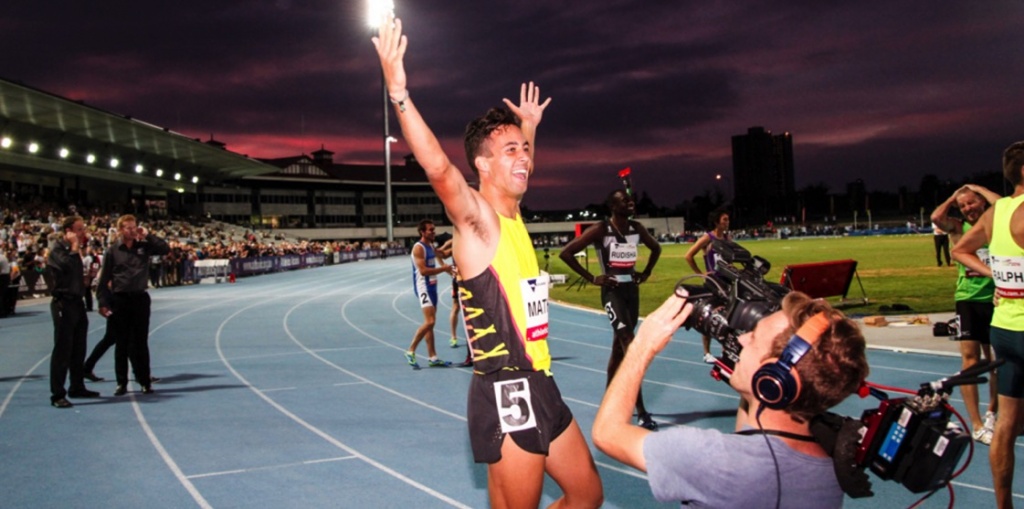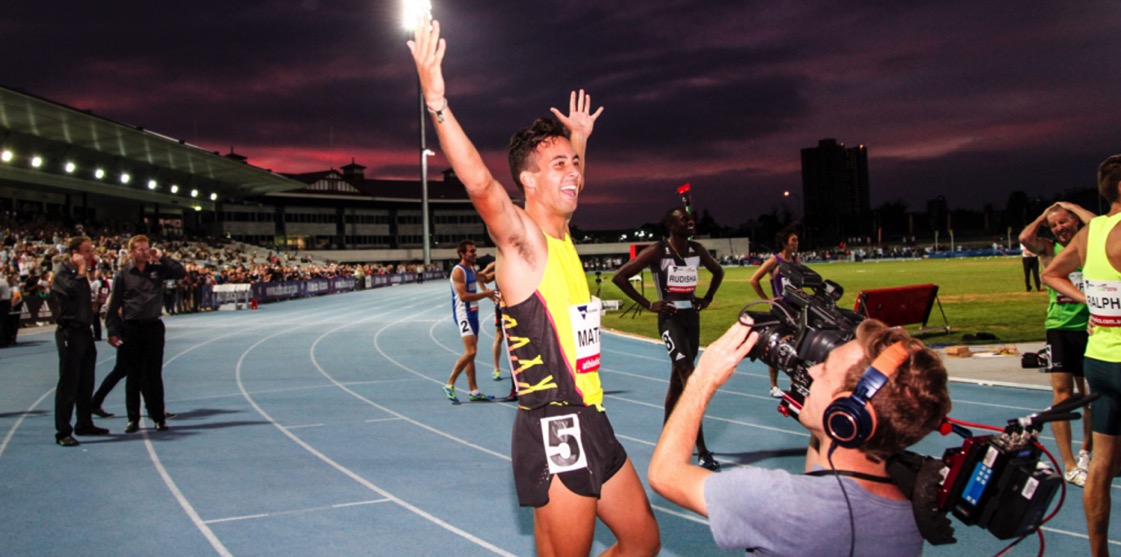 In the intervening time between this unveiling and the present, Luke Mathews has continued on a trajectory of domestic dominance. Three successive national titles affirms this with iron clad certainty. However, his time in the spotlight has not always borne the fruits of his true potential. His early campaigns on the world stage eluded him with luckless results. First, following a promising win in his heat, he spectacularly bombed out of the semi-final of the World Junior Championships, held on the hallowed Hayward Field. Two years later, an Olympic campaign threatened to derail his career. A long and fatiguing European season brought him to his knees at the worst possible time, in the most public arena, the Olympic Games. He spiralled into despondency, he was unfit and overweight, a shadow of the man that put the sword to the greatest of them all, only months before. It took a long time for those scars to heal.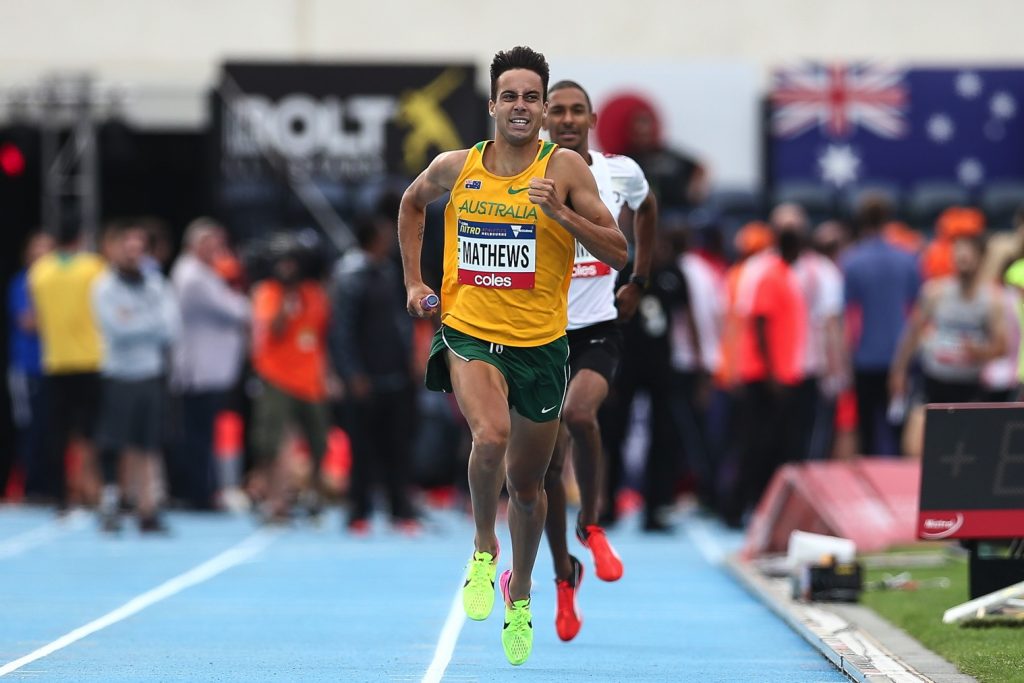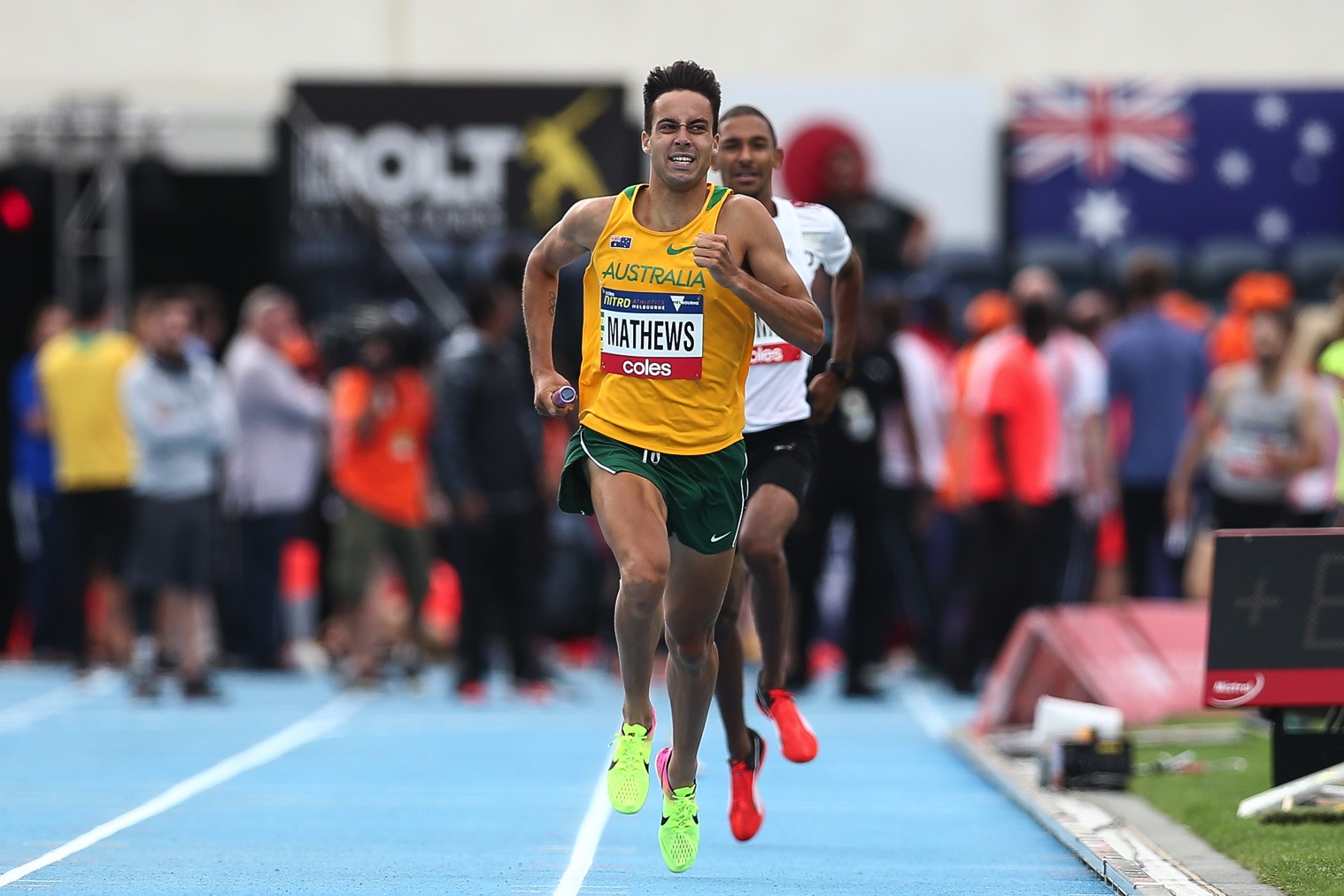 That is why, when sitting alone in the Madrid Airport last year, no coach, no manager, and just over a week out from the biggest race of the year, it would have been easy to concede defeat. It would have been easier simply to slip away, unseen and forgotten in the hubbub of a world championship. He felt as if he was in terrible shape; his confidence was waning. Why risk a replica of Rio? Why sentence himself to the unforgiving public scrutiny that comes hand in hand with the championship environment? Why surrender to vulnerability? These thoughts were amidst a cavalry of others. "I was training pretty crappy and I was in a crappy headspace," he said. "I was thinking about other things. I was thinking do I want to stay in the sport. Do I want to go home now and pull out of worlds? There was certainly a lot I was considering."
This was the darkest moment, one where any light at the end of the tunnel seemed imperceptible, impossible to reach. His mum, Liz Mathews, on the other side of the world was also concerned. "I didn't think it would be terrible if he pulled out," she said. "I think he was scared of running badly after the Olympics and how he ran. Me, as a mother more so than a coach, didn't want him to go through that again. I said there was no shame in that."
Whilst travelling to London, Luke sat on this idea; this possibility of escaping what he thought might be inevitable – running poorly once more on the world stage. However, upon arrival, surrounded by a supportive team, he began to perk up. Each session built upon one another, not in fitness, but in confidence. This steady improvement remained unabated, prospering into a resemblance of hope. It became clear in one conversation between Mother and Son that the mood had finally shifted. "He said to me before the heat, 'I'm going to win this heat'. I was quite surprised he said that," Liz said. "It was a sign of something changing, and he does run well off confidence."
Luke had turned it around; he was now ready, free of the psychological shackles. With this newfound rejuvenation, an additional spring in his step, he went forth and won the heat. With finger pointing, he sent a message to himself and his critics: he could do this. "It was a huge relief," Luke said. "I also learnt, about myself, that if I am happy and in a good headspace, I can turn things around pretty quickly."
After the turbulence of the preceding weeks, simply this sign of surety sufficed for many. Yet, at a world championships, settling for 'good' does not fit with the atmosphere of such events. Mathews now set his sights on a world final and the chance of undeniable redemption in the global arena. Excruciatingly, he fell short by 0.31 seconds, an infinitesimal margin. However, he was now ready to embark on a new chapter, with a new coach and a new bang.
He was returning to his roots and returning to the birthplace of his running career. He had contemplated packing up and relocating overseas, considered the rest of the best down under, but none seemed more appropriate, more cogent, than his mum. She had previous experience, coaching Luke all the way to the green and gold as a junior, so why not as a senior also? As with anything departing from the ordinary however, there were doubters. "I went from one of the best distance teams in the world (Melbourne Track Club) to going back to my mum, who really is just a club coach," Luke said. "A lot of people had a fair bit of doubt over whether it could be successful."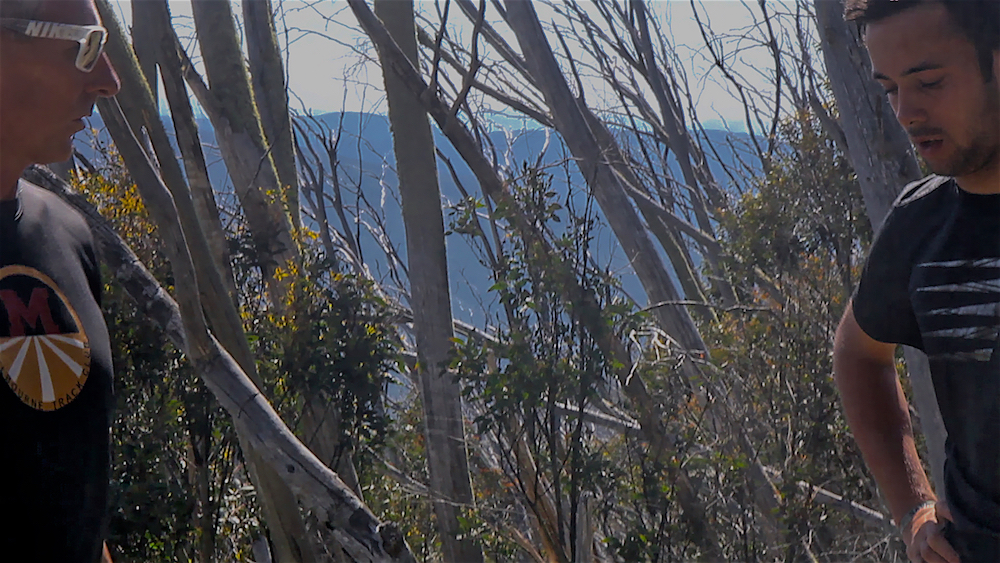 The majority of these doubters were struck dumb quite quickly. Within two minutes of launching his season in fact. An exemplary 1:45.83, over 800m in Canberra was his fastest season opener and only a touch outside his personal best. All was like clockwork. Another win, this time over the Mile in the Victorian Championship, was another assurance that he was treading the right path. Despite these promising signs however, nerves were still in the air. "You always have doubts," Liz said. "He obviously did really well under Nic (Bideau) and when you change the system a bit and change what you're doing, you don't really know for sure if its working until it all comes together in a big race."
That big race, inevitably, was to be the Australian 800m final, held as a dress rehearsal for the upcoming Gold Coast Commonwealth Games. It was billed as one of the showdowns of the meet, and Luke had arrived in the best shape of his life. "I felt the way I was training and the way I was racing, I honestly felt bullet proof," he said. "I felt like I was capable of doing nearly anything. It was probably the first time where instead of crapping myself at nationals, I was excited. I was excited to see what I could do. Maybe I could do anything."
In hindsight, this idea that he "could do anything", was probably not far from the truth. From the sound of the gun, to the bell, he was relaxed. Then for the third year in a row, he sat second entering the back straight on the final lap. For the third year in a row, that is where he made his winning move. A move that obliterated the field, transforming the race from an epic battle into a one-man show. It was dominance personified, unrivalled and unblemished. Whatever anyone threw at him, he would simply respond with calm superiority. Easing up at the line, elation etched across his face, the time was still one of his best, but the victory meant so much more. It was reward for surviving the tough times, but more importantly a nod to his resilience. Ultimately, it was proof that Team Mathews had a future.  "It was like: It can work, it does work and it has worked," Luke said. "People now have faith that we can work together and that Mum can coach professional athletes."
With that settled and the most important chapter still waiting in the wings, he has set up base in Australia's elite running hotspot, Canberra. Away from the distractions of the major cities, his focus is set solely on one goal. The Commonwealth Games. He is aware of what this could do for him; he knows it could change his life forever. "Running for Australia in front of Australians is going to be almost like a dream come true. In front of your friends, family and the Australian public in a massive stadium, it has the possibility to change your whole life." Nevertheless, despite its magnitude, this alone will not disrupt his focus. "I think in the past I have looked too far ahead," he said. "For me I just want to keep it simple and get to the heat and only be worrying about the heat. If I make the semi, I just want to be thinking about the semi. And, if I make the final, well I never really run a race trying to come second."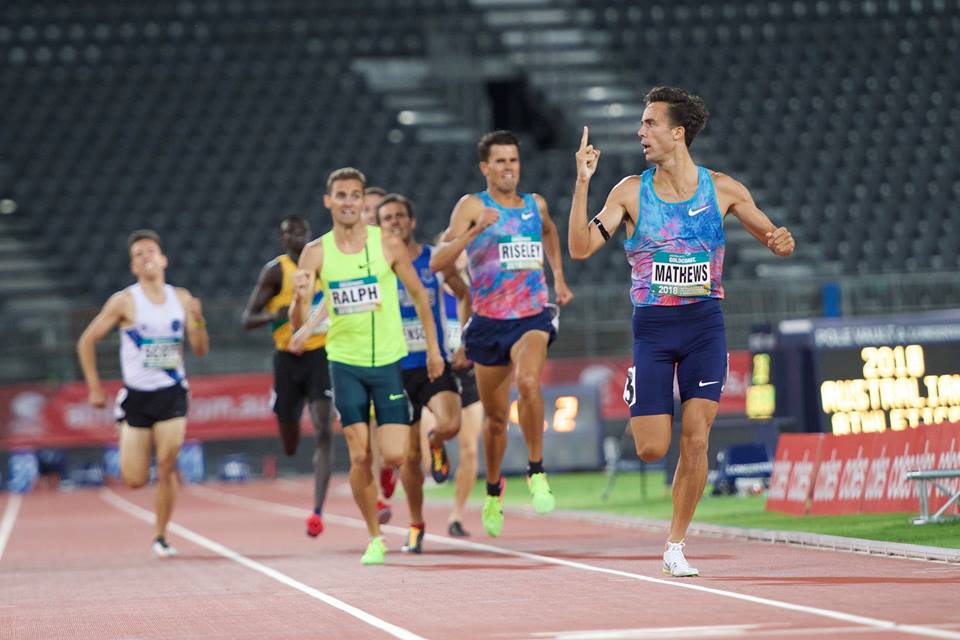 Beyond the imminent Gold Coast Games, his dreams are gargantuan, big enough to intimidate even the best. However, to be the best, one must do what he does and that is never say never. "My goal is to win an Olympic gold," he says simply. "If I could live out my dreams I would be Olympic Champion, World Champion and Commonwealth Champion. These are very hard things to do, they only hand out one Olympic gold every four years, and the whole world is chasing it. But it is a dream and you have to try." This then raises the question about the Australian Record of 1:44.40, held jointly by 1968 Olympic Champion Ralph Doubell and Alex Rowe: Will he be attacking it any time soon? For many, including Luke, it is long overdue. "After I raced Rudisha, it was something I thought I was going to go and get. I may have put a bit of pressure on myself to go and get it, and there were a few days where I even thought this is the day I get it," he said. "I think this year the best thing for me is to go into races with the priority to win them. It is something I do want to get, but I think the mindset should be to win and hopefully if I win, the times will come."
When he lines up on the Gold Coast, winning is what matters. With this in mind, the nerves, even for someone who has done it before, will be immense. "I'll probably be crapping myself. I'll probably be really nervous. I will be the fittest I have ever been, but I'll probably feel like I have nothing in my legs, butterflies in my stomach and I will just be very nervous," he says openly. "But I could be running shield at Newport Athletics Track or the final of the Tokyo Olympics and I would have the exact same nerves. Whatever the case, I will be nervous, but I know I will be ready."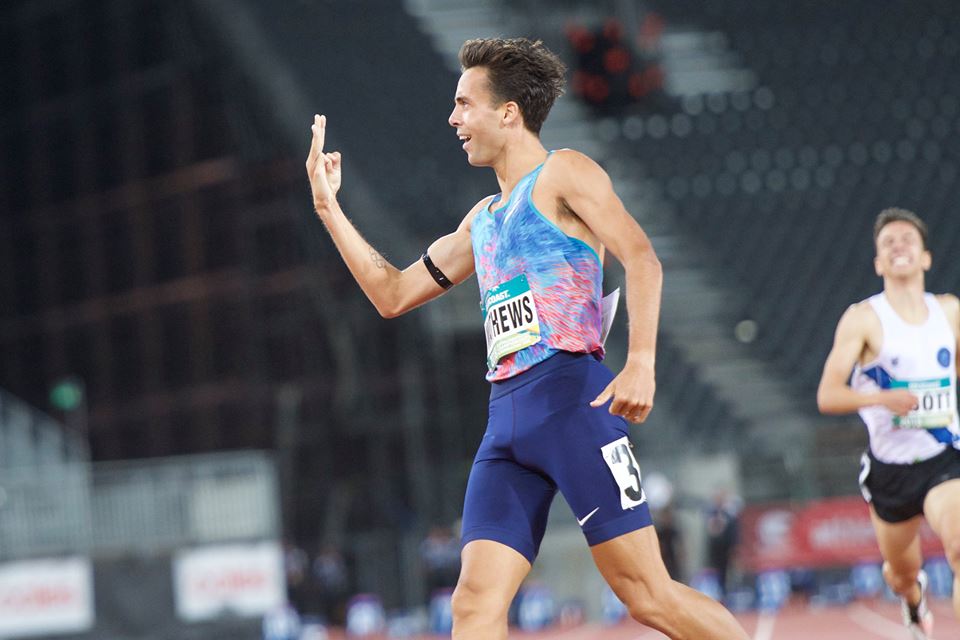 We all know Luke Mathews is the real deal. He has what it takes to contend with the best in the world. He is beyond just hanging on and hoping for something special. That race two years ago was only the beginning. Now 22, he has matured into something world class. With the Commonwealth Games fast approaching, so too is his chance to prove it. We might even witness the answer to the unanswered question…
Is he the one? I think so.
Three Key Sessions:
Thursday Threshold/Tempo + Reps
"A staple of my running week – as it is most people – is the regular Thursday threshold. I found that if I were doing back-to-back weeks of long thresholds, around 30 minutes, my legs would kind of lose that zap and spark that is required to run quick on track. We (Liz and I) altered it a little, so that we still get the same benefit of a longer effort. Of late, I have been doing a 7km tempo (2-3mins recovery), then some reps on the track (e.g. 3x800m, 5x400m, or 5x (150m hard/ 250m jog). For me personally, I found the change of stimulus from a longer, slower effort on the trail to a quicker effort on the track, produces a little more spark in my legs. And, although there is a little break, we are still getting 9km or so worth of work in the session alone."
3x (600m,400m,200m hills with 2:30-3mins recovery)
"This is one speed endurance session I have done 3-4 times since coming back from Falls Creek in January. It is the perfect combination of strength and speed. You are doing 9 reps, and covering 3.6km worth of quality reps + recovery jogs. It is a session where you are gradually getting more and more fatigued, and your body is forced to run quick when you are getting tired. I have found these sessions have helped me keep my form when running at pace, and have enabled me to sprint or change gears when already at a high pace. I also believe that to run at a certain pace in a race, you have to at least practice that intensity a few times in training."
5x (800m, 30-60 second recovery, 400m)
"A session like this is almost a staple for Tuesday training. Mum and I try to practice running at 3000-5000m race pace for roughly 7-10km worth of reps, and commonly refer to this as our 'strength' or '1500m' training. These sessions usually teach our body to be uncomfortable for 30-40 minutes or so, with plenty of reps and only short recovery. A session like this one is just another way for our body to adapt to changes of pace when tired."
Three pieces of advice…
"As cliché as it may be: have fun. It is certainly something that I have taken for granted in the last few years. Running is a tough sport as it is, and it is a hell of a lot harder when we don't enjoy it. The weeks leading up to the World Champs, I was in a terrible headspace and really hated the sport. But with a week or so to go before my heat, I changed my whole mental approach and just enjoyed the fact that I was an athlete, travelling the world, about to run in front of 60,000 people at a world championship. It is a lot easier when you are happy and you remember the reason why you started running in the first place."
"As a bandwagon 76ers fan, I would say to 'trust the process'. Trust yourself. Trust your coach. Trust your training. Trust you teammates. Trust your family. Trust anything that is helping you in Athletics. And, when you have stopped doing one of those, you have probably got to make some changes, because whether you think you are going to be a good or a bad athlete, you are right either way.
"Recovery is key. This is another thing I certainly took for granted 3 or 4 years ago. There is just as many gains to be made on the track, as there is off the track. When your body is fatigued and you don't recover properly, you increase the likelihood of injury and breakdowns.