On the start line amidst the shadows of descending dusk, Keely Small stood in the wings of history. Her head held aloft, arms slightly parted from her body, her eyes stared fiercely ahead, unblinking and determined. She was only fifteen. For this fleeting moment, she was simply the talented junior, the girl in a woman's race. Minutes later, she would become much more. Like a young lioness of the track, she stalked her prey, poised and patient, before pouncing, unleashing an unstoppable barrage of unbridled power. Her time – 2:01.46 for 800 metres – stunned the Canberra crowd and sent a shockwave through the athletics community. She had toppled Olympians and the best in the nation, propelling herself to the top of the junior world. Her time broke the 'unbreakable' national under-18 record previously held by Georgie Clarke, whilst also emphatically stamping her claim on the open ranks. One year later and she is in the final hours before her debut senior championship – a home Commonwealth Games.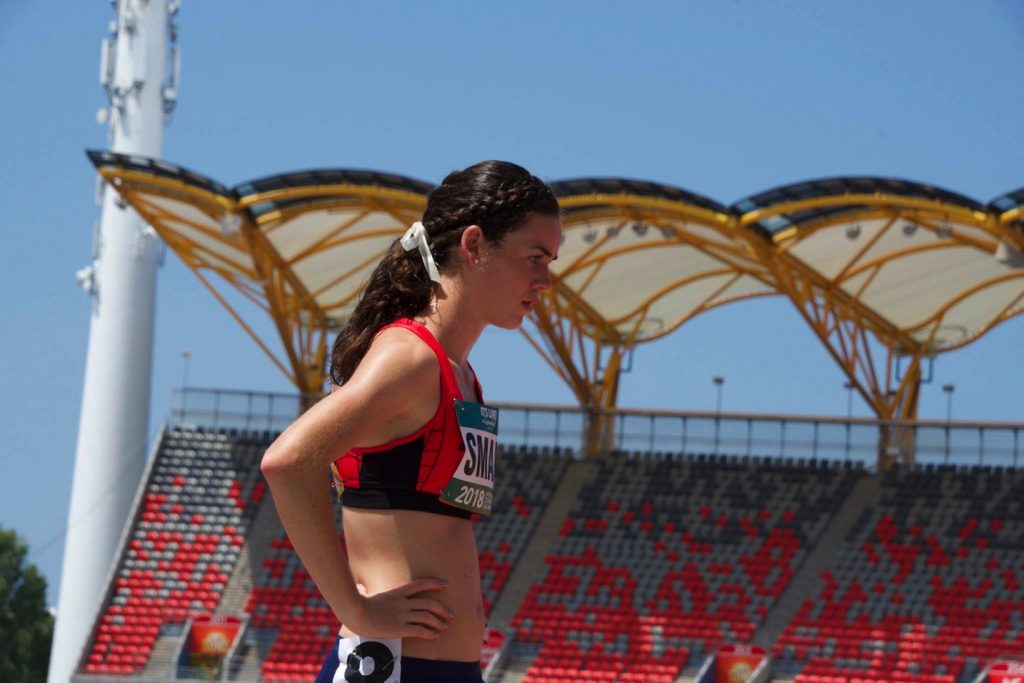 Reflecting back on that historic evening – March 11 2017 – it is easy to narrow the focus to this one earth-shattering feat. Indeed, it was unprecedented, prodigiously magnificent. However, what was equally remarkable was her unabated progression in the preceding weeks. Only one month earlier, she was victor in the Hunter Track Classic B-race, a career highlight, comically paling in comparison with what was to follow. Therefore, when it dawned on her that she had just won the biggest domestic race of the year outside the national championship, the shock was overwhelming. "I can't believe it…I honestly can't believe it," were her first words, uttered immediately after. Even now, the moment is colossus. "I felt unstoppable," she said. "Crossing the line was a moment of pure joy." It was a once in a generation performance; it was the emergence of a superstar. Nevertheless, questions linger, who is she? And, how good can she be? This is her story.
From Keely's first steps, it was apparent that physical prowess was an innate quality. It would be reasonable even to suggest she was born to run, though this is not where she first tasted sporting glory. This was reserved for the pool. Upon taking up swimming aged ten, it was only a matter of months before she scaled the rungs to the national stage. However, this path petered out soon after its inception. During this same year, a local coach witnessed something special in her running, so he introduced her to the track. Her talent was clearly perceptible and it did not take long to uncover its impressive immensity, and thus her journey to becoming one of Australia's greatest juniors of all-time commenced.
Keely's uncanny knack for swift success transferred directly from the pool to the land, when she rocketed to the nationals within weeks of deciding to commit to the sport. It was in that same year – 2011 – that she secured her first national title over 800m. "I was definitely not favourite to win the event," she said. "At the 600-metre mark, I was in second place and the gap was about thirty metres. I decided to try and catch the girl in front and ended up passing her down the straight and winning comfortably." All these years later, she is yet to lose over 800 metres at a national junior championship.
These early signs of promise sparked a head full of dreams and it was not long before the Olympics became one of them. "I have always dreamt a lot bigger than most people and when I started winning nationals, I started thinking about going to the Olympics straight away," Keely said. This hunger for the greatest sporting arena was on her mind when she sought out AIS Senior Physiologist, Philo Saunders, to coach her. "Philo directs training to what you need and finds a balance for us individually. I have never been happier," she said. "It is a very tight group. We are all there through each other's highs and lows and I know after a bad run I can come back and be in a positive environment."
When Keely started training with the Canberra based group, it did not take long for Philo to realise her astonishing potential. "In 2015, when I was coaching Brittany McGowan and Melissa Duncan, Keely joined in with a few sessions and even at her age, she was moving well," he said. "I was super impressed with how she went about things and she would handle pretty much whatever was given to her. I knew at this point she was going to be very good."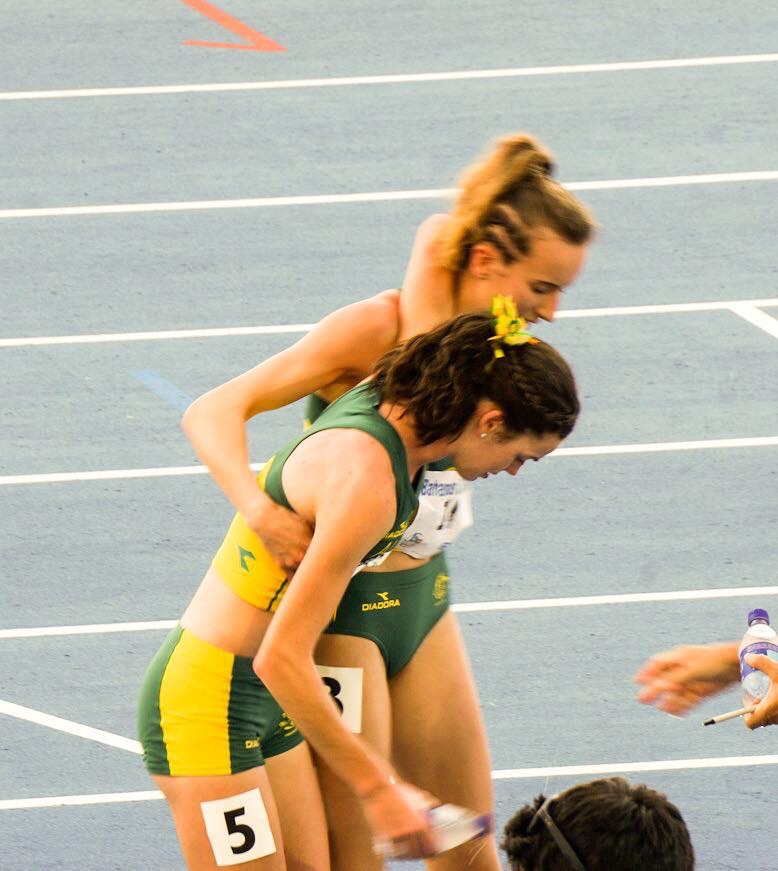 That prediction transformed into reality during that extraordinary race last year. Watching on that night was Tamsyn Lewis, 11-time national 800 metres champion and sub-2 minute runner. What she saw blew her mind. "I was watching it and thought like everyone else, 'wow – that is pretty darn fast'," she said. "Tactically she was good and off the ground, a very nice mover." For Philo everything had gone to plan. "The advice I had given her was that if she was with the leaders with 200 metres to go, she should back herself to win the race," he said. "Everything went perfectly and it was such an amazing time for someone so young."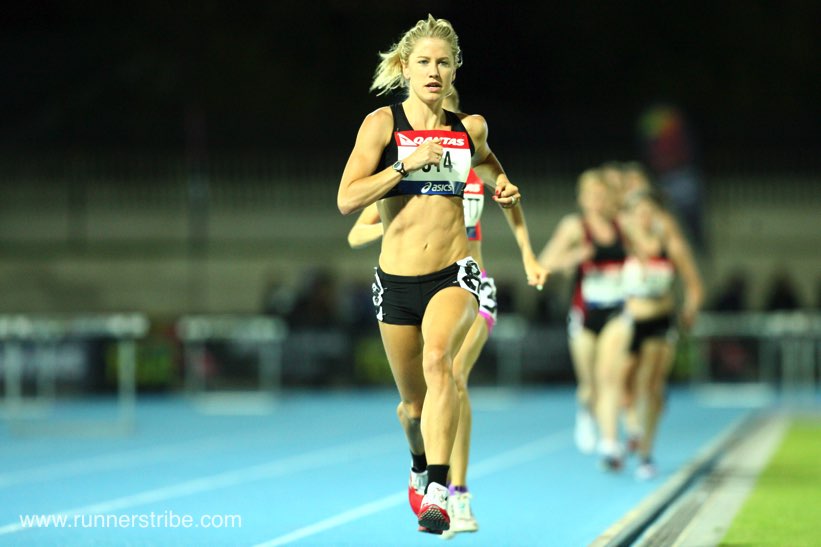 However, alongside the awe of achievement came a mounting pressure to capitalise. Inevitably comparisons with junior phenomenon Georgie Clarke were drawn. She had qualified for the Sydney 2000 Olympic Games at the age of sixteen, before injuries derailed her career, bringing down the curtain on an international career still in its infancy. Coach Philo is aware of the similarities, but he is confident in his carefully meticulous approach to her training. "It is easy to make comparisons because both girls are just as good at a young age, but they are different people," he said. "My thoughts with Keely, even after running 2:01, is just to keep developing at the rate relevant for her age. I didn't try to vastly increase her training because of this and kept the structure the same as what had worked, and that was gradually increasing training load when she was ready."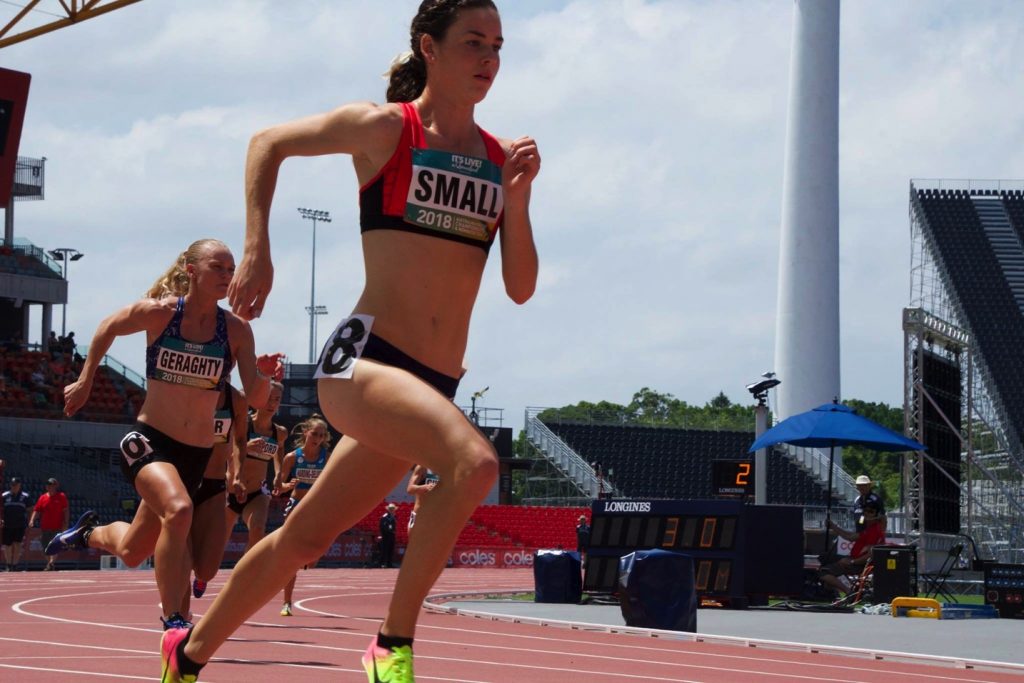 The next step was Keely's initiation in the green and gold. After turning down a roll-down slot for the 2017 senior IAAF World Championship in London, she embarked on a campaign geared toward the Commonwealth Youth Games in the Bahamas. However, the effects of fifty-eight hours of travel, the result of a missed connecting flight, coupled with the oppressive Caribbean humidity, engulfed the team with troubling levels of dehydration. For the first lap of the 800 metres, any toll seemed non-existent, but by the time she entered the final straight everything was unravelling. "My body basically just shut down," she said. "I remember crossing the line and straight away lying on the ground with my head in my hands. I had wanted it so badly. I was just disappointed I couldn't control any of it." The physical consequence was scary. Due to her severely dehydrated state, her body was craving fluid and any energy was completely depleted. As a result, she found herself confined to a drip for over an hour after the race, an effort to restore her to normal health. Although she recovered soon after, such an induction to global athletics became motivation to be better next time.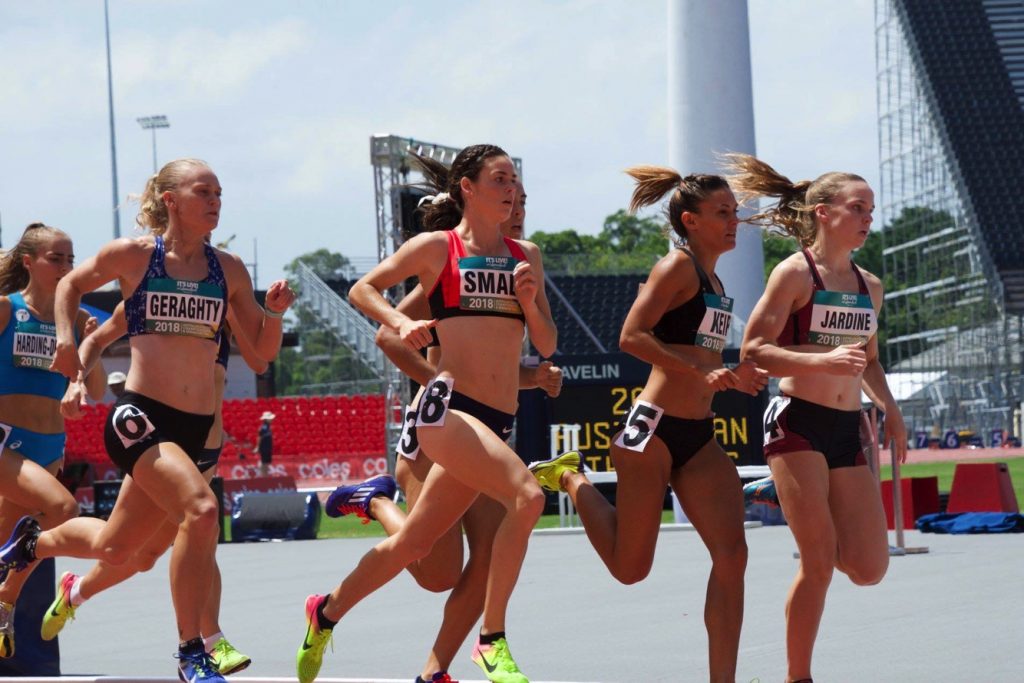 With all this behind her, focus turned to the fast approaching 2018 Gold Coast Commonwealth Games. After a promising early season, highlighted by a strong second place behind Georgia Griffith in the Victorian Milers Club, the expectation to perform began to grow. "I think I struggled a lot with the pressure I put on myself to make the team," she said. "I knew I could make the team, but at times when things didn't go to plan, I definitely let it get to me."
Making the team was always going to be tough. There were several runners hovering around the qualifying mark and by the time the trials came around it was hotting up as one of the races of the championship. After dominating her heat, Keely's confidence was rising. Nevertheless, the final was not to be. After struggling to maintain contact early, she trailed home in last place at the rear of the field. The race was far from the one that fit the fairy tale script. She was shattered. "There were a lot of factors that went into that race. I was definitely not proud of my efforts," she said. "I was pretty distraught when I crossed the line." Philo put it down to the excessive expectancy. "I think running 2:01 was a huge factor as the expectation was always to make the Commonwealth Games. I think in the end it was just a lot of expectation for someone so young."
Resigned to non-selection, attention shifted to qualifying for the Youth Olympic Games scheduled for later in the year. However, the rollercoaster had not yet run its entire course. The selection committee had decided to use its discretion to give her the chance of a lifetime. "I was very surprised to get the call," she said. "I was pretty shocked." Despite her run in the trials, her potential was beyond doubt – she was on the team and destined for the Commonwealth Games.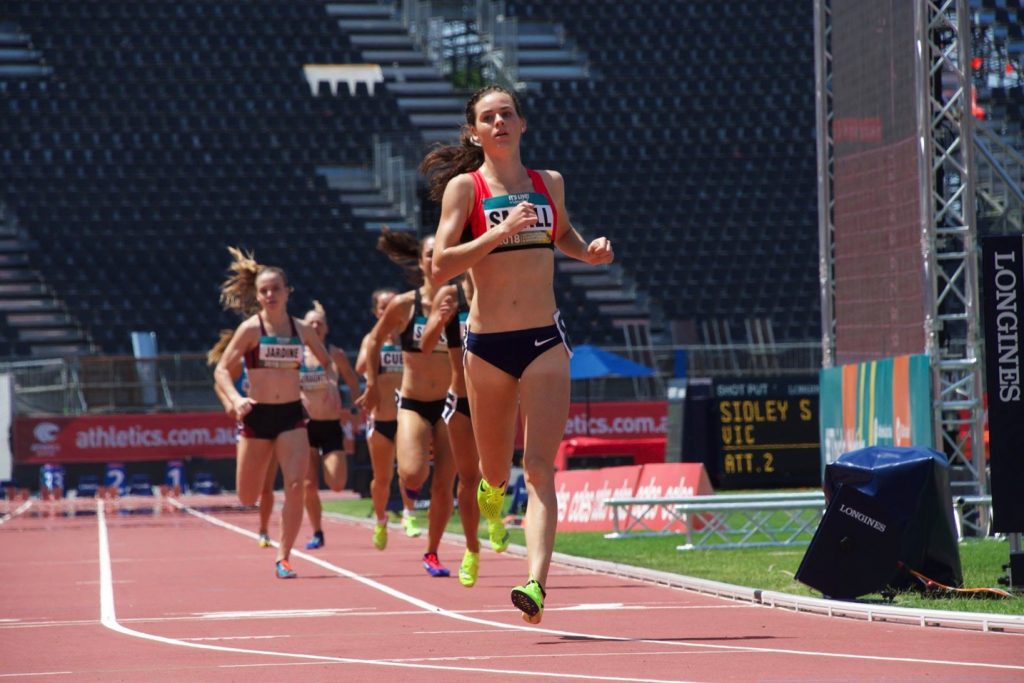 Now on the cusp of the biggest race of her life, Keely is calm and confident. She has grown up in the weeks since the trials, determined to show the world what her true capabilities are. "A home games is something that doesn't come around very often. I get a chance to better myself as an athlete and I get the opportunity to wear the green and gold without the pressure to do any more than my best," she said. "At the moment I think I am running close to my best. Training has been going really well and I've been hitting times that prove I am ready to run fast."
The moment Keely Small steps out onto the Gold Coast track will be one that we should all remember. It will be a major moment in the career of a great runner. No matter the result, the experience will be one that gives her the strength to one day become a world-beater. Her future is bright, but she is still young and we must all be patient. Nevertheless, come next week those staring eyes will be as determined as ever. For she truly is the young lioness of the track.