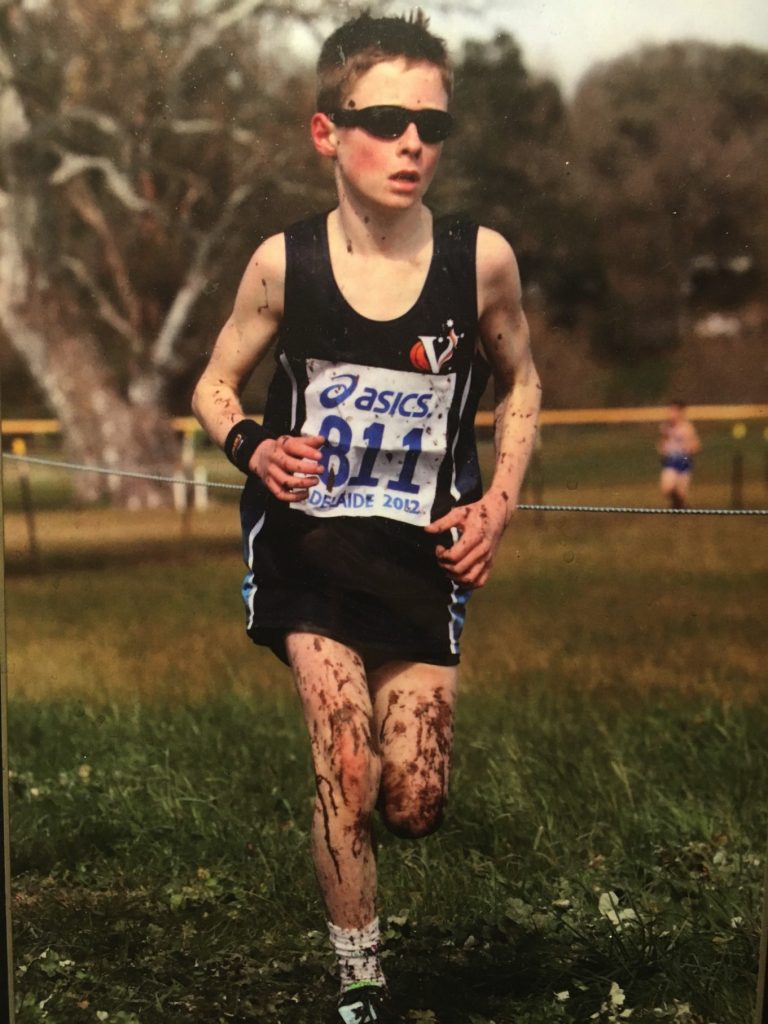 Standing on the submerged start line in the middle of Oakbank Racecourse, shivering and shin deep in mud, I was utterly bewildered at my predicament. I was thirteen, a diminutive figure preparing to run in the National Cross Country. It was something I had never dreamed of, simply for the reason I knew very little about running. Earlier that morning I had sat forlornly in the back corner of the bus as my teammates passionately compared anything from weekly mileage to the length of their spikes, more like a verbal tussle then any serious training discussion. I had remained silent, not daring to whisper my inferior secret. The truth was that I did not really run – only around the block every so often. I did not even own spikes. The other boys knew that, after all, I was only there as the token inclusion, the one to make up the numbers. A late withdrawal had left the able-bodied team one runner short. As it was too late to call upon the rightful replacement and I was already running in the para race, I was their only option. Unceremoniously I found myself thrown into the chaos of battle for the very first time.
The night before the race I laid awake, terrified of what the morning would bring, fully resigned to the doom I was facing. My dread was not misplaced. As the gun fired – rain still pummelling the course, my rain specked goggles rendered ironically useless in the downpour – I ran as fast as my legs could carry me. Within two minutes it was hopeless, I was alone, cast aside with violent indifference. It was the most brutal race of my life. At the finish line, I was numb with shock. Last place. Two-and-a-half minutes behind the winner, Josh Torley. 'That was bloody ridiculous,' I said to Mum quietly. 'I am never doing that again.'
I could not have been more wrong…
As I trudged wearily and broken toward the finish line that day, misery etched across my face, I could never have imagined that one day I would win an Australian title, hold a world record and be on the brink of making history. If I had, it would have been fair to question my sanity. Even today, as I write this, I struggle to grasp the trajectory of my journey. From the broken remnants of that muddy day, to the euphoric incredulity of being crowned Australian Champion, it is the most unlikely of stories. I am a writer, but even I could not write such a breathtaking script. In the aftermath, all I have been able to think is – how did this happen?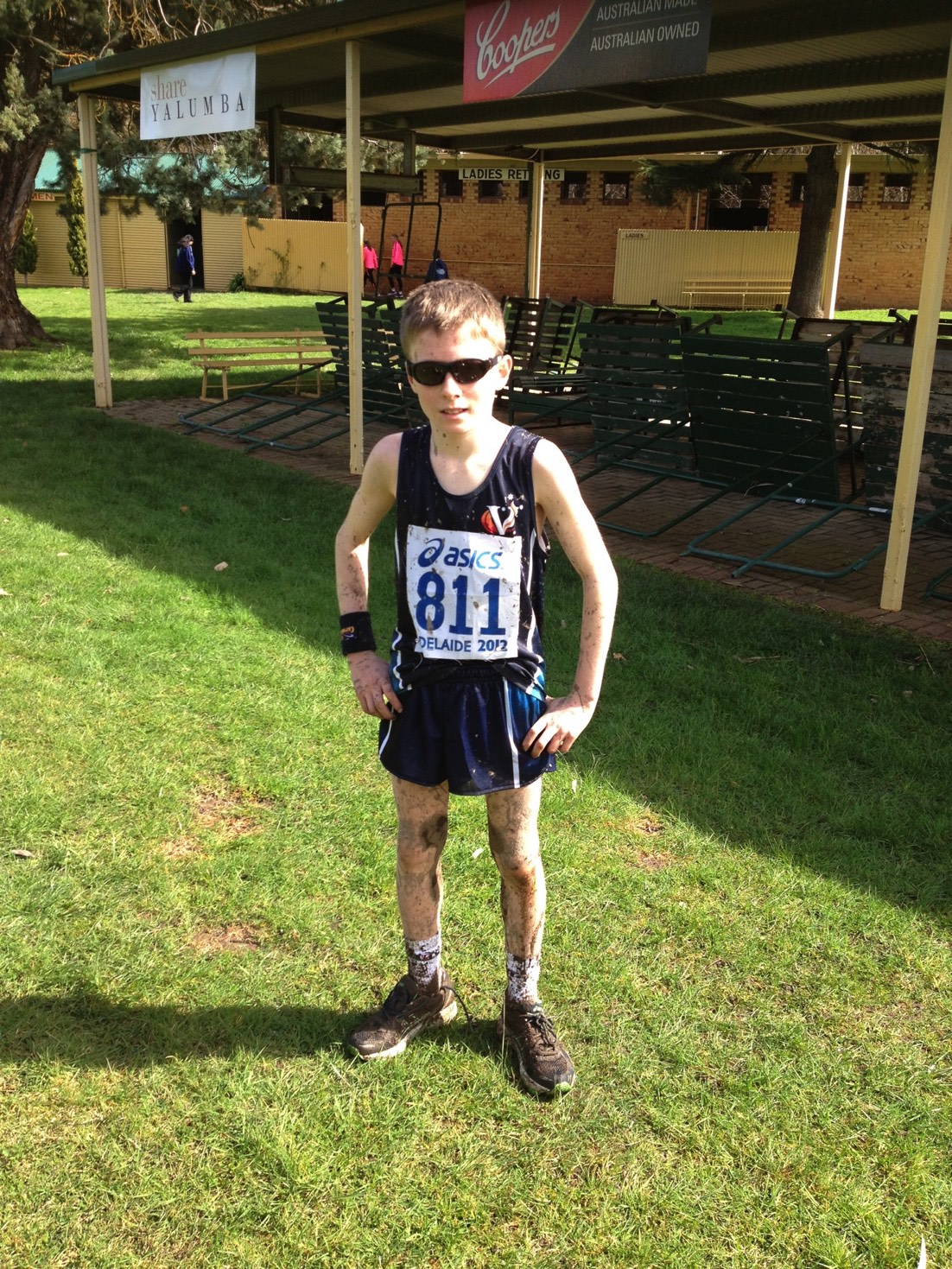 This is my story.
Early in my life, from the first rasping breath and teetering step, I wanted to pull on the green and gold. I wanted it fiercely, I dreamt of it, breathed it. I would commentate myself taking Ashes hat tricks against the brick wall and scoring World Cup winners, the round ball hammering into the shed. I was a dreamer. Therefore, when I confronted my parents, six years old, with the grandiose claim that the school basketball team 'needed me', I can imagine it would have been hard to say no. Anything but yes, I would have seen simply as a fatal wound to my ambitions. In my mind, I knew what was necessary. I had to start somewhere. A mercilessly self-inflicted training regime entailing all the usual push-ups and chin-ups, but also more unconventionally, tree climbing and backyard steeplechase, became daily routine. I was still a long way from choosing my sport, but for me in my youthful optimism, there was no doubt I would reach the top. I was quite a serious young chap.  
Though these years were what built me, they were nearly what broke me. Born with a degenerative eye condition – Juvenile Macular Degeneration – I knew deep down I was not born to play ball sports. At first, I ignored such an inconvenience. I simply assumed that if I worked hard enough it would go away. My parents had tirelessly taught me to adapt with my vision. They never wrapped me in cotton wool, as to do so would have been destructive. I did what all other kids did and if I could not, I would find a way. I taught myself to remember everything I could about the people I met, their shape, the way they walked and talked, the colours they wore. I taught myself to look directly at someone when they were speaking, even if it was better for me to turn my head – it was the polite thing to do. This meant I could recognise people without seeing them clearly; and it was this memory that equipped me with what I needed to keep playing sport. I could predict what was happening, envisioning it in my head. Nevertheless, although these abilities uphold me now, they would never be enough for my sporting dream to come true. It is the cruelty of a deteriorating condition – false hope.
Throughout primary school, my vision deteriorated significantly. I would wake up some mornings, not understanding, frantically trying to clean my glasses in confusion, but to no avail. My vision was changing, I was losing my perception of detail and I could do nothing about it. At 11, I was legally blind – a term used to describe severe vision loss. I remember walking into the doctors soon after and him addressing my mum with the sombre remarks, "sorry for what has happened to you." At the time, I thought he was talking about someone else. I was there was I not? Living and breathing. Mum and Dad had always warned me things like this could happen. My life might have changed dramatically, but I was young and I adapted as the young do. I still firmly believed that nothing could stand in my way.
There was one thing however, that did strike a blow. By the end of primary school, even my efforts to ignore reality proved futile. I could no longer play ball sports and expect great things from myself. At the time, I despaired. Heart-broken, I surrendered to failure. In my mind, it was impossible. There was nothing to be done. The dream was over.
Looking back now, it appears different, like a fresh breath of change. It is true that sometimes we find ourselves in the face of adversity. Without these changes in my life, I may never have found what I was truly good at – running – the art of one foot in front of the other, the battle with mind and body, truly Planet Earth's most natural movement.
Following that first race all those years ago, it was not long until my determined promise of 'never again' was forgotten as merely a hiccup from a bygone time. The Australian Paralympic Committee felt I might have a gift, that if I trained hard enough, even at my age, I could qualify for the 2016 Paralympic Games. For me, still finding my feet in the formidable high school realms, this news was barely believable, but I began to dream. And I began to run.
I grew up in Melbourne's Diamond Valley region. A pocket of suburbia besieged by bush and suffused with a ceaseless cavalry of sharp climbs. Their tendency to rise and fall with ferocious rapidity, to plunge into the abyss and then just as swiftly rise to meet the crest is the torturous trait of the area. It was on these that I set to work. I learnt what it meant to hurt, to feel pain and embrace it and to relish it. It was on these hills – the very same hills that the great Tour de France champion Cadel Evans rode in his childhood – that my grit was born. It was here that I became a runner.
During those formative years, I progressed steadily. Under the wise and attentive influence of club coach Max Balchin and his partner Lyn, I fell in love with the sport. I loved the spontaneity, the nature and the grapple with the clock, where mere milliseconds might define a performance. It was truly my mind and my body, working in unison to achieve a common goal. I did genuinely feel free.
Training during this time consisted of two nights a week. Max and Lyn created such a vibrant, infectious environment that it is no surprise that the group flourishes. Without their continued influence on my career, I would not stand where I do today.
By 2015, things started to get serious. Still only fifteen, I stepped up to the 5000m and after two gruelling attempts, qualified for my first IPC World Championships. My boyhood dream of green and gold was coming true. Nevertheless, the race had a mind of its own. Within two laps, my right shoelace came undone. By halfway, I dropped from the lead group. In the oppressive heat, I began to wilt. Craving for water, each lap I would succumb to the officials enticing outstretched offering, the only respite. The team coach, Philo Saunders, hollered from the stands not to take on anymore, but I was oblivious, clinging to the only thing that mattered – getting to the finish line. I placed 7th, beating half the field, but I felt as though I had gone twelve rounds with the best. I scarcely made it to the fence at the side of the track, whereupon I collapsed into the arms of the team doctor. It was truly a ruthless introduction to the world of international sport.
On the able-bodied front, these early years were unremarkable. I placed top-5 in some state races, even running in a couple of national races; however, I was still finishing insignificantly down the field. By the time 2016 rolled around, my training consisted of four runs a week and I was considering adding another in the hope that it would help me run under 4-minutes for 1500m – the Paralympic B qualifier. There was a problem though. My PB was only 4:13.0, much slower than I needed. The deficit appeared insurmountable, an impossible task, even Athletics Australia suggested I concede defeat and look ahead to Tokyo 2020. Being sixteen though, waiting four years, a quarter of my life, was not an option. I had been dreaming about it since I began running. I was not going to lay down.
Training with Tim Logan, a much faster and stronger runner at the time, pushed me to my limits. Within a month, I was a different athlete. I had been told it was too hard and I was determined to show otherwise. In my first race of the season, I ran 3:59.6, fourteen seconds faster than ever before. It signalled the next step in my career. Personal bests began to flow effortlessly. Within two months, I became a national contender as an able-bodied athlete. By season's end I had won bronze in the under 18 Australian 1500m. Things were changing and I was going to Rio.
The 2016 Paralympic Games in Rio were momentous for my career. They were where I began to realise the power of sport. For a month, I witnessed some of the world's toughest human beings live normal lives. I finally understood that my heroes were just like me – normal people. My races at the games have been widely documented, for one famously ran faster than the Olympic equivalent. In one of my first pieces of published writing, I took the reader with me to live the biggest race of my life through words. You can read it here: http://athletics.com.au/News/the-race-that-was-faster-than-the-olympics . The games were a taste of what might be possible and I was now ready to commit to a new dream – winning gold.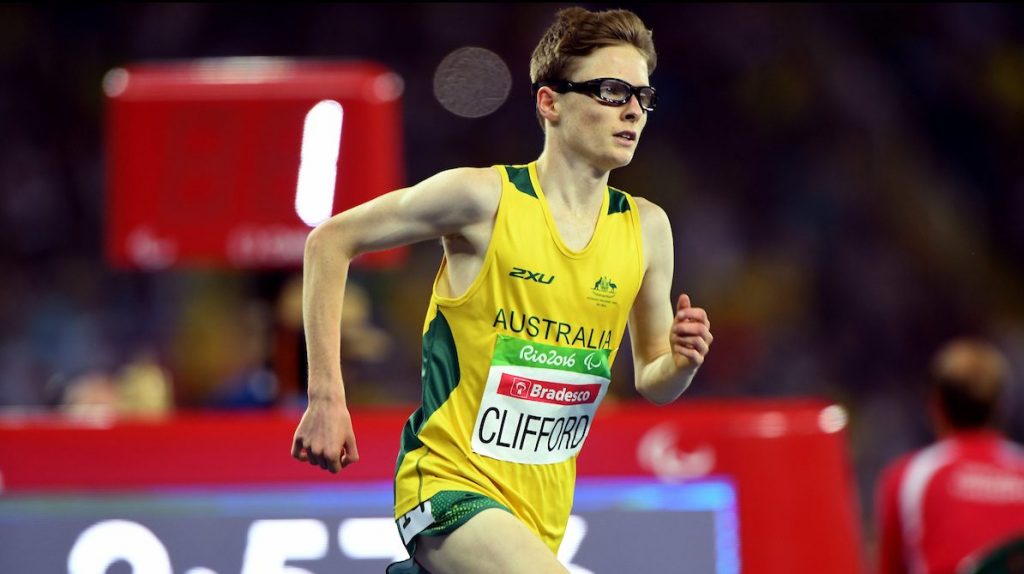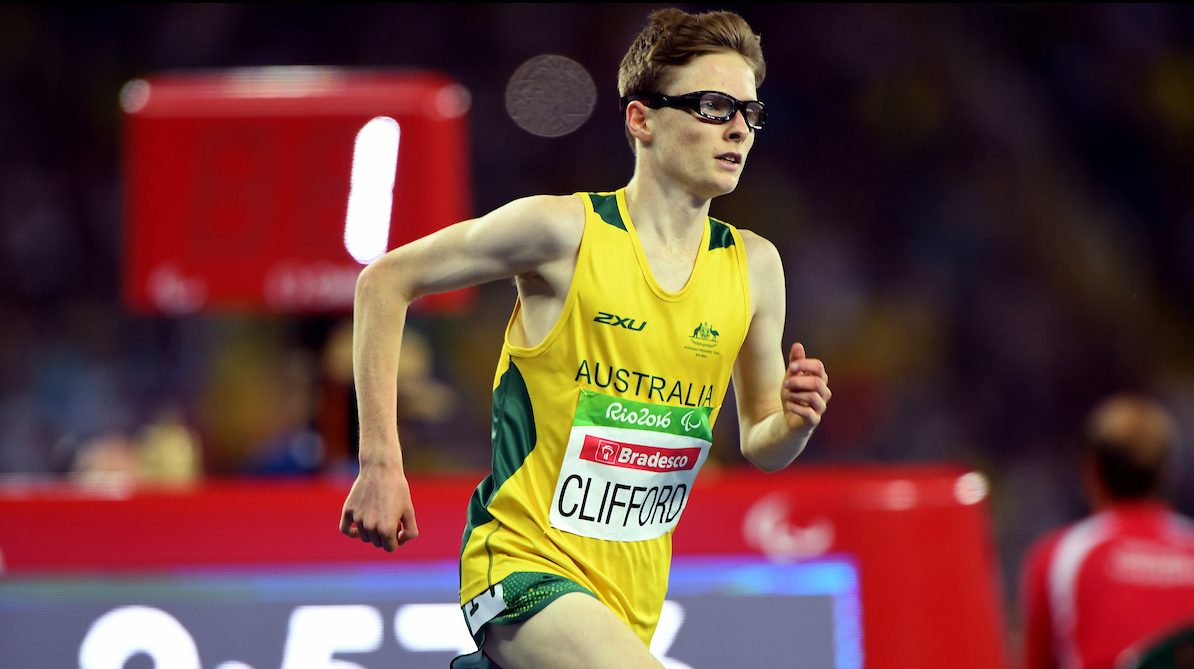 After running 3:49.05 over 1500m in the 2017 domestic season – under a second outside the vision impaired world record – I travelled to Flagstaff with new coach Philo Saunders to prepare for the World Championship. It was the first time I felt like an elite athlete. Running consistently every day, building a routine of 100km a week and more for the first time, I started to see big improvements. Two months later, I was running into the bronze medal in the IPC World Championship T13 1500m in London. I was now convinced that one day I might win gold. It was one of the greatest feelings of my life. I do not want to ramble though, so you can read more of that here: https://jarydclifford.com/blog/
This brings me to this season. One that began well: 14:22 for 5000m and a podium in the Zatopek 3000m. However, things rapidly turned south. A 155km week – my own doing – left me fatigued and flailing. A spree of poor performances ensued, but coach Philo never wavered. "You're fitter than you have ever been. If you are patient, things will change."
However, I soon hit rock bottom. Running with a vision impairment is a challenge that is so complex to explain. It is my normal and I know no different, but it is still a challenge I must face. I work exhaustively on strategies that counter my lack of vision. I work tirelessly to grant myself the opportunity to compete at all, let alone at the highest level. I have always prided myself that despite my low vision I compete as any other. Therefore, when my vision faltered in the dark during the Hunter Track Classic 5000m in January, I panicked. Disoriented, I ran off the track, onto the rail and into the runner in front. In a public arena, it was humiliating. Losing control of the one thing I fight every day to control was heart breaking. It was a lonely moment. The lowest of lows.
As they say though, pain is temporary. The running community, my training group and everyone around me brought me back to my feet. I refused to allow myself to be the reason for my own defeat, but things needed to change. I started running less to reduce visual fatigue. With more quality and less quantity, the tide slowly began to turn. First, I defended my able-bodied Victorian junior 1500m title. Then, a 1500m in 3:48.75 – a new PB and half-a-second outside the world record.
Despite this, there was no inkling of what was to come. Heading into my last Australian Juniors, I simply hoped to advance to the final in the 1500m. After everything I had gone through, this would be a victory, especially as the heats are usually the toughest visually. As predicted, they were frantic, but with a great stroke of luck, I survived.
The next 30 hours of my life is hard to explain. My start in the final was poor. For the first two laps, I sat patiently at the rear of the field. It was not the plan, but it was working. Instead of placing myself in the early jostling, I was able to wait for fatigue to hit my competitors, before I safely navigated my way to the front. At the bell, I was still confused to my position. I had heard the commentator earlier in the race announce that Josh Torley was leading, but I was struggling to locate him. Rounding the final bend, my legs pumping, I suddenly realised he was now directly in front of me. Nevertheless, I could not get out, trying not to panic, I did the only thing I could do – wait. At the top of the home straight, like magic, a gap appeared, and that is the last thing I remember. I crossed the line, for a split second I was unsure, worried I was making a mistake, and then it hit me. Somehow, I had won. The shock was overwhelming. It was the completion of a full and extraordinary circle. For in my first and last Australian junior track races I had won gold in the under 20 1500m. The first was para, the last able-bodied.
Without a world junior qualifier though, I had gone into the race without qualifying on my mind. Winning the final changed that. The rush to have me entered in the next night's Sydney Grand Prix hurriedly replaced the joy of winning. Finally, I received a message that I was in. I had one day to prepare for a last ditch effort to run under 3:48.00. Full of adrenaline, I spent the evening at the Ed Sheeran concert across the road to stave off the nerves.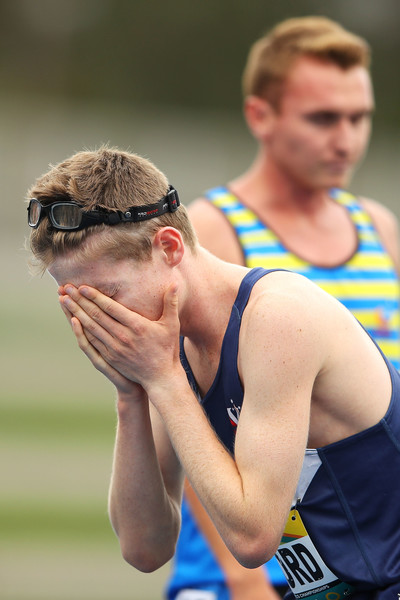 The next night, whilst warming up, my legs were laden with worry and expectation. The exhaustion from consecutive days racing was hard to ignore. In the call-room, something changed. To my left was the Olympic Champion, Matt Centrowitz. All I could think once more was how had this happened? Only the day before I had been running last in the national final, now I was shoulder to shoulder with the very best.
When the sound of the gun split the silence, it was on. For the entire race, I latched onto the fluoro yellow singlet of my training partner Michael Roeger, Philo was behind me. One lap in I was hurting. By two laps, my legs were on fire. After that, I had no choice but to simply hang on. Unable to see the clocks, I was unaware how quick I was running. With the final straight to run, after staying composed all day, I started to panic. It felt as though the line had disappeared, like I would never reach it. When I finally saw it, I threw myself at it. For five infinite seconds I did not know. Turning, hands raised in question, I was met with jubilant confirmation. Roegs and Philo, our little team had done it. 3:45.18. A world record and a qualifier in literally the dying minutes of the qualifying period. I was going to Finland.
As the dust begins to settle on that weekend, the enormity begins to hit home. From the unknown kid in the back of the bus, last by a long way in his first national race, to me now, standing on the brink of making history, the first para-athlete to compete at an IAAF World U20 Championship, it has at times felt like a story out of a book. I still wake up some mornings disappointed that it was only a dream, and then I realise it all did really happen. I have always considered myself a runner that has a crack, no matter the odds against me. I have always felt like I have nothing to lose, like I was the eternal underdog. I never imagined that one day I would be the best in the country regardless of my vision, but I am now awake to what is possible. A new chapter is beginning. There will be many more stories to write. It is what I do best.
Thank you to the entire running community.