Under the bright lights of the Stade de France, Genevieve Lacaze's feet are dancing the final crescendo of an epic story. She is smiling. Her body is in a world of hurt, yet she smiles – she is invincible. With each step, she is icing the cake on a year where her very spikes have torn chunks from the bone of her previous performances. This run will be an Australian record – the final addition in a remarkable cavalry of achievements in 2016. Only a fortnight before, she graced the Olympic Games with a display of mastery and grit, propelling her to two Olympic finals. Every time she touched the track, finesse and fireworks would ensue. With this said, it is easy to imagine that when crossing the line in Paris – a jubilant, exultant and triumphant world – there was no inkling to what would soon transpire. There was no warning that her running world would come crashing down and that she would have to fight bare knuckled to keep it afloat. This story traverses her unblemished 2016, the succeeding dark times and with a home Commonwealth Games around the corner, the story of her resurgence. It is not all highs in the world of professional sport and we must write it all.
Genevieve Lacaze burst into the headlines for the first time during the 2012 London Olympic Games. She failed to progress to the final but she had made a name for herself. For many this was their first introduction and for many they would not forget. This first Olympic experience stayed with her and kindled a fierce desire to one-day reach the top. That is why it is important to start the story here.
The proceeding years witnessed their own rollercoaster. In 2013, on Diamond League debut, she came crashing down, rising from the water with a severely broken ankle. Her season ended before it had started and she was bound to the merciless plight of re-learning to walk. The next year, she ran 5th in the Commonwealth Games 3000m steeplechase, heralding a great comeback. However, a conversation with new coach Nic Bideau motivated her to take on the sport with a heightened dedication. She now looked to the future, and Rio, with a profound determination.  
By the time 2016 rolled around, Lacaze was a different athlete. She had strung together weeks of consistent training, amassing an impressive endurance engine. It was with this that she began her year of invincibility. "Consistency was the biggest factor. I had managed to stay on my feet for the months leading into 2016 and I grew stronger," she said. "This then gave me the belief that I had so much untouched potential and I slowly started to discover it as the months ticked by."
It began with personal bests over 1500m and 5000m, including a national title in the latter. Then, a minor hiccup, with silver in her pet event the steeplechase, albeit behind a world class Madeleine Heiner (now Hills). At the close of the domestic season, she had earnt her spot in the Olympic team and attention now turned to the international stage.
An altitude stint atop America's Mt Laguna left her with a newfound strength and fitness unmatched by any previous version of herself. Her coach, and head coach at Melbourne Track Club, Nic Bideau put it down to the motivation of Olympic success. "She figured out how to keep herself lean and how to train without getting injured," he said. "The Olympics is a big thing and people start doing all the little things to make sure they are there."
The personal bests soon began to flow with formidable freedom. At the inception of May, she ran 15:41.33 over 5000m at the Payton Jordan Invitational in California, merely a mediocre time in comparison to what was on the cards. Then a quick trip to Holland and a long awaited improvement over two laps of the track preceded her major season opener in the Moroccan capital, Rabat. Over the barriers, her 9:32.67 was good enough for 4th place, once more retrospectively a modest performance.
The month of June begun with another 5000m personal best in Birmingham. Then over the barriers in quick succession, she notched up 6th in Oslo in 9:30.52 and 3rd in Stockholm in 9:23.19, all in the matter of a week. "I did start to feel invincible," she said. "It was quite surreal when I realised that every time I raced I would PB. I remember truly believing there was no limit to what I could do that year." Three days later she booked another ticket to Rio, this time over 5000m, running the final five laps solo in the Finish dusk. "We were sitting in Teddington, getting the splits," Bideau said in reflection. "I remember she started to drop off and one guy said that she wouldn't hit the time now. I said, 'no she will come back. This girl is tough.' She was definitely on a mission that night." This resilience coupled with an indefatigable courage boded well in the lead up to the Olympics.  
The confidence leading into Rio was unparalleled. Everything she had done in the months before had seen her improve beyond the realms of just being a participant. She was now well and truly, a contender against the world's best. "There was almost no doubt she was going to run well," Bideau said. "She had done so many things right and was just so relaxed about it all."
Her first race was messy, but with class, she eased through to the steeplechase final. "It (the heat) was the perfect race I needed to keep me brave and confident," Lacaze said. When she fronted up in her first Olympic final, it was with the realisation that she had summited a new peak. "I remember thinking to myself at half way that I had a decision to make. To either push on with the pace, or sit back and stay safe," she said. "I couldn't allow myself to take the safe option after how far I had come, so I made a bold surge." This was what launched her into medal contention, but in the blistering Brazilian conditions, she could not quite muster the final effort. She crossed the line 9th, with yet another personal best time of 9:21.21 and the knowledge that she had truly attacked the race head on.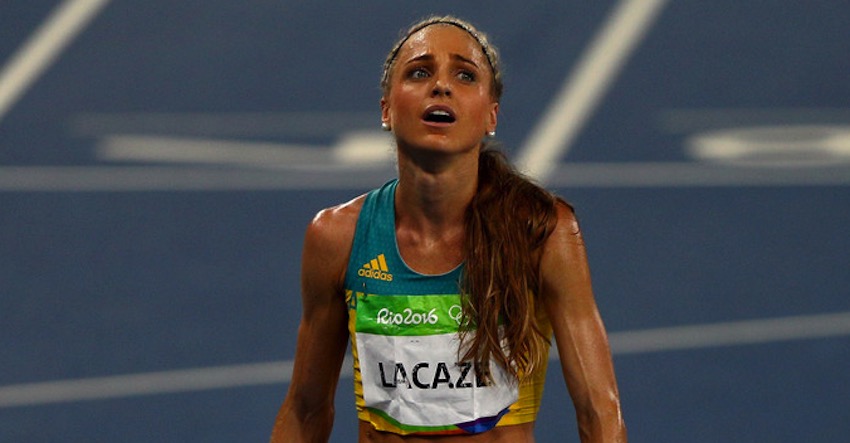 Less than 24 hours later, she toed the line once more, this time over the longer 5000m. Under the sun, she ignored her fatiguing legs to courageously advance to the final alongside best friend and training partner Eloise Wellings, and record another personal best. In the final, she continued her impeccable routine of gutsing it out, placing 12th in 15:10.35 – incredibly, once more a personal best.
The final chapter of the year saw her re-write the Australian all-time lists. The Australian steeplechase record fell in Paris. Her time of 9:14.28 eclipsed the previous record held by Donna MacFarlane by 4-seconds. It was not the only record to fall in the race, with an astonishing world record run by the Olympic champion Ruth Jebet. This preceded a fresh set of lifetime bests over 3000m in Zagreb (8:52.28, 10th Australian all-time) and 5000m in Brussels (15:06.67, 5th Australian all-time). It was truly a year where she could do no wrong.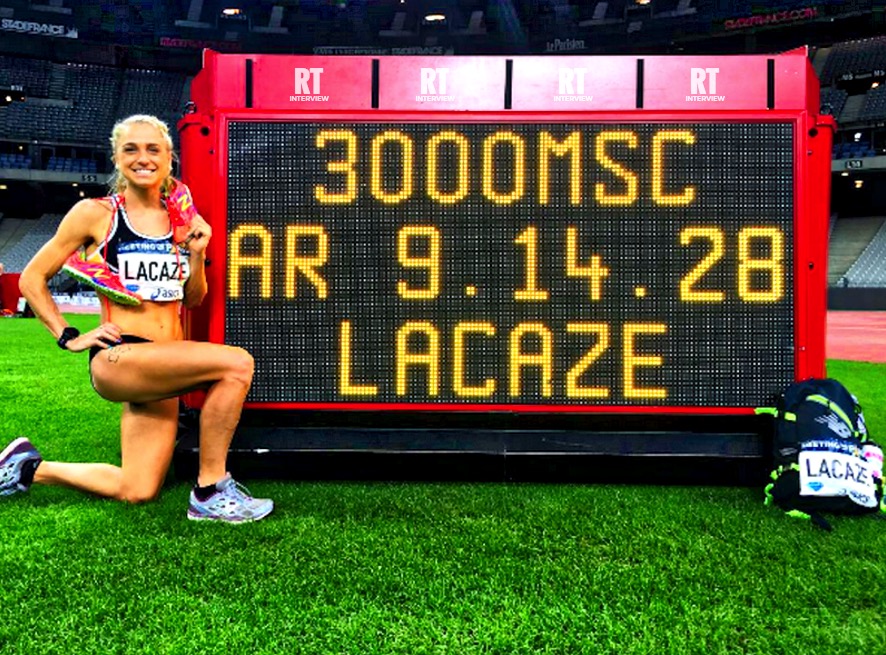 Nevertheless, invincibility is never holistically true. In the perilous beauty of hindsight, it might have been easy to foresee what happened next. The beginning of the new year was the dawning of a gruelling one. The year 2017 was destined to be everything the previous year was not.
Initially, things were fine. The annual pilgrimage to Falls Creek only showed growing promise. For anyone watching, it was clear Lacaze had lost none of the form that had catapulted her into the upper echelon of international distance running. If anything, she had taken another step toward the top. She proved this in her maiden European indoor campaign, instantly registering another personal best over 3000m – 8:45.81 in Birmingham. "It started so promising after a huge 2016," she said. "I don't think I was prepared for what was around the corner."
The last race of the campaign was what awaited around the corner. On the banked track in Madrid, she tore her plantar fasciitis. Straight away, she knew something was wrong. "I stopped in my tracks," she said. "I have only myself to blame because my body needed a big rest after my previous season." The injury meant four weeks on the sidelines and left any hopes of defending her national title in tatters. Despite this, she soon returned with renewed vigour and it seemed as though another faultless year was imminent.
After an altitude camp at Mt Laguna, she was poised for her international campaign. In Doha's oppressive heat, she embarked on her quest for the London World Championships in the steeplechase. After the race, first impressions appeared to be promising. Running 9:37.10 did not ignite the same fireworks as the year before, but it confirmed her spot on the team. It was in this next week that things began to unravel. In a matter of days, her left foot began to develop a pain that swiftly grew unbearable. With twelve weeks until the World Championships she was facing half of that time off the track, the pain in her foot was a stress fracture of the fourth metatarsal. Any hope of replicating her Olympic campaign was lost. Nevertheless, she refused to surrender. "I made a decision to stay on tour," she said. "I thought if I cross trained hard enough I could begin running in six weeks fitter than ever. So I did."
Nic Bideau has presided over the training of many great distance runners. In the weeks that followed, he witnessed Lacaze train as hard, and with a ferocity like none other. "She is really tough," he said. "She is never scared of pain. She gave herself every chance." She had submitted to the suffer fest of an unrelenting regime of cross training. Ryan Gregson was with her every step of the way and witnessed her immense strength of will. "I have never seen anyone work that hard before," he said. "I thought I cross trained hard when I was hurt, but she takes things to a whole other level. Each time she gets hurt, she raises the bar with how hard she works."
Upon returning to land running, she had six weeks to sharpen up. It was a tight rope procedure of doing enough but not too much. The cross training had served her well. In London, she beat the odds and qualified for her first World Championship final. "I could not believe it," she said. "All the hours in the pool, riding the elliptical and hours in the gym strengthening my body. It had all paid off. I definitely think I became a stronger person that day." In the final, a lack of race practice caught up with her and she trailed home in 12th, albeit in a strong time of 9:26.25. Her performance was a portrayal of the power of belief. If anyone still questioned her toughness, it was undeniable now.
The next chapter spelt the biggest heartbreak. Her intense training in the lead up to London came at a risk. In the effort to be fit for the championships, she had re-fractured her fourth metatarsal. This time however, the healing process would not be simple. The fracture was on the tension side, meaning the bottom, thus rendering a complicated mess. It would be four months until she could properly walk again. "I had a lot of dark days. It was a very tough four months mentally and physically," she said. "But every day closer to the new year was a day of hope."
In her typical quintessential fashion, her attitude to the sport never waned, or if it did, it was rare. "Plenty of stressful thoughts have crept in along the way. It is all part of the sport. Being injured is such a frustrating reality for a professional athlete, but also inevitable," she said. "We spend so much time pushing ourselves to the ultimate limit, breaking down is bound to happen." Somehow, she was still strong even in the face of early doubts about her ability to be ready for the much anticipated home Commonwealth Games on the Gold Coast. "She definitely was upset when people said it was doubtful about Commonwealth Games," Bideau said. "It is a step by step procedure. It was still a long way off and we just needed to do what we had to do."
The year concluded with a special Christmas proposal and the engagement of Australian athletics' most celebrated couple. Then the dawn of the new year, 2018, witnessed Lacaze take her first running steps in months. Over the course of the next few weeks, she progressed in leaps and bounds. Atop Falls Creek, she once more immersed herself in the running routine and set her sights, once more, on a spot on the team bound for the Gold Coast. "With the time pressure to be ready for Commonwealth Games, it has been difficult," she said. "I know what I am capable of and how hard I have worked. If I can toe that line healthy in April I know I won't disappoint."
With the trials less than a week away, she is still unsure whether she will race. However, this will not rule her out of the selector's consideration. With her past results and big ambitions, it will be hard for them to look past her. "I want to medal at the games. I was born on the Gold Coast and my family live there. Running at a home games and medalling is a dream I have had since I was a little girl and I won't let this opportunity slip through my fingers,' she said.
What she has faced over the last twelve months has been, at times devastating, but ultimately she knows it has made her stronger and hungrier to return to the top. Her final words are telling. "If I had never experienced this adversity, maybe I wouldn't be as hungry as I am. 2016 felt like a dream for me and although I was doing the work, it felt like it came very easily. I have had to fight so hard the last twelve months for just the chance to race at the highest level. When you have experienced the highs of your sport, it makes you realise the sacrifice and commitment you will make to get back there. Being injured has been heartbreaking, but the desperation to want to be better again is stronger than that."
With those words, there is no doubt she will return to the track very soon. Maybe next week… Whenever it is, she will be stronger than ever before.
Genevieve Lacaze
Australian Record (3000m steeplechase), Olympic, World & Commonwealth finalist
Three key cross training sessions…
-80mins pool run consisting of 20mins @150HR, 20mins of 50s hard/10s easy, 20mins threshold @170HR, 20mins cool down.
-75mins elliptical session consisting of 20mins @140HR, 35mins @160HR, 20mins @140HR.
-60mins bike session consisting of 3mins hard/30s easy.
Three pieces of advice for anyone with an injury…
-Never wait or delay getting a diagnosis. Scan ASAP.
-Make a plan to stay motivated and distracted so you can work towards your next goal.
-Use your injury as a chance to fix any weaknesses. Find out what caused the injury and make sure you strengthen and rehab so it cannot happen again.