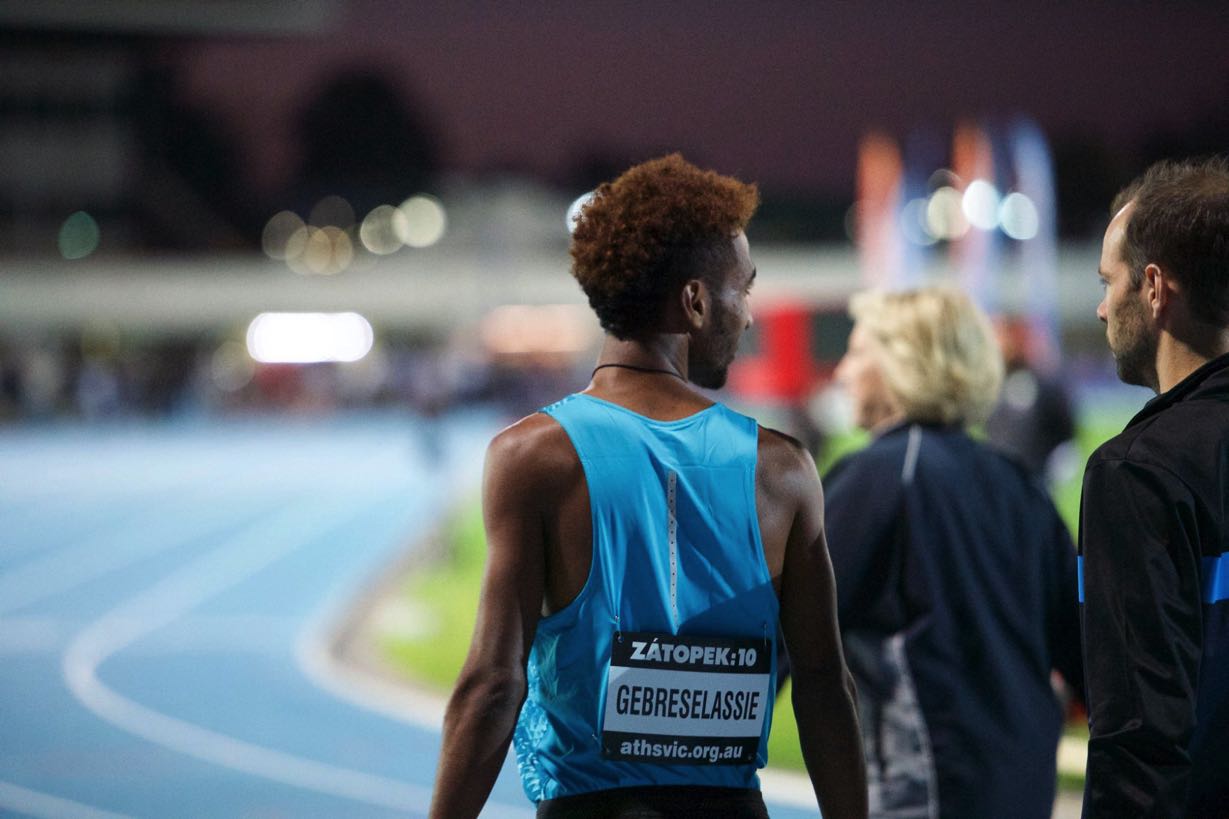 Under the African sun, a furious game of football is in full flight. The young boys dart around the pitch, their skinny legs whirring a hypnotic dance. The dust they kick-up ascends into a cloud of fire that rains down on them, covering them in red. On the wind, their spirited cries carry through the camp. As the sun sets, they begin to disperse. Their feet – a mix of brown and red – patter their way through the streets, back to their homes. For these children, their lives in the refugee camps of Sudan are all they have known. Amongst them is a boy of Ethiopian heritage – Dejen Gebreselassie. He is 10 years old. Already a waiter – still a boy. Fast forward to March this year and he will be running through the streets of Valencia in Spain. An Australian singlet on his back and dreams in his head. He seeks to use the World Half Marathon Championships as a platform for the future. His story from refugee to the green and gold is one not known by many of us, but one that has the power of enduring hope and the inevitability of inspiration. This is his story.
The year 1974 was the commencement of nearly two decades of catastrophic civil unrest in Ethiopia. The military coup overthrew long-reigning Emperor Haile Selassie and plunged the entire Horn of Africa into uncertainty. The communist regime – under the rule of Mengistu Haile Mariam – implemented a siege of terror and exacerbated the consequences of one of modern history's most devastating famines. This vulnerability amassed to blatant insecurity. The threat and oppressiveness of the regime posed a risk too precarious to live with. With that incontrovertible knowledge, Dejen's parents made the life-changing decision to leave Ethiopia. Over several long days, they walked with ache in their hearts and freedom in their minds, a road stretching into the horizon. It was taking them to Sudan and the Umrakuba refugee camp. Upon arrival, they went about setting up their new lives. In 1993, they gave birth to Dejen – the third of six children.
Dejen's early childhood was tough. He was born into a situation that demanded maturity. At a young age, he already bore the importance of supporting a family. "It was a really hard life. It was a struggle life," he said. With his brothers and sisters, he would trek to the river to fetch water and work in the local restaurant after school. "I've seen the hard way of life. People working so hard to make a living, for family. It has given me strength in my life and in my running," he said.
Dejen's first exposure to running was on his journey to school. He would cover the few kilometres from his home in bare feet. This was a routine endured by all the children in the camp. "No one ran for fun in Sudan. I wasn't a runner," he said. His passion was with the round ball game. "I was a soccer player. All the kids used to play soccer on the dirt. We would run a lot on these tough dirt fields," he said. This was the beginning of the development of his natural fitness. From as soon as he could walk, his incessantly fatiguing daily life implemented the early foundations for his success in the running world.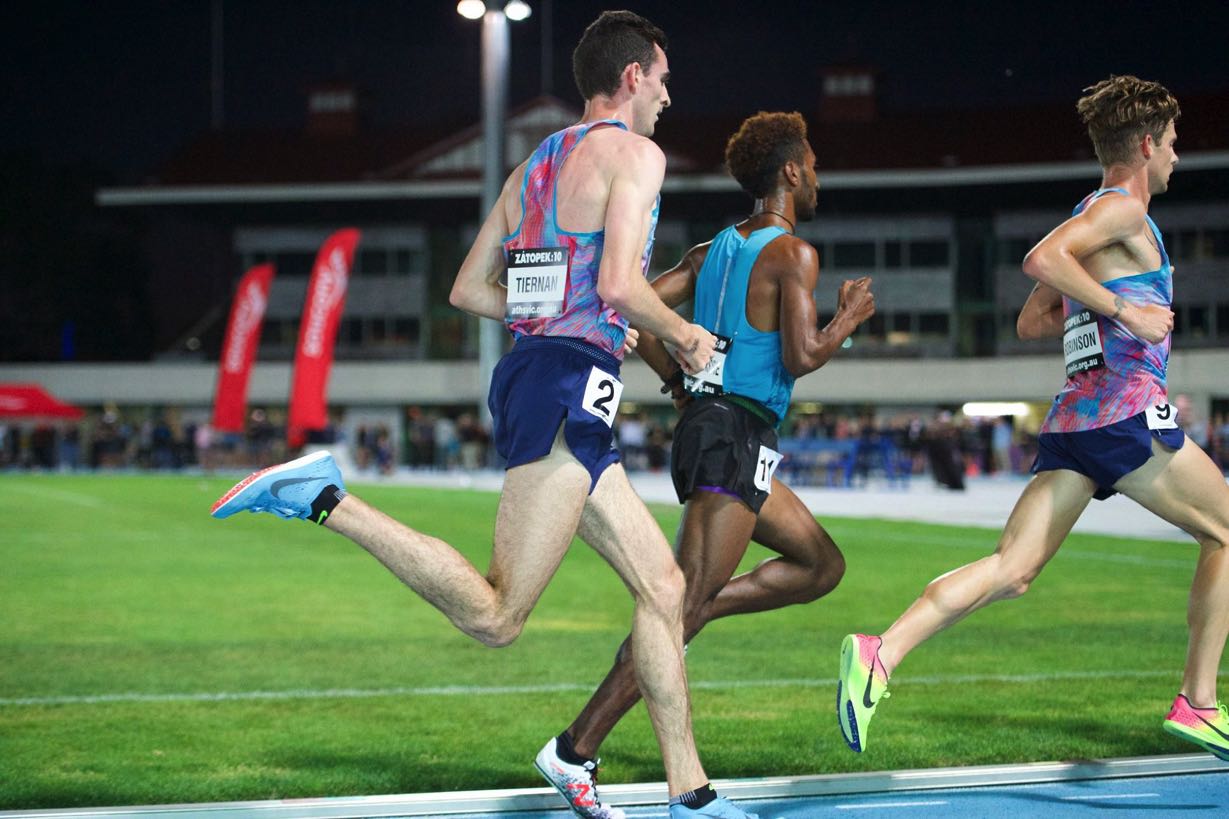 Despite the difficulty of life in Sudan, Dejen's family had hope for their future. As Christians, they had faith that they would find their footing in life. "God was the only thing that gave us hope. Though we had nothing, we knew God would be there for us. One day we would have a better life. And we did," he said. Their prayers were answered in 2004. The Australian Government notified the family that there was a place for them in Tasmania and an opportunity to build a new life with freedom and safety. At the age of 10, Dejen left behind a life of toil and embraced life as an Australian.
Throughout High School Dejen began running more frequently. He still ran barefooted, winning races at ease. It was during these races that people started taking notice of his natural gift. "People started urging me to run for a club. They said 'maybe one day you can run for Australia.' And they weren't wrong – but I never listened. I was like 'nah man I'm a soccer player. I think I'm going to play for Barca or Manchester United. I had big dreams," he said. After much persuasion, he relented. He joined a club and took his first steps in training.
By 2013, he was developing into a promising athlete. He was now fully immersed in a fiery passion for the sport. "Running to me is everything. It is my life. It is a way of finding happiness. It is a part of me," he said. It was with a hunger for improvement that he embarked on a trip to Sydney to train with Sean Williams for six months. There he trained alongside Olympians Ben St. Lawrence and Vic Mitchell, as well as young rising star Morgan Mcdonald. During his time with the group, his outlook on what it would take to make it in the sport changed. "I learnt how hard you had to train. How focussed you had to be. How dedicated you had to be. Just from watching them every day,' he said. During the year, he also qualified for the World Mountain Running Championships in Poland. A lack of preparation rendered him unfit to tackle the tough course, forcing him to DNF from his first international race.
The next year he set foot in Ethiopia for the first time. Living and training in the capital Addis Ababa, he was able to meet his family that had remained in the country during the war. He also grew to understand the prestige of distance running in Ethiopia, the reverence with which the population supported its most famous runners. One of these lauded runners was the great Abebe Bikila. His heroic status founded upon the cobbled streets of Rome, where he ran to Olympic gold in the Marathon without shoes on his feet. His aura inspired Dejen to work harder in pursuit of his dreams. "I grew up hearing about Abebe Bikila winning the Olympics. He was the first man from Africa to win a gold medal at the Olympics. For me he is a big role model. He has shown me what it is to be a champion," he said.
After returning from Ethiopia, Dejen decided to tackle his first Marathon. "Just the name Marathon made me scared," he said of the imposing distance. His fear for the mammoth distance held strong after 2 hours 54 minutes of gruelling battle with his body – made worse by his refusal to take on food or water. "I can't even explain how painful it was. I thought to myself that this was my first Marathon and my last Marathon," he said. Alas, he would in time return to th historic footrace.
Over the next few years, he began moulding himself into a genuine contender on the national scene. Still under the guidance of Sean Williams, he began to establish himself as a runner with guts. "Dejen is one of Australia's only 'Prefontaine' styled runners. Most of the modern boys want teammates or pacemakers to help them – not Dejen. He is all guts and you can count on him doing the hard yards from the gun," Sean said. In 2016, this all or nothing style did not always pay off. Whilst working full-time in construction, Dejen suffered a disappointing setback with a 69-minute Half-Marathon on the Gold Coast. In the aftermath, he decided to return to the Marathon distance by way of the sweltering heat of Townsville. This time he was closer to getting it right, winning in 2 hours 39 minutes. "It was really hot, really humid. It was good but still not the time I wanted," he said in reflection.
Plagued by inconsistency throughout the early years of his career, Dejen was still searching for the key to unlock his unfulfilled potential. In 2017, he produced performances that hinted at what the future may have in store. Returning to the Gold Coast Half Marathon, he shattered his PB running 64:12 to place 3rd ahead of a stellar field of runners. He then notched up another podium at the Australian Road Running Championships in Adelaide over 12km, behind Olympic 5000m finalist Brett Robinson. It was then that he sent a shockwave through the road-running scene with a hard fought 2nd in the Melbourne City2Sea 15km. Finishing only 1-second behind Olympian Liam Adams, Dejen covered the final 10km of the race in 29:26 – over 30 seconds faster than his PB. Talking about the races, Dejen spoke highly of his determination. "I don't aim low. I aim very high. I have confidence in myself and what I do," he said. This collection of consistent road performances catapulted him onto the World Half Marathon team.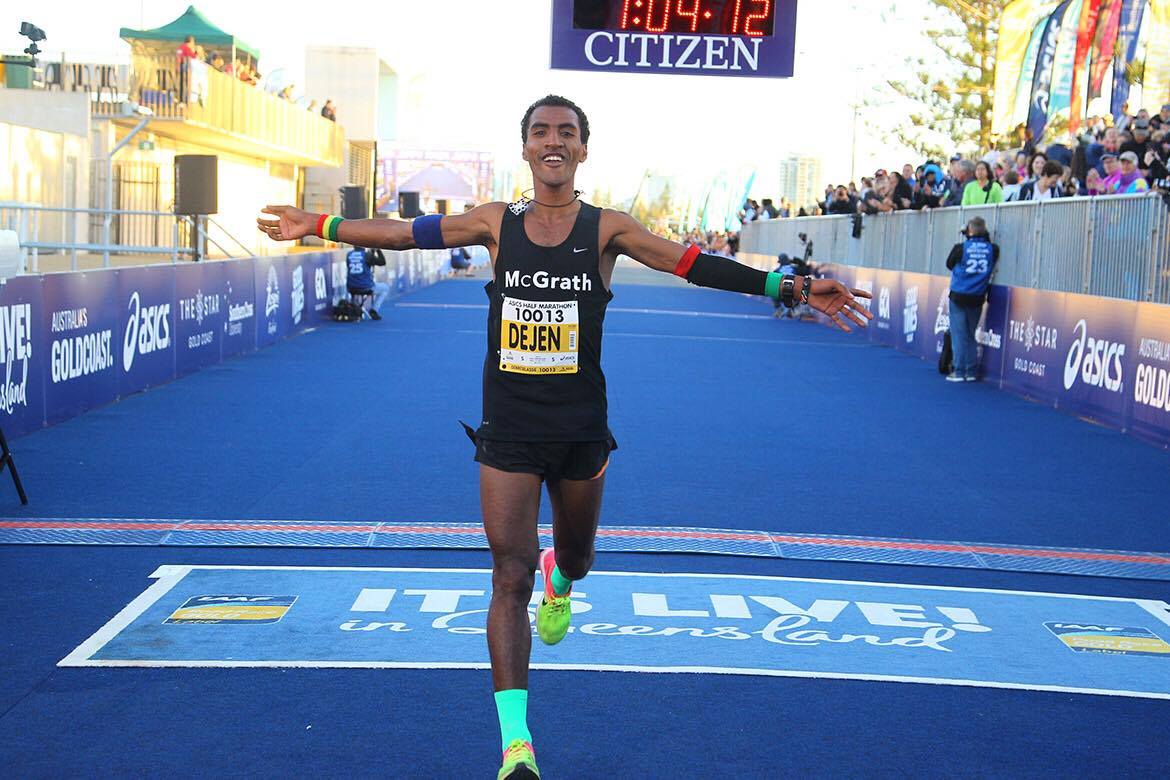 Dejen is looking forward to the opportunity of donning the green and gold once more. "To make the team is hard work. It is a big dream. I've worked hard. Week in, week out. Big mileage, lots of focus," he said. This time around, he understands that simply qualifying is not enough. "It is one thing to make the team, but I want to make Australia proud. One dream is to run a PB, but the big dream is to help the boys – the Australian team – to win a medal. I think if we all run well we can medal." Winning a team medal at the World Half Marathon is a feat only achieved once before by an Australian team. In 1993, the men's team led by Steve Monaghetti won silver, only a mere 3 seconds behind powerhouse Kenya. Dejen's words are bold, but they set the tone for a thrilling race.
Looking ahead Dejen has his sights set on big dreams. After the World Half Marathon, he intends to travel to Iten, Kenya to train with the courageous Kiwi Robertson brothers – Jake & Zane. Four months of brutal and relentless training will prepare him for his first serious attempt at the Marathon later this year in Fukuoka, Japan. Like any athlete, he dreams of running in the Olympic Games. For Dejen qualifying for the 2020 Tokyo Olympic Marathon would be significantly special. It would be 56 years since Abebe Bikila defended his gold medal in the same city in 1964. He intends to follow in his heroes footsteps, but fly the flag for his beloved home country – Australia. "I want to make my country proud."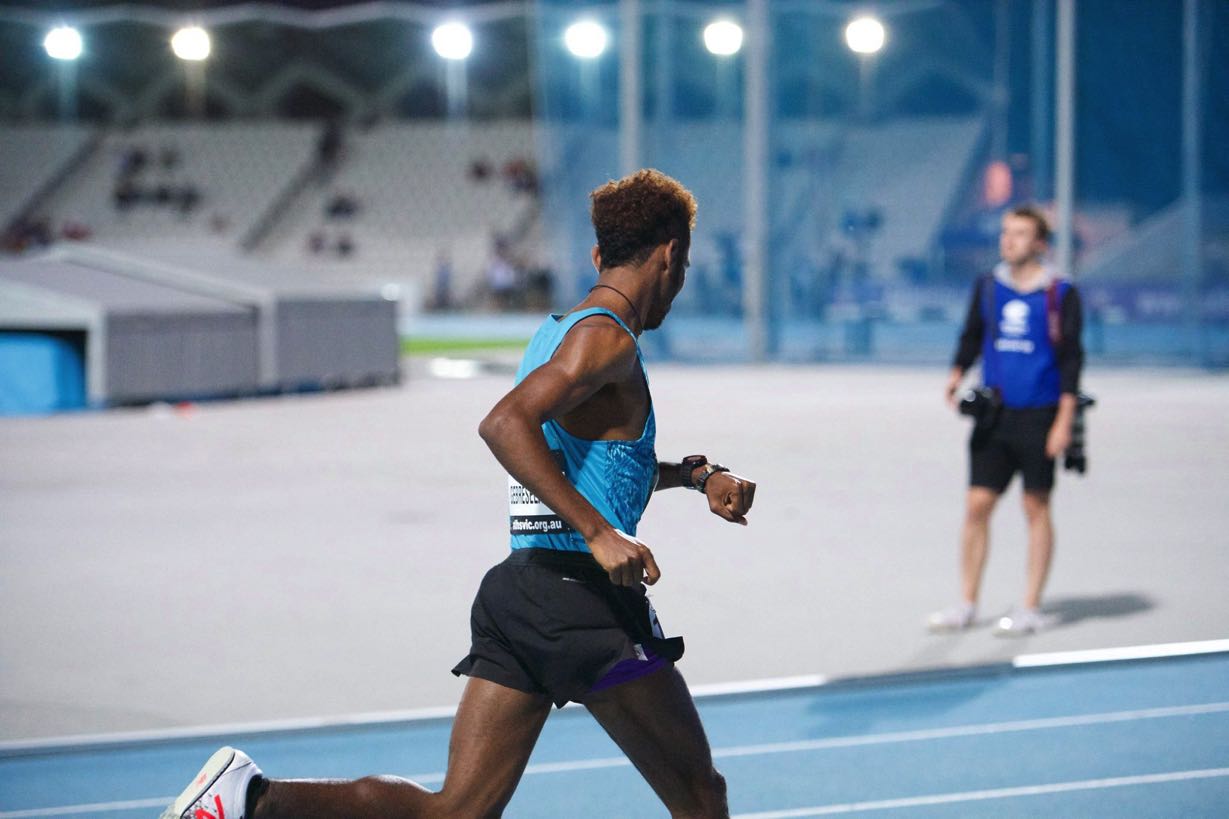 In two months' time, when Dejen stands on the streets of Valencia, clad in green and gold – toeing the line of the World Half Marathon. His mind might wander to his past. To the skinny boy – barefooted and bold – playing soccer on the dirt fields of a refugee camp. To the long days in school, preceding the long nights in the restaurant. To a move halfway around the world to a foreign land. A land he grew to call home. A land he fell in love with. A land where he learnt what it was to run with freedom and passion. His mind will then return to the present. His eyes will stare ahead. And then the gun will go. And the race will begin.
Dejen Gebreselassie
Age: 25 Resides: Melbourne Coach: Sean Williams
Three hardest sessions…
21km time trial in 67:20.

3×3.6km gravel (4min rec.) in 10:10-10:20-10:40.

10x500m in 1:15-1:22 + 6km threshold in 18:06.
Three pieces of advice…
Love what you do and chase it truly.

Have faith in God and in yourself.

Train very hard and stay consistent. Believe you can do it. Be patient – you will be rewarded in the end.