2:15.25 – The Training of Paula Radcliffe
© 2017 Runner's Tribe, all rights reserved.
"From my training I can get a good idea of what I'm capable of" – Paula Radcliffe
 A lot of the below information about the training of Paula Radcliffe was sourced from the book 'Paula My Story so Far'. We highly recommend this book to anyone who is yet to read it. Information was also sourced from a 2005 interview by The Sunday Times and a 2008 feature article from The Guardian.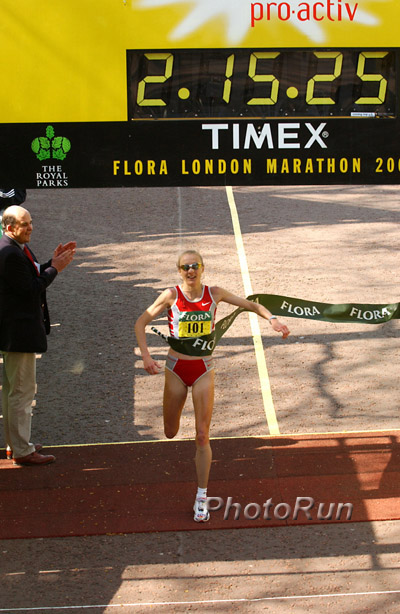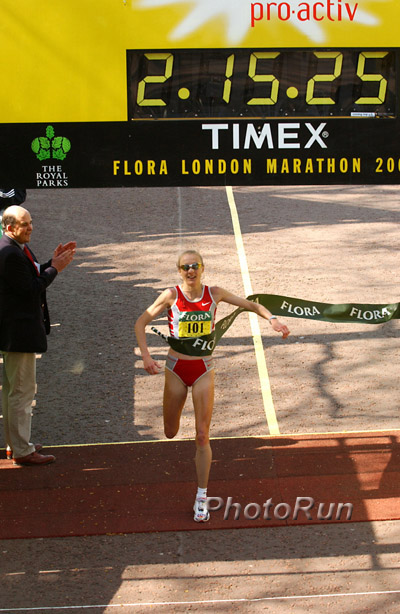 Profile
Date of birth: December 17

th

, 1973, Barnton, Cheshire, England.

Current world record holder for the marathon (2:15.25).

2005 World Championship Marathon gold (Helsinki).

Three time winner of the London Marathon (2002, 2003, and 2005).

Three time winner of the New York Marathon (2004, 2007, and 2008).

Winner of the Chicago Marathon (2002).

Two time World Cross Country Champion (2001 & 2002).
Personal Bests
5000m: 14:29.11

10,000m: 30:01.09

Half Marathon: 1:06.47

Marathon: 2:15.25
"I never plan to run at a certain pace. All my career my motto has been 'no limits.' I don't try to run with a set time in mind, sticking to set splits, because what happens if you're ahead of your splits – are you going to slow down?"   – Paula Radcliffe.
There isn't a whole lot of information about the specifics surrounding the training of the world's fastest ever woman marathoner. There are snippets out there that we have done our best to hunt down.
"I don't remember a time in my life when I didn't run" – Paula Radcliffe
Radcliffe started running, and training, at a young age. Born with an intensely competitive personality, her first major race was as an 11 year old at the national cross country championships – she finished 299th.
This intense personality trait seems to have overflowed into Radcliffe's training.
Training Snippets
During hard training for a marathon her average weekly mileage was 200+ km per week (or 145 miles approx.)
She always maintained a big focus on altitude training. Training at altitude was preferable, but she also slept in an altitude tent quite often.
Hill workouts were extremely important.
Radcliffe performed intense aerobic work all year round. Her training did not differ during her winter (off season) a great deal. It was similar all year round.
Her endurance training was quite intense, when compared to many other famous marathon runners. It is reported that a lot of her aerobic workouts were above her anaerobic threshold. For example, a lot of her sessions leading into a major marathon were at paces between 10,000m to half marathon pace.
Even her easy days were run quite fast.
Radcliffe took her pulse every morning. It was usually 38-40 beats per minute. During hard training it might be 42bpm, but if it was 45 or above then it signified that she had not fully recovered and she either modified her training or took a day off.
"It's so important to listen to your body" – Paula Radcliffe
Her main session was in the mornings, she ran four hard sessions per week.
An example of a typical session is a tempo run at goal marathon pace for over an hour.
She always tried to have an ice bath after these hard sessions, whether it be in a lake or a bath.
A healthy meal was always consumed within half an hour of finishing a session. Common foods included banana, cereal, fruit, rice, salmon, toast and peanut butter.
She tried to have a nap at 2pm most days. These naps lasted roughly 2 hours. At 5pm she ran her second session for the day, which involved mainly mileage.
She believes that once an average of 200km or approximately 145 miles per week is reached that there is no point in increasing this further, and that it is smarter to increase the quality.
She trained on an eight-day cycle, including two long runs, a hard session every other day and a rest day.
Core workouts were vital, and she tried to do core exercises every night.
"For an athlete, the biggest pressure comes from within. You know what you want to do and what you're capable of" – Paula Radcliffe
End
Top videos featuring Paula Radcliffe
Marathon World Record 2003
Directors' Cuts: Paua Radcliffe in Run
Paula Radcliffe: The Marathon and Me. BBC Documentary 2015