© 2017 Runner's Tribe, all rights reserved
"You can always give it more than what you think you have"  –Mo Farah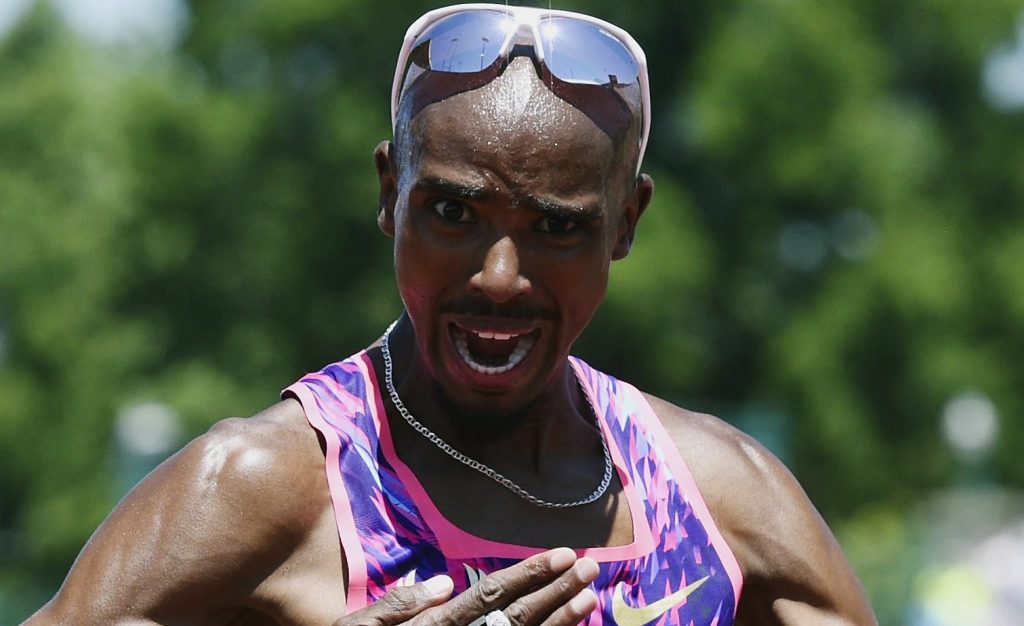 Profile
D.O.B:  March 23, 1983, Mogadishu, Somalia.

Residence: Portland, Oregon, USA.

Country: Great Britain.

Coach: Alberto Salazar.

Height: 1.75m (5 ft 9 in).

Weight: 58kg
Highlights
"I know so many people are running for their loved ones, for charities. It's great to see so many people out there running for such great causes. But I'm running for a different thing from you guys. I'm running to win."  –Mo Farah
Olympic 5000m Gold, London, 2012

Olympic 10,000m Gold, London, 2012

Olympic 5000m Gold, Rio, 2016

Olympic 10,000m Gold, Rio, 2016

World Championships 5000m Gold, Daegu, 2011

World Championships 5000m Gold, Moscow, 2013

World Championships 10,000m Gold, Moscow, 2013

World Championships 5000m Gold, Beijing, 2015

World Championships 10,000m Gold, Beijing, 2015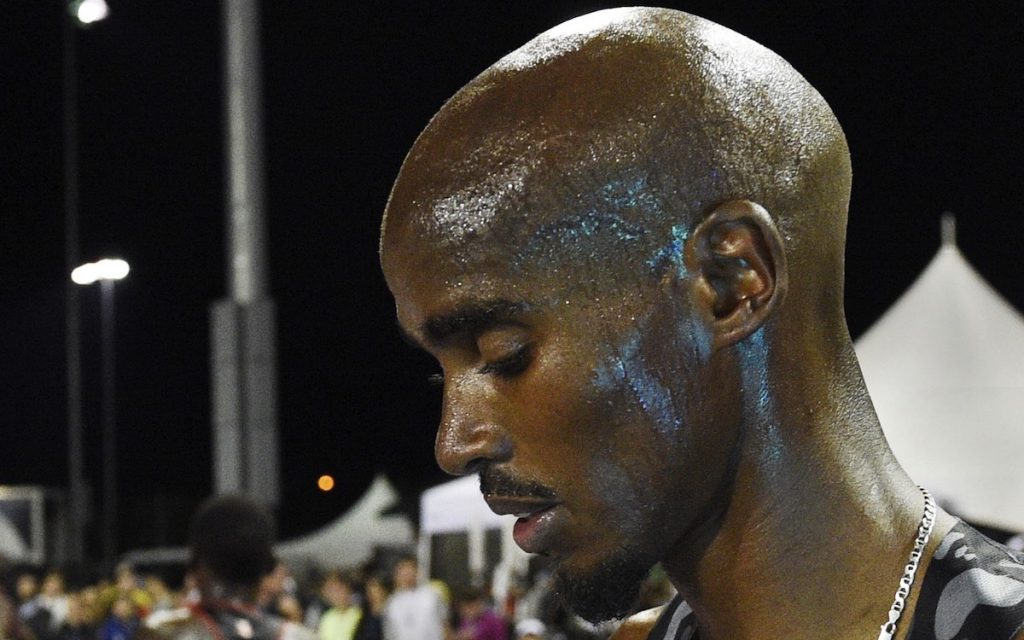 Personal Bests
"You only get one chance, one moment. And this is my moment."  –Mo Farah
800m: 1:48.69

1500m: 3:28.81

Mile: 3:56.49

3000m: 7:32.62

Two Miles: 8:07.85

5000m: 12:53.11

10,000m: 26:46.57

Half Marathon: 59:32

Marathon: 2:08.21
---
Championship Dominance
At the championship level, Farah has been close to unbeatable. Doubles (5000 and 10,000) at the Rio and London Olympics as well as the Moscow and Beijing World Championships. If there was ever someone who knows how to win, it's Mo Farah.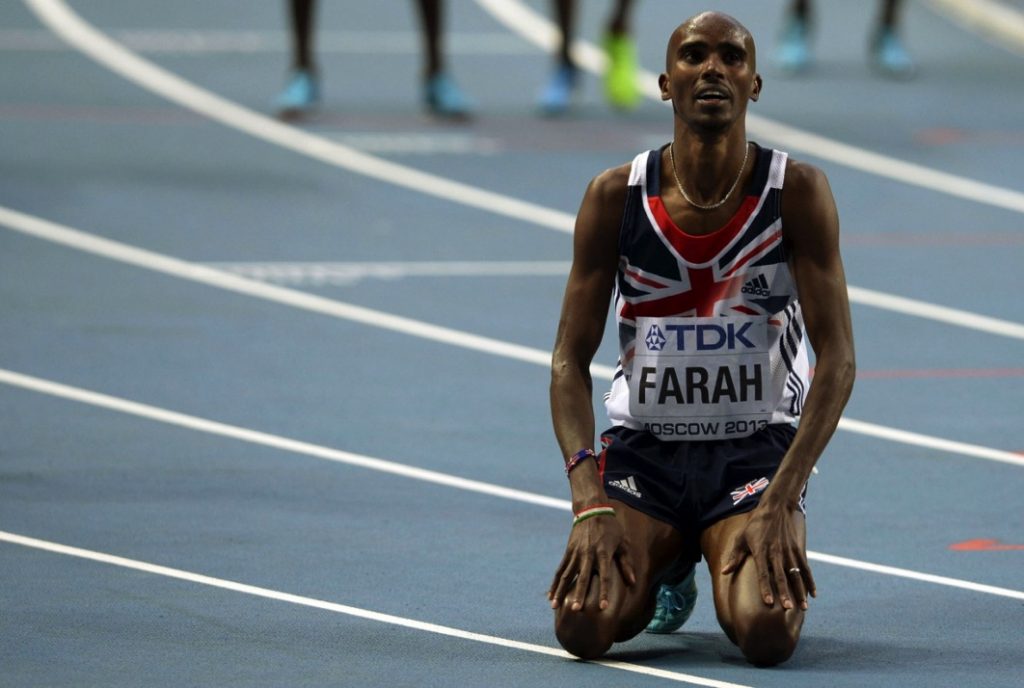 ---
Altitude Tents, Underwater Treadmills – Standard Stuff
"My underwater treadmill. It's exactly the same as a normal one, except that you put it into a swimming pool. It takes the pressure off your legs, helps you recover, and you can run more miles without getting hurt."  –Mo Farah
With the backing of the Nike Oregon Project, no expenses are spared in the quest for gold. With access to technology such as underwater treadmills, cutting edge sports medicine and sports science, altitude tents, and much more.
"Whenever I'm somewhere that's at sea level, like here in London, I'll sleep in a high-altitude tent, and this box is what makes the air high-altitude. The only problem is that it's really heavy and we have to carry it everywhere." –Mo Farah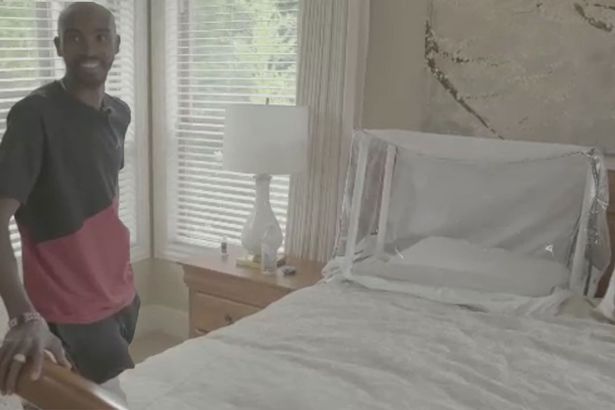 ---
Training Camps – Endless Summer
"The reason why I move around is to make training easier. So I avoid winter here (London) and go somewhere warm. The last thing you want is to be somewhere where it's a struggle to get out. I divide myself between Kenya, the US, the south of France and England in the summer. Or what should be the summer."   –Mo Farah
Farah is well known to travel to ideal training bases. Whether it is Kenya, Portland, France or England. With three young kids, it takes its toll, spending approximately 6 months of the year away from his wife and family.
"The main struggle for me is missing my son and my twin girls. It's pretty tough"   –Mo Farah
Farah commonly visits Kenya, even before his breakthrough many years ago. Farah has stated that he learnt a lot from the Kenyan methods of training and enjoys escaping ordinary life in order to concentrate solely on training.
Farah on the Kenyan experience:
"I just wanted to come along here and learn from them. And for me living with them I've learned a lot from them. All you think about is training. Nothing else. You know you are not there to pick up your post or pay this bill or see a friend, you are just here for training – do 100 plus miles week-in-week-out. And that works well for me."  –Mo Farah
---
Diet
"Bananas are good or anything with good protein or good carbs. I count my five-a-day as a must. But I've got such a sweet tooth that if you put candy in front of me I'll eat it."  –Mo Farah
Farah's diet is healthy yet practical. He eats the occasional chocolate or lolly, all in moderation.
Farah's advice for runners leading into a race:  
"Eat a lot of carbs the night before a race. Load up on pasta, chicken, rice and vegetables the previous day. But don't have much in your stomach when you set out for the run. Make sure you're hydrated. Drink a lot of fluid. But do it beforehand. Sometimes I see people out running with a bottle of water. You don't need that. During a half marathon, I may not even pick up a drink at all. You don't want liquid sloshing around in your stomach. So drink a lot the day before. And I mean a lot: make sure your wee is completely clear."  –Mo Farah
And for you coffee lovers:
"Have a coffee before you run. Some people say you shouldn't, but I love my coffee. Always have a cup before a race." –Mo Farah
A typical daily diet for Farah is outlined below:
Breakfast (7am):

"Breakfast was coffee and cereal, normally Frosties, as I really like them -probably a little too much! However, they gave me my much needed sugar rush to get me through the early part of each day."
Lunch (12pm):

"I'm not really a big eater of large meals – more several small little plates during the day. But if I had a lunch, it tended to be pasta, steamed vegetables and grilled chicken."
Dinner (8pm):
"Dinner would be the same again – pasta, steamed vegetables and grilled chicken. I realise it doesn't sound too exciting, but for someone doing my pursuit, it was absolutely the right thing to eat. It's an exciting life I lead!"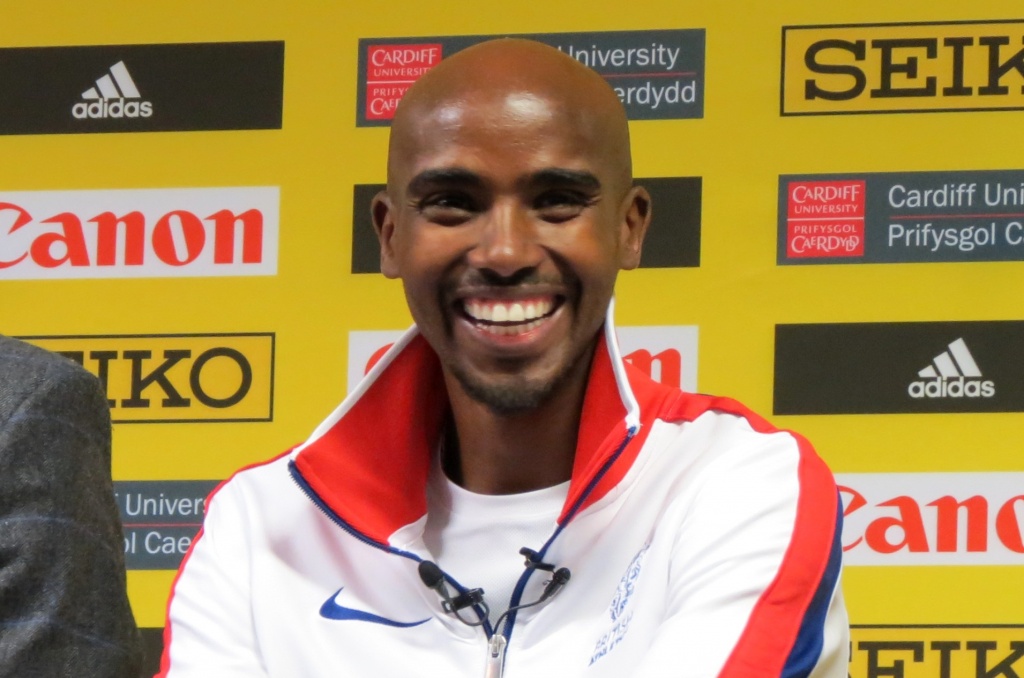 ---
Wisdom in Holding Back
"You just have to put in the training."  –Mo Farah
Farah's years have brought with them a sense of wisdom, of when to not overtrain, to hold back.
Speaking about typical winter training:
"This time of the year it is important that I don't get carried away too much. It's important to listen to your body"  –Mo Farah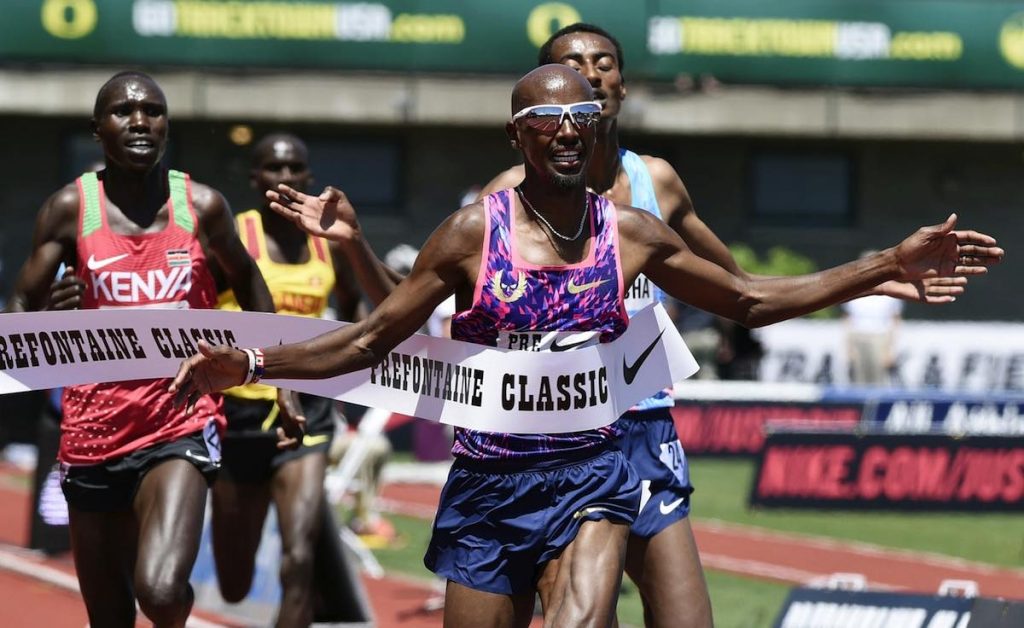 ---
Periodisation – The Salazar Way
"Arthur Lydiard was a revolutionary coach, a great coach. My training system is very different. My belief is that the human body likes continuity, it likes doing things repetitively."  –Alberto Salazar
Like many of the world's leading coaches, Salazar is a believer in periodisation.
"We have two 20 week periods (cycles) per year."  –Alberto Salazar
A summary of his method of periodisation is outlined below:
Two 20 week cycles per year.

Two peaks per year at the end of each cycle (usually for indoor season and then outdoor season).

"Within those 20 week cycles we are usually looking for about 5 weeks of building up gradually, and then having about 8-10 weeks at the very maximum level volume and intensity. Then we will go with a 4-5 week taper period into the championship races"  –Alberto Salazar
At the end of each 20 week cycle, Salazar's athlete's have 4 weeks recovery (2 weeks completely off then 2 weeks of jogging).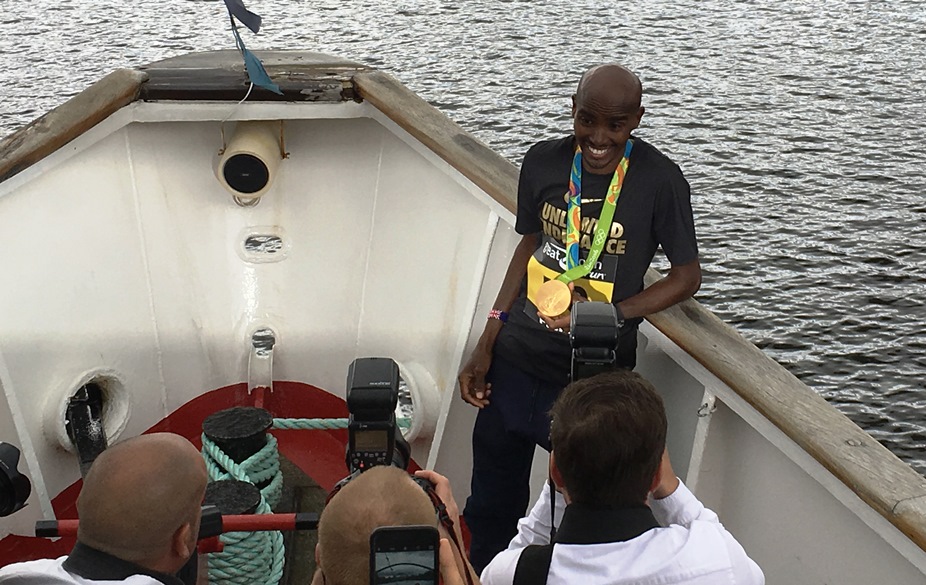 ---
Training Specifics