'A Body Built on Pain'
The Training of Herb Elliott
© 2017 Runner's Tribe, all rights reserved.
"I find that orthodox training is drudgery because it's so unnatural to run for hours on end on a circular track."   – Herb Elliott
COMING SOON – RUNNER'S TRIBE, WITH PERMISSION FROM HERB ELLIOTT IS REPUBLISHING HERB'S CLASSIC BOOK 'THE GOLDEN MILE'. IT WILL BE AVAILABLE FROM RUNNER'S TRIBE IN TIME FOR CHRISTMAS 2017.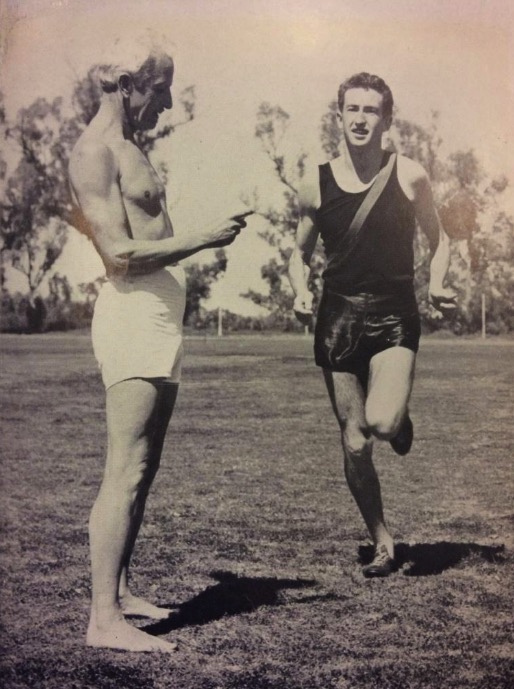 Sources
The Golden Mile, by Herb Elliott as told to Alan Trengove (book available soon from Runner's Tribe).
Personal Bests
800m: 1:46.70

(estimated from 880 yard time of 1.47.30)

1500m:

3:35.60

Mile:  3:54.50



Highlights
Olympic 1500m Gold, Rome 1960.

Commonwealth Games Gold One Mile, Cardiff, 1958.

Commonwealth Games Gold 880 yards, Cardiff, 1958.

Former world record holder over 1500m and Mile. Held the 1500m world record for 9 years and the mile world record for 4 years.
"I like to vary my training venues day by day, running on a golf course one day, the next day in a park, then on a racecourse, up and down the hills flanking the Shrine in Melbourne, along the Yarra River and even over cow paddocks. The change of scenery, the music of the birds and the sight of grazing cattle and sheep is soul-freeing and makes a training session real joy."  – Herb Elliott
Base Training
"I train eleven months of the year, half that period being devoted to strengthening work. Here is one of my typical weeks when I was eighteen years of age. (Younger athletes perhaps should not attempt quite so much and older ones a little bit more. It's really a matter for personal judgment.)"  – Herb Elliott
Monday: A ten-mile run at any pace I felt like setting, always finishing hard over the last two miles or so.
Tuesday: Six or seven miles in the morning. Weight-lifting in the evening.
Wednesday: Ten miles hard against the clock.