Benita Willis: Legends of Athletics Key Sessions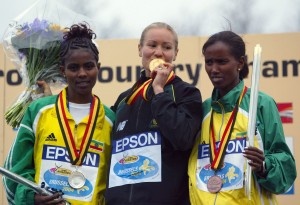 Australia's first World Cross Country Champion (winning in 2004; our only individual medallist to date), a 4 time Olympian and multiple Australian record holder (2000m, 3000m, 5000m, 10,000m and Marathon), Bronze medallist at the World Half Marathon Championships (2003) along with numerous other titles and achievements, Benita Willis is no stranger to success! Through all of this she has always remained humble, positive and friendly to whomever she encounters – a great role model for younger (and not so young) runners. Like many runners, she keeps (or has kept) a training diary which, for many past and present Geelong Region Cross Country runners, we were lucky enough to get a small peak into, courtesy of the numerous newsletters written by past Geelong running stalwart and tireless volunteer, Neil MacDonald (which can now be accessed online at: http://grcc.net.au/archives.html). Leading up to her 8th placing at the 2003 World Championships (an Australian record of 30:37.68), Benita gave us a look into her training prior to this race, in issue #36 of the aforementioned newsletters. One workout I will look at is detailed below:
Session leading up to World Championship 10,000m in Paris:
Tuesday – 29/7/2003
Track Session @ Kingston Track (in racing flats).
3 x 1600m (lap jog recovery between)
4:44 (74, 71, 70, 68) – 'kick down'
4:43 (74, 68, 74, 66) – 2nd/4th lap 'fast'
4:44 (73, 72, 70, 68) – 'kick down'
"Felt good"
The above isn't just a great workout to do physically, with it being a good 10 seconds or so faster per mile than her eventual 10,000m race pace, but is an excellent workout psychologically. 'kick downs' are a great way to be able to start a workout relaxed, knowing you will not be exerting yourself too much to begin with; they also let you work your way into a session, with the times becoming progressively quicker, which is an efficient way to race and train.
Along with this you gain confidence because you are getting faster as the workout progresses and finish with your fastest repetition instead of the other way around (which is common if an over eager first repetition is completed which then puts you into deficit for the rest of the workout). Her second 1600m repetition is completed with the 2nd and 4th laps being faster than her 1st and 3rd laps – again, good for confidence, finishing with a fast repetition and, more importantly, being able to handle pace changes that can occur frequently in championship races. Finally, the workout showed that she was in great shape and, no doubt, was an important piece in the puzzle that led to an excellent performance at the World Championships in Paris the following month.
END
Some Benita Willis YouTube viewing
Race Video from the 2004 IAAF World Cross Country Championships.
Benita Willis – AFLQ Umpiring S&C Coach
About the Author-