© 2017 Runner's Tribe, all rights reserved.
"Ask yourself: 'Can I give more?'. The answer is usually: 'Yes".  – Paul Tergat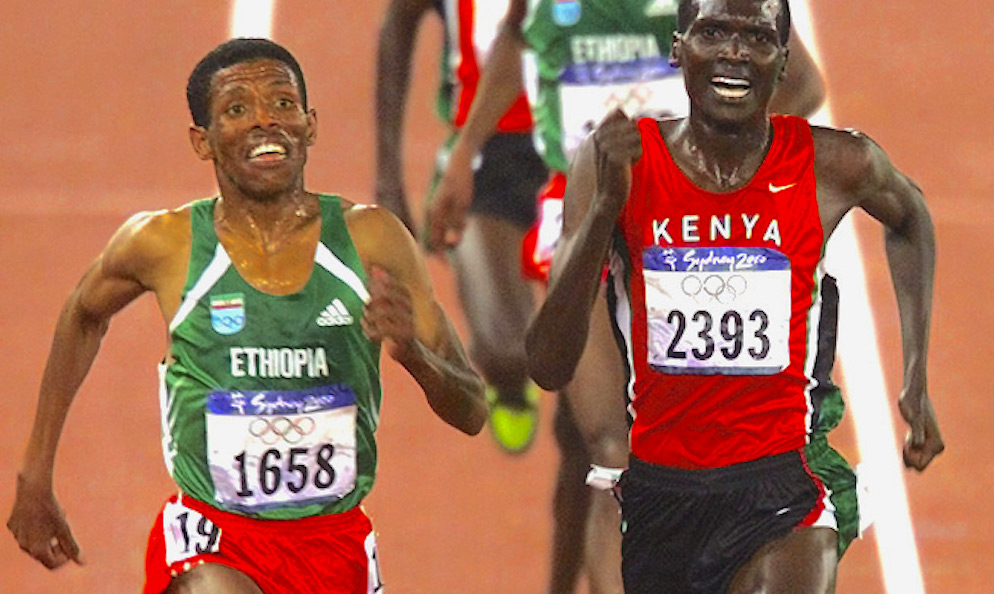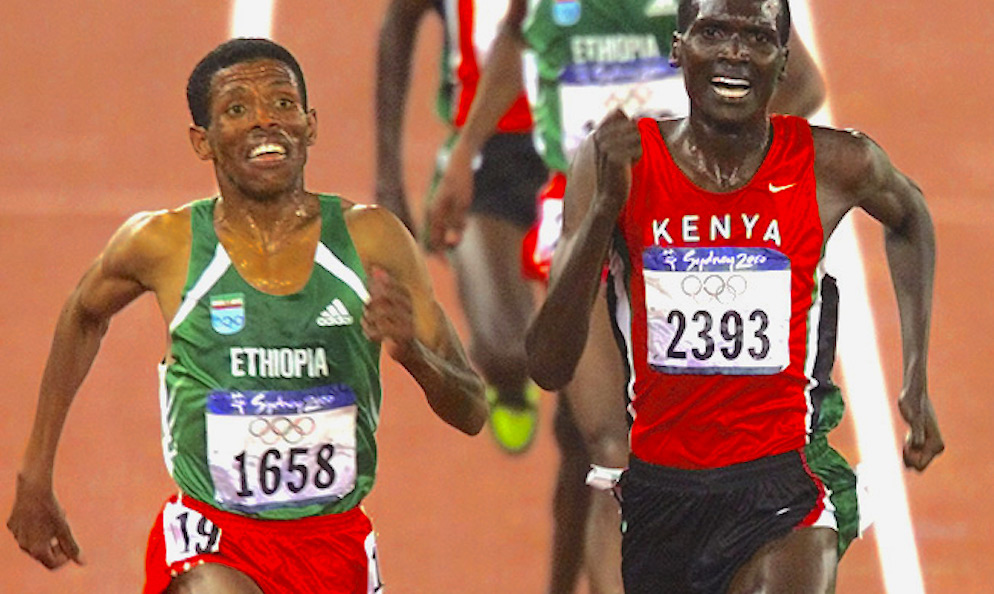 Sources:
Running to the Limit – Training Plans, Tips and Secrets. By Paul Tergat.
Train Hard, Win Easy. The Kenyan Way. By Toby Tanser.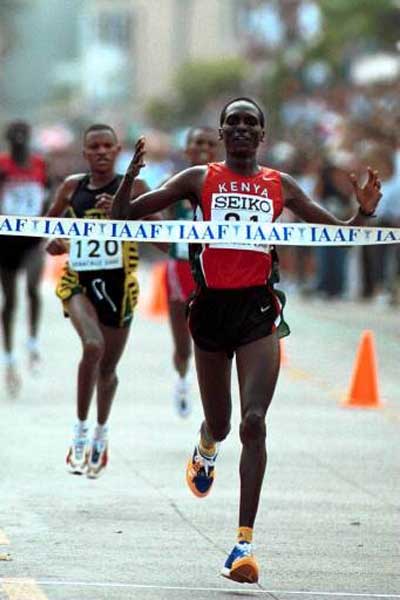 DOB:
17th June 1969, Riwo, Baringo District, Kenya.
Coach:
Personal Bests
1500m: 3:42.3
Mile: 3:58.40
3000m: 7:28.70
5000m: 12:49.87
10,000m: 26:27.85
Half Marathon: 59:17
Marathon: 2:04.55 (world record)
Highlights
World Cross Country Champion; 1995, 1996, 1997, 1998, 1999.
Olympic 10,000m silver 1996 and 2000.
World Championship 10,000 silver 1997 and 1999.
Former marathon world record holder (2:04.55).
Childhood
"My upbringing gave me a strong will, a mental aggressiveness in what I wanted to achieve"  -Paul Tergat
Born in Kenya's Rift Valley province, Tergat like many Kenyans started with very little. One of 17 children in a polygamous family, Tergat had a poor upbringing in the Kenyan countryside.
Tergat didn't enjoy running during his early childhood and teenage years, it wasn't until he joined the military as an 18 year old that the fire in his belly was ignited.
He speaks of his childhood:
"It hurt (running). And I come from an area where there had never been an international runner, and so I had no idol. When I joined the military at 18 this changed. I met people that I admired a lot and that was an exciting moment for me."  –Paul Tergat
Cross Country Master
"It's probably the toughest distance race in the world to win. World class runners from 1500m to the marathon contest it and instead of just three runners from each country, like in the Olympics or World Championships, in the senior men's race there are nine"   –Paul Tergat regarding the World Cross Country Championships
Paul Tergat won 5 straight World Cross Country Championships – from 1995 to 1999 – an out of this world achievement. Despite never winning an Olympic title, his dominance over the World Cross Country event is arguably more than enough to place him in that elite echelon of the best distance runners the world has ever seen.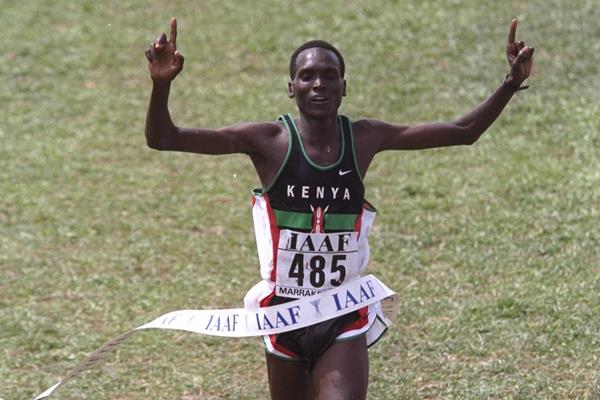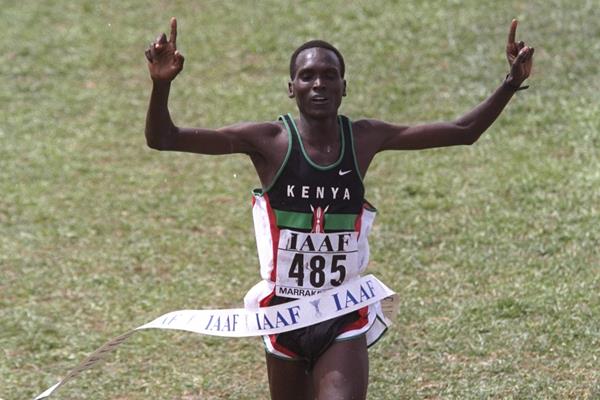 Quality Training
"If someone beats me, then I am happy for him; he will have obviously worked harder for the result than I did"  -Paul Tergat
Tergat's usual routine involved training twice per day on average;
"Like most Kenyans, I have trained three times a day, but I find two is enough."
Some pertinent training points:
Km per week: Average 140. During marathon career sometimes as high as 200.
In order to recover properly between sessions, Tergat liked to train alone. "If I run with others then all sessions become full-speed burners; thus I prefer to run with others just for speed sessions."
Tergat rarely runs for more than 90 minutes, he believes that distance kills speed.
He ran his recovery runs slow. Sometimes as slow as 7 minutes per mile or 4:35 minutes per km.
A typical week of training during a build-up period is outlined below:
[emaillocker]
Monday
6:00 a.m: 12 miles steady at approx. 5:30 minutes/mile.
10:00 a.m: 5 mile tempo at 4:50 min./mile pace, then 15 x 200m hills.
Tuesday
6:00 a.m: 9 miles steady in 5:30 min./mile pace.
10:00 a.m: 9 miles tempo at 4:50 min./mile pace.
Wednesday
6:00 a.m: 14 miles at 5:40 pace
10:00 a.m: 6 miles very easy (as slow as 7 minutes per mile pace which is 4:35 minute per km pace)
Thursday
6:00 a.m: 9 miles at 4:50 min./mile pace, then 20 strides for speed and form.
10:00 a.m: 9 miles of fartlek, hard efforts between 90 seconds to 2 minutes.
Friday
6:00 a.m: 9 mile tempo in 4:50 min./mile pace.
10:00 a.m: 5 miles easy at 7:00 min./mile pace.
Saturday
6:00 a.m 7 miles at 7:00 min./mile pace.
10:00 a.m: Rest
Sunday
12 miles at 6:00 min./mile pace.
'For me, the sport is not all my life. I have so many things that make my life interesting and not boring. It's only that the passion that I have for the sport, you'll never take that from me. I love it, I love it!'  -Paul Tergat
By Sam Burke – Runner's Tribe
WR #7: Paul Tergat, 10.000m (1997)
Tergat vs. Ramaala, 50 Great Moments in NYRR History
One on One – Paul Tergat
10,000m Final Men, Olympic Games Sydney 2000 Haile Gebrselassie Paul Tergat
[/emaillocker]