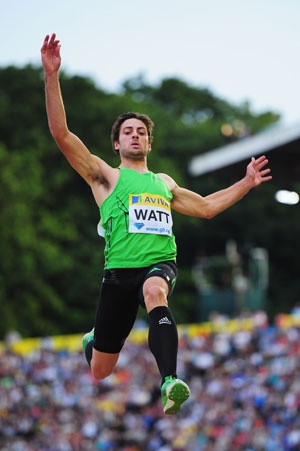 The Hunter Sports Centre at Glendale is getting ready to host one of the most high profile athletes ever to set foot on the track, this Summer.
London Olympic Games & World Championships Silver Medalist, Mitchell Watt has confirmed he will participate in the Hunter Region's annual track & field showcase event, the Hunter Track Classic on Feb 2.
It will be the first appearance by the talented long-jumper, often referred to as 'Mega-Watt', at the iconic annual Hunter meet, organised by Athletics NSW, which forms an important & much anticipated part of Athletics Australia's National Athletics Series.
While Mitchell Watt's career at the top level of international athletics has been relatively short (competing in his first major championships in 2009), the 24 year old has a long & impressive list of achievements already.
Watt became the youngest ever Australian to medal in a Track & Field event at a World Championships, after winning bronze at Berlin in 2009. He then went on to win a medal of the same colour in 2010 at the World Indoor Championships in Doha.
In 2011, Watt was virtually untouchable in sand-pits around the world. In what was a busy year, the 'boy from Bendigo' (who now lives, studies & trains in Brisbane where he is coached by renown National Jumps Coach, Gary Bourne), claimed the Australian National long-jump title, set the current Australian & Oceania long-jump record (8.54m), won Silver at the World Championships in Daegu, and took out the prestigious Diamond League Trophy.
Following injuries, Watt was forced to miss the 2012 domestic season but recovered in time to make the London Olympics where his class shone through winning the Silver medal in a low-scoring Long Jump Final. Watt said,
"In 2012 I didn't have a perfect year with my body. Even at the National Trials in March I was still behind. This was part of the frustration after the competition, knowing I could have done better."
When asked about his first taste of the Olympics Watt commented,
"Its not until you experience the Olympic Games that you realise it is the pinnacle of sport. The whole thing was amazing."
To cap off what has been an amazing few years, Watt recently had the honour of being named 'Australian Male Athlete of the Year'.
When speaking about the current season Watt was very positive,
"Things have got off to a lot better start. The first three months of training have been great. I'm back to where I was at the start of the 2011 season."
Watt is keen to make up for missing last year's domestic season and plans to jump at Hunter Track Classic (2nd Feb), Adelaide Track Classic (16th Feb), Sydney Track Classic (9th March) Brisbane Track Classic (23rd March), indicating he also hopes to run the 100m at a couple of these events.
He will then head to Europe in June to compete in the Diamond League series where he is hoping for some good performances. Following this will be the main focus of the year, the World Championships.
Watt comes to the Hunter Track Classic looking to use the popular meet as a platform from which to launch his campaign to win the Gold medal at the World Championships, to be held later this year in Moscow (10-18 August).
When asked if he feels he has some unfinished business at the World Championship's Watt said,
"I guess you could say that. I know what kind of shape I need to be in. I know I can do it. Daegu (2011) was disappointing, I knew the Gold Medal was well within my grasp."
Should he be successful in Moscow, Watt would claim the rare feat of winning a medal of every colour at consecutive World Championships.
Speaking about the Hunter Track Classic Watt commented,
"I'm looking forward to taking part. Over the past few years the Hunter Track Classic has been gaining momentum. I streamed it on my computer last year & enjoyed watching the action."
"I've never visited the Newcastle area before. I'm good friends with (locally grown Australian Olympic Discus Thrower) Benn Harradine & he has been talking up the place as well as the meet itself. It sounds like a great location to visit so I can't wait."
Watt is looking forward to taking part in a unique mixed, invitational long-jump event in which he will jump off against the likes of home-grown international long-jumper Shaun Fletcher (finished 2nd in the 2012 Australian long-jump Championships), Adam Rabone & top female jumper Brooke Stratton.
In what is sure to be a highlight of the 2013 Hunter Track Classic program, the crowd will have the opportunity to help these jumpers launch themselves into the air with the obligatory run-way clap.
Watt said, "A fun, relaxed atmosphere is good for us (the athletes) too. At the same time I want to get the most out of it so will be aiming for a good performance."
In addition to the long-jump shoot out, an interesting exhibition event is also on the cards. The Standing Long Jump, which was last included as an official Olympic Track and Field event over 100 years ago (1912), is making its comeback in 2013 at the Hunter Track Classic.
This will be Watt's first experience of a competitive Standing Long Jump event, "We've done it lots of times in training. I'm sure it will be good fun."
Look out for Mitchell Watt to set a big mark in the sand & give Matt Shirvington's National record a good shake.
The Hunter Track Classic is on Saturday 2nd February, 2013.
Tickets available via HYPERLINK "http://www.huntertrackclassic.com.au" www.huntertrackclassic.com.au ($12 Adults, $7 Children).
Follow @mitchellwatt & @huntrackclassic on Twitter.
---