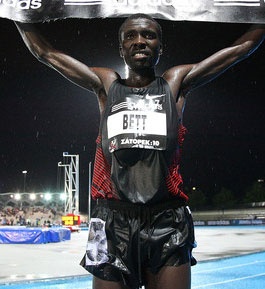 Emmanuel Bett, the world's fastest man over 10,000m in 2012 (26:15.15), has said that he hopes to break the ZATOPEK:10 record, set in 1998 by Luke Kipkosgei, at the 52nd running of the storied event.
Bett, said 'I hope to be among the strong men who have won the Zatopek again and if things go well to break the record'
Bett will be racing Australian 10,000m record holder Ben St Lawrence, who is aiming for a third Australian Championship in a row.
St Lawrence said about his goal for the race on Saturday 'Something starting with a 27 would be great', as he returns to the track for the first time since the London Olympics.
Neely Spence, US Representative at World Cross Country Championships, is making her 10,000m debut at the Zatopek and has the 2016 Rio Olympics firmly in her mind. She hopes to emulate Galen Rupp, Olympic Silver medallist, who won the 2006 ZATOPEK:10 at the beginning of his route to London 2012 glory.
What: The 52nd ZATOPEK:10
Where: Lakeside Stadium, Albert Park
When: Saturday, December 8 from 4pm
Please email media@athsvic.org.au if you would like to attend to ensure accreditation is available for pick up on Saturday.
The 52nd ZATOPEK:10 will be broadcast live on athsvicTV, allowing athletics fans around Australia and the world to tune in.
Broadcast start: Saturday 8 December, from 5:50pm AEST
Broadcast location: www.athsvic.org.au/live
---